"If I speak in human and angelic tongues but do not have love, I am a resounding gong or a clashing cymbal. And if I have the gift of prophecy and comprehend all mysteries and all knowledge; if I have all faith so as to move mountains but do not have love, I am nothing. If I give away everything I own, and if I hand my body over so that I may boast but do not have love, I gain nothing." -1 Corinthians 13:1-3
Lent is a season that gives us a great opportunity to grow in our spiritual lives, deepening our relationship with Jesus Christ. Penance is one of the great ways in which we realize this opportunity. It can often be very fruitful: detaching oneself from frivolous wants, or habits we want to change, or dedicating ourselves to causes, or other spiritual practices that will assist us in our lifelong journey to God. I speak of these in shorthand with the word penance, though neither almsgiving nor prayer are excluded here.
In these practices, so much of their effect lies within one's interior disposition toward them. One of the perhaps more amusing demonstrations of this comes from some of my Dominican brothers. It goes: if a brother were to give up coffee for Lent and becomes irritable and, in short, a beast to those around him, then it is not his penance but everyone else's. This points out a dimension of penance that we must keep close to our hearts, no matter what our Lenten observance might be: penance must not be undertaken at the expense, as St. Paul so elegantly wrote in the excerpt I cited at the beginning of this post, of love.
How does one go about this? Is it not enough to do penance or almsgiving or fasting as an act of love toward God? Truly, you would do well with such simplicity of heart. Yet if you are like me, it is far easier to just mechanically follow your Lenten resolution, whatever it is, without much thought. This kind of practice, easy as it is to fall into, spoils the great beauty of these actions. So, what I like to do, and what I encourage you to consider doing as you continue Easter-ward through the remainder of Lent, is to be intentional when undertaking your Lenten practice. When you are beginning the act, if it is a finite action, or when the temptation to cave in on your observance shows up if it is an ongoing resolution throughout the season, offer up that practice for someone who needs your prayer. In doing this, love is placed in the center of our minds as we conduct our Lenten observances. This enables us to deepen our love for others and our love for God through our acts of prayer, almsgiving, and fasting.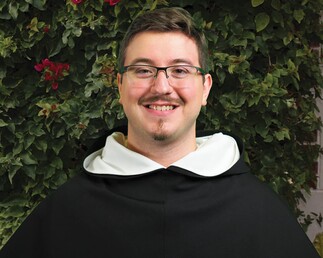 Br. Thaddeus Frost, O.P. | Meet the Brothers in Formation HERE