For it is by grace you have been saved, through faith—and this is not from yourselves, it is the gift of God not by works, so that no one can boast. (Ephesians 2:8-9)
It was my first summer camp in the Order. We usually spend two weeks with the friars during our vacation. As a first year who demonstrated a deep love for the mountains, I became a member of an expedition to the Dolomites. I'm sure that God, when He created the world, gave special attention to this part of the Alps.
To get there, we had to travel about 700 miles by car, which is quite a distance in Europe. Additionally, this part of Italy is extremely touristy and expensive, so it was beyond our budget. We packed our gear and enough food for two weeks, and hoped that somehow, we would survive. Officially we had a plan, but none of us had been in the Dolomites before, and we did not fully realize that camping by the trail was not the best idea. All we knew was that we wanted to be there.
The Dolomites welcomed us with beautiful sunshine and marvelous views. We arrived to the charming town Cortina d'Ampezzo, which lies in the heart of these rocky mountains. In this town, we looked for a place where we could leave the car and celebrate Mass. We found a Franciscan church, but the parking lot was full. Suddenly we saw one of the friars passing by. We thought we might ask about a spot on their property. Two brothers jumped out of the car and tried to formulate the question in Italian. The man looked at them, at our car, at them again and shouted, "Poles! Then speak Polish." It turned out that the Polish Franciscans have a mission and a retreat center there. They invited us for Mass before we had a chance to ask them anything and then they set the table and asked about our plans. We had barely mentioned tents, when they offered us the whole center for free. In the end, we spent a beautiful week with them, hiking on the peaks and enjoying the beauty of nature.
When we hear about grace, we often find it hard to understand what we have been given. I think that it can be helpful to understand our position as human beings. I believe it is in some ways like my experience with the Dolomites.
As humans, we have wandered after sin and still cannot find a place for ourselves anywhere. We learned to live with that, even though it wasn't the life we wanted. We looked for help from God but were afraid to ask for too much. Like the parking lot from the story, a little is all we expected. We weren't waiting for anything else. Of course, we had an idea of beauty, but we did not feel worthy of it. We were only looking for a rest stop, a place for tents, a place where we could pray to our God.
Of course, this story is a metaphor, and like any metaphor, this one is imperfect. The grace we have received from God transcends language, human imagination, and our understanding of generosity.
Christ knew our hunger and our poverty. He came as a man and spoke our language. He met us on the road and then invited us into his home.
We did not deserve anything, and He welcomed us as His brothers.
Maybe we could repay these Franciscans for their goodness, but we cannot refund God. We can only accept His grace and the invitation to the place He has prepared for us.
God certainly gave this place special attention when He created it.
The grace of the Lord Jesus be with God's people. Amen. (Revelations 22:21)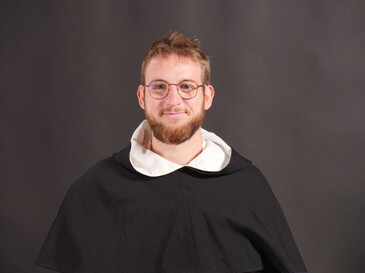 Br. Lukasz Janik, O.P. | Meet the Brothers in Formation HERE