Among the Sorrowful Mysteries of the Most Holy Rosary, this is arguably the only one that focuses on Christ's active role in His Passion. Christ suffered –
passus est
– His agony, His scourging, His crowning, His crucifixion. These happen to Him, and His love is manifest in His silence, patience, and endurance. But here in this Fourth Mystery, His suffering is no longer passive; His heroic love is no longer manifest in a stillness before pain and humiliation. Christ moves, bearing the weight of the sin of man, of His own accord. This mystery shows Christ's willingness and His voluntary pursuit of the cross, to save the souls for whom He is sent.
St. Catherine of Siena uses this image often: The "amorous Word" and only-begotten Son of God, inflamed with the desire for the Father's honor and our salvation, "ran, with great eagerness, to the shameful death of the Cross" (The Dialogue, 100). This image of Christ, willingly running to and yearning for the Cross, helps us to meditate on the voluntariness of this incredible suffering, which cannot be reduced to an unfortunate consequence of our sins. Yes, it is true – and to our benefit – to remember that our sins were a cause of Christ's sufferings, but we must not forget the truer cause: the love of Jesus for us sinners. It was Christ, obediently uniting His will with that of the Father, Who walked through the crowds to Golgotha with a power more mysterious than the power that let Him escape similar crowds in His ministry: "…passing through the midst of them he went away" (Luke 4:30). Now He passes through the midst of them to willingly place Himself at their hands, to have His life taken by mortal men, but only because He has willed to lay it down.
As we follow our suffering Lord, we must not forget this aspect of our imitation. We often think of our suffering in a passive sense: we patiently "offer up" the inconveniences, hardships, burdens that find their way into our lives. But, while growing in the stillness of patient endurance, we often forget to fight against that paralyzing stillness when the situation calls us to walk forward into our suffering, "for the love of Christ impels us" (2 Corinthians 5:14). And truly it impels us, drawing us powerfully to the Cross with an unfailing hope for the glory of the Resurrection. It is this Sorrowful Mystery that teaches us to pick up the weight of true charity, to willingly choose a holy suffering because of a love that is conformed to Christ's, to have a martyr's heart that can even desire death if it would glorify God and bring us swiftly to His face.
So let us long for the Cross as we long for Christ, and desire to be wherever He is, even if that means running through pain and shame. "Draw me after you! Let us run!" (Song of Songs 1:4)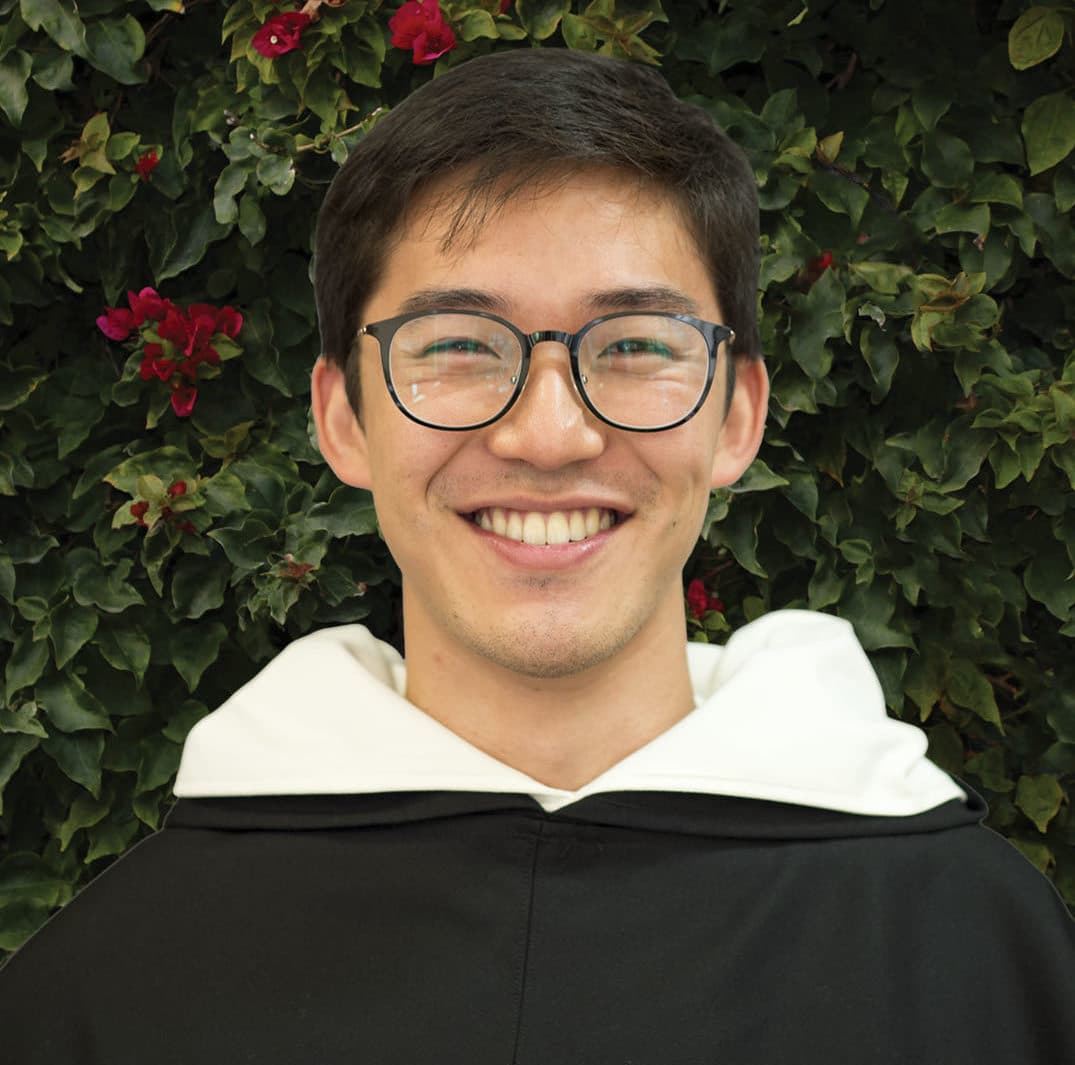 Br. Andrew Thomas Kang, O.P. | Meet the Student Brothers in Formation <a href="https://www.opwest.org/vocations/meetthebrothers/">HERE</a>