Ordinations
The Dominican Friars of the Province of the Most Holy Name of Jesus and the Vietnamese Vicariate of Saint Vincent Liem
joyfully announce the Ordination of their Brothers
Gregory Augustine Liu, O.P.

to the Order of the Presbyterate and
Chrysostom Mijinke, O.P.
Martin Maria Nguyen, O.P.
John Winkowitsch, O.P.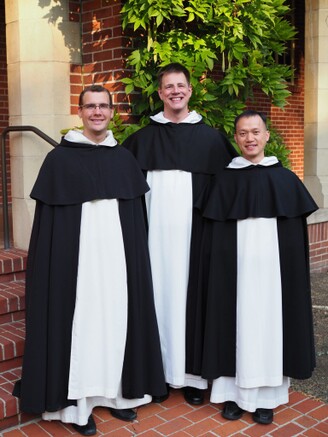 to the Order of Deaconsthrough the Imposition of Hands and the Prayer of Ordination by
The Most Reverend Alexander K. Sample
Archbishop of Portland in OregonSaturday, September 19, 2020 at 10:30am**
Priory of Saint Albert the Great
5890 Birch Court - Oaklnad, California 94618**Due to quarantine, we cannot invite you to join us in person,
but please join us online at livestream.com/opwest
or youtube.com/opwest to view the liturgy.

"FIRST MASS" SCHEDULE SUBJECT TO LOCAL COVID-19 RESTRICTIONS
Sunday, September 20 at 9:30am
St. Albert's Priory
6170 Chabot Road, Oakland, CA
Sunday, September 20 at 4:00pm
Chinese Catholic Community at St. Joseph's Church
43148 Mission Boulevard, Fremont, CA
Monday, September 21 at 8:15am
Carmelite Monastery of Jesus, Joseph, and Mary
68 Rincon Road, Kensington, CA
Saturday, September 26 at 8:00am
Corpus Christi Monastery
215 Oak Grove Avenue, Menlo Park, CA
Sunday, September 27 at 10:45am
St. Dominic's Catholic Church
475 East I Street, Benicia, CA
Make a gift in honor of Br. Gregory here