Dominican Aid to Ukraine
Support for our Dominican brothers in Ukraine and Poland
The Western Dominican Province has had a longstanding relationship with our brothers in the Dominican Province of Poland -- and by extension with the Dominican Vicariate of Ukraine, which is supported by and under the jurisdiction of the Polish Province. Several Polish Dominicans currently serve in our province, and each year several Polish student brothers live among our own student brothers for a year as they study for at the Dominican School of Philosophy & Theology.
With the Russian invasion of Ukraine in February 2022, our Dominican brothers in Poland immediately leapt into action to provide food, clothes, medical care, and housing in their priories for refugees streaming across the border from Ukraine. Our brothers in Ukraine have remained on the ground to provide food, shelter, and supplies to Ukrainians who remain in their homeland.
Click below to give direct support to support Ukrainians suffering from this terrible conflict!
---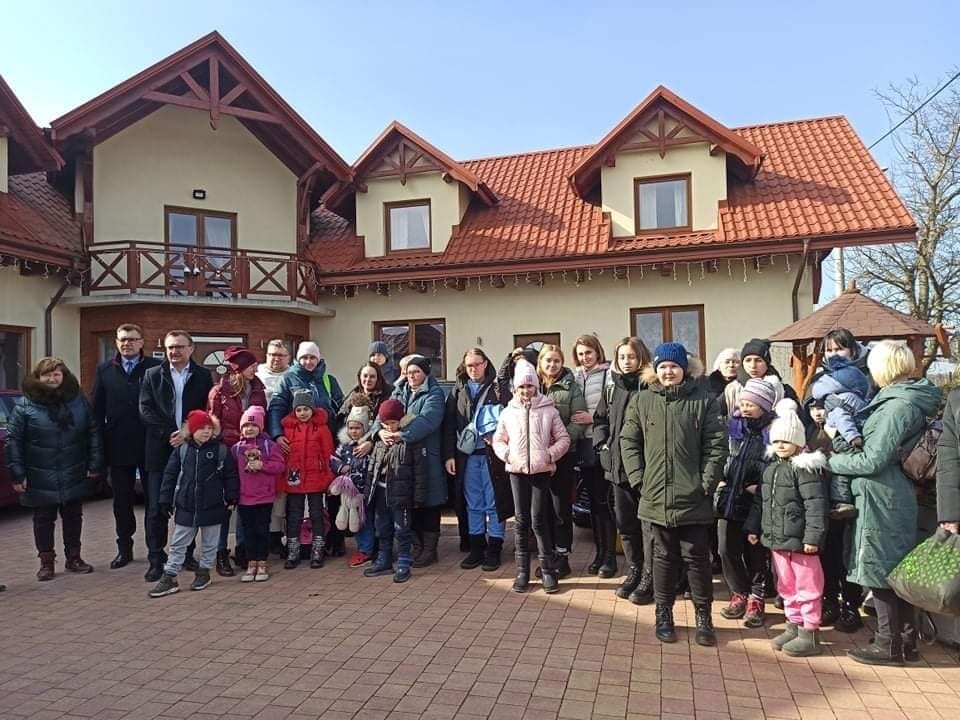 Your Impact in Ukraine
Thanks to the overwhelming generosity of friends like you, we've been able to provide over $1.3 Million in direct support to Ukrainian refugees served by our Dominican brothers in Poland and Ukraine. Over $1.1 Million of the funds generously given are directly from individual donors. Thank you for your support! Without the grace of God and your kindness, the most vulnerable Ukrainians under the care of our Dominican brothers would suffer even more.

Read more about your impact below, including photos and stories from our Prior Provincial, Fr. Christopher Fadok, O.P., during his September 2022 trip to Poland and Ukraine!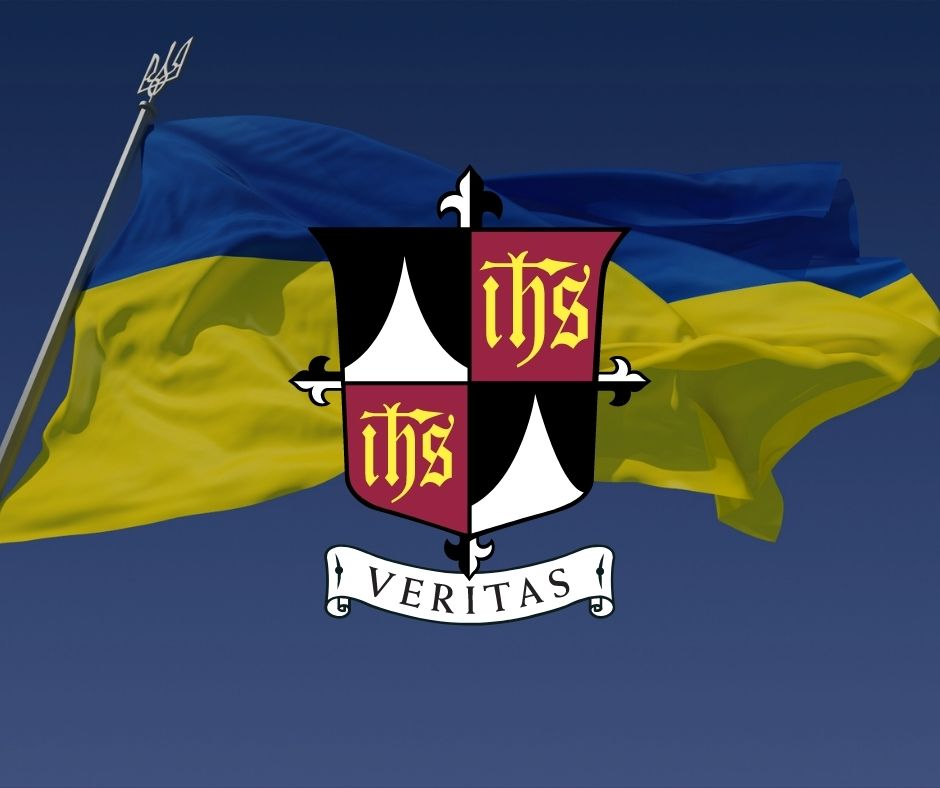 Continued Support
Looking for ways to provide continued support?
Spiritual Support: Please keep Ukraine, the people of Ukraine, and our Dominican brothers and sisters serving in the region in your prayers. Below you'll find a tab with "Spiritual Resources" that includes prayers and prayerful words from our Church leaders.
Financial Support: As the conflict continues, if you are able to give to help Ukrainian refugees, you may donate securely online here.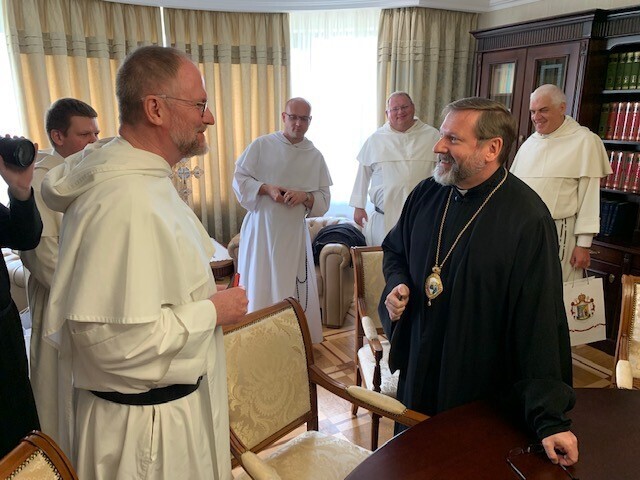 Updates from Ukraine
Below you'll find "Letters from Ukraine" from our Dominican brother, Fr. Jaroslaw Krawiec, O.P., who is on the ground and continues to send updates about the Dominicans' ministry in Ukraine.
Recently, the Prior Provincial of the Western Dominican Province, Fr. Christopher Fadok, O.P., visited Poland and Ukraine. Browse "Prior Provincial's Visit" below to learn more about his trip and his firsthand view of the impact of your donations to help the people of Ukraine.
In September 2022, Fr. Christopher Fadok, O.P., Prior Provincial of the Western Dominican Province, traveled to Poland and Ukraine to see firsthand the impact of Dominican ministry in Ukraine, visit with our Polish Dominican brothers, and lead a retreat celebrating the Polish Dominican Province's 800th Anniversary.
In our Winter 2022 edition of the Mission West Newsletter, we shared an exciting story from Fr. Christopher's trip. As he toured a large, unfinished building the Dominicans hoped to turn into long-term housing for Ukraine's most vulnerable families, he realized the remaining funds raised by our province's friends and supporters would provide for entire first phase of the project!
If you haven't read the story in our Mission West Newsletter, click below and look for the story on page 9.

Read the Winter 2022 Edition of Mission West

Additional stories and photos from Fr. Christopher's visit to be added -- check back for more!
We continue to receive updates about the situation on the ground directly from Fr. Jaroslaw Krawiec, OP, in Ukraine. You can read them as they arrive below:
Dear Sisters, Dear Brothers,

The phones are the first to go off. Almost every Ukrainian has an app installed on his smartphone informing us about the alarms in progress. A few seconds later, the sirens start shrieking. On Saturday this happened three different times, the last one during the evening Mass that I celebrated in the chapel of the Kyiv priory. We've gotten used to it, so there's no panic, no nervousness, like there was at the beginning of the war. I doubt, however, whether anyone is capable of accepting the recurring alarms with complete calm. Especially at night, when the Russian drones and rockets fly over most often. I have to admit that for over a year and a half, almost every morning I have been starting off with checking the news, even when I'm not in Ukraine and don't have sirens waking me up in the middle of the night.

The Ukrainian Air Force informs immediately of the incoming threats. So it was on Saturday when a dozen or so hard-to-shoot-down hypersonic rockets were on their way from the territories of Russia and Belarus. It's a strange feeling to know in advance that in a moment, somewhere, people may die and houses may be destroyed. Just like July 6, when in the center of Lviv ten people lost their lives and over 40 were wounded. And a week ago in Kryvyi Rih, the Russian rockets hit a 9-story apartment building, wounding over 80 people. Among the dead were ten-year-old Daria and her mother Natalya. Next to the ruined building, people assembled a mound of flowers and toys. In the picture, you can see two boxes of Barbie dolls. The same ones that are in the dreams of millions of movie-going peers of Daria around the world.

I read the news: "Saturday. At 7:15pm the Air Force announced the launch of rockets from Belarus. They are Kinzharls! Vinnitsa, Khmelnytskyi, Zhytomyr! 7:18pm: A fast rocket missile is heading in the direction of Kyiv. Update: Around 7:40pm, the air alarm was called off in the majority of the regions in Ukraine." The words of Psalm 11 come to mind: "Look, the wicked bend their bow, they have fitted their arrow to the string, to shoot in the dark at the upright in heart."

Thoughts about Ukraine, however, should not focus only on the terror of Russian rockets. Despite all this, life goes on. Sometimes you might get the impression that the war has become a vague background behind regular life. The streets of the capital clogged with traffic, the crowds of tourists on the popular mountain trails of the Carpathian Mountains, or the overcrowded trains to Poland, for which getting a ticket during the summer months borders a miracle. To someone looking at Ukraine from a distance, it might seem surprising or maybe even irritating. It might even provoke the question: So maybe this war is not as terrible as they say (with diminishing frequency) in the world media? It is not so, however. The war is a brutal reality for everyone who lives in Ukraine or has relatives here. Although in many ways we try to protect ourselves and rebuild normality, in reality one cannot isolate oneself from the war. Things that do not allow us to forget are cemeteries, hospitals, husbands, fathers, and friends fighting on the front lines.

This letter from Kyiv is appearing after a long break. It was hard for me to get to writing, despite repeated questions from my friends: what's new with you guys? A lot happened in our Dominican world too. The brothers took part in pilgrimages and retreats, they accompanied young people on their summer trips, and they organised workshops of Gregorian chant. Significant work was done by Father Misha and the volunteers from Fastiv, who were helping the people from Kherson and the surrounding villages that were flooded after the destruction of the dam on the Dnipro. The kitchen that remained open in the very center of the city became especially important. There, anyone in need could get a free meal. Thanks to the support of the Polish government, we brought the flooded areas a couple hundred beds with bedding. In Kherson, a woman whose house was flooded told me that from many people – for whom it seemed that after months of occupation and life under constant fire, nothing worse could happen – the flood caused by the Russians took away their whole life's property. I admire their determination, will to fight, and gratitude for help.

In July we were visited by the Dominicans from the US and the Czech Republic. As I accompanied Fr. James from the Province of the Holy Name, I could see his living faith when he blessed the people he encountered, asking them at the same time for prayer. It was an important testimony even for me, a reminder that among many tasks that the Dominicans in Ukraine face, prayer for and with people is the most important. At the end of June, the pope's almoner Cardinal Conrad Krajewski stopped by our priory in Khmelnytskyi for a few minutes. Brothers Wojciech and Igor took his encouragement to prayer and his gift – the pope's rosary — very seriously. You can join the daily rosary for peace in Khmelnytskyi on Facebook. We were also encouraged to such prayer by the Master of the Order during his recent visit to Ukraine.

We asked Brother Václav from the Czech Republic what made him travel to Ukraine and stay in Fastiv. He said that in one of my letters that he translated to the Czech language, he read about the volunteers who teach love of neighbor. The words of Brother Václav ring true particularly now when we are praying for one of the volunteers, Dennis, who died on the street in Kyiv, killed by a drunk driver. Places where we can learn fraternal love from others and with others are worth finding.

I met Oksana at the beginning of the war when she managed to get out of the Irpin, which was at that time under Russian occupation. She is an artist and is preparing an exhibition of puppets. She named it: "Return to Irpin". She says that what she wants to show is not just puppets, but true human stories told in this unusual way. We were deliberating the best way to help the wounded soldiers in the hospital in Kyiv. At some point she said: "We are all 'rozmajbutnieni'." She is using a word that cannot be found in a dictionary. The Ukrainian word "majbutnie" means "what is about to happen" and sounds similar to the English "maybe", although it expresses the future as more certain and more established. "Rozmajbutnieni" means those who are deprived of the future. The play on words and meanings wonderfully depicts Ukrainian reality. In our regular life, we walk dressed in dreams. Quite often our future is planned many years ahead for us and our children. "Rozmajbutnieni" is to be stripped of all that we would like to happen. It's a naked present-tense with planning reaching no further than tomorrow or maybe a week. Obviously we are not going through "rozmajbutnieni" in the same way, but when I'm asking Father Misha in Fastiv about the plans for the coming months or even weeks, I can't always get an answer.

Marzena from the group "Charytatywni-Freta" told us about the most recent humanitarian mission to the Kharkiv region. Zavody is a tiny destroyed village from around Izyum where Father Misha and the volunteers from the House of Saint Martin de Porres are helping to rebuild houses and farms. "How have you found us, here, at the end of the world?" a Zavody woman asked a surprised volunteer from Poland. "It was God," Marzena responded quickly. Apparently this short sentence touched the woman's heart deeply because she started crying. When I heard Marzena's story over the phone, I thought about the Good Shepherd who goes to the deserted places searching for the lost sheep.

During my recent visit to Switzerland, Bernard, a journalist from Cath.ch, gave me a couple dozen little statuettes of smiling Jesus, which could fit in a matchbox. They were a gift from the Little Sisters of Jesus from the Swiss monastery in Aubonne. Bernard made a documentary about the unusual life of Sister Mary Hedwig who lives in that community. In Poland, the great apostle of the smile was Saint Urszula Ledóchowska. In Switzerland, Father Maurice Zundel wrote about it: "The most powerful force in the world is the smile. A smile makes us alive, just as lack of smile makes us die. When there is no smile, life diminishes. Wherever there is the smile, life flourishes. The smile is also something that is most fragile." So much joy was given to us by Sisters Renata and Kamila, Orionist sisters from Korotych. In July, they came to Fastiv and Kyiv with a group of about twenty kids, of whom many came from occupied or destroyed villages of the Kharkiv region. The sisters told us that sometimes the children unexpectedly – at dinner, over tea, or during play – start telling how the bombs were dropping on their houses, how they were hiding in the basements, how someone died. How many painful memories they carry in themselves! All of them were visiting Kyiv for the first time in their lives. I saw with what great veneration they lit the candles in the Orthodox Sabor of Saint Nicholas and how they looked with awe at the mosaics in the Sophia Cathedral. I wouldn't be myself if we didn't also go to the entertainment center. It's a fun place that always lifts kids' spirits. I know it well because two years ago, we went there with a group of refugees from Iraq.

Yesterday, World Youth Day ended in Lisbon; a couple of young people from the parish in Fastiv were there with Sister Augustine. In Kyiv, just after sunrise, a huge Ukrainian coat of arms was hung on the over-100-meter-high statue. On the steel statue's shield, which is made out of stainless steel and shines brightly in the sun, just a couple days ago you could still see a Russian sickle and hammer. I went there at dawn to see Mother Ukraine from the bank of the Dnipro in this new, finally Ukrainian, version. It is an important symbol in an important process of breaking away from the Soviet past.

I ask you to pray for Brother Nikita from Kharkiv who is about to finish his novitiate and will take his first vows in our Order next Sunday in Warsaw.

With gratitude for all your help offered to us and Ukraine and with constant request for prayer,


Jaros?aw Krawiec OP

Dear sisters, dear brothers,


May nights in Kyiv are unusually restless this year. Especially the one between Monday and Tuesday. The noise made by the defenders of the Ukrainian sky as they shot at Russian rockets and drones was accompanied by car alarms. While the earth was shaking and the sky was pulsating with repeated explosions, they were going on and off maddeningly. It would be hard to find anyone in Kyiv who wasn't up around 3am that morning. Mrs. Katia who cooks in our priory joined her neighbors in the staircase, searching for a safe place. In the building where she lives, the people were scared because during the first months of the war rockets had fallen there multiple times, and their windows had lost their glass panes. Now every shelling of the city causes them even more worry..
Last night, too, the battle was raging in the skies of Kyiv; but the vicinity of the priory was quiet, and most of us learned about the battle only through the morning news. At breakfast I asked Mrs. Katia how she slept last night. "Father, for the first time in a long time I couldn't hear the sirens. But unfortunately my cousin called me to ask if I was okay. What bad luck. I couldn't fall asleep until the morning."
I mention Kyiv, but obviously it is not the only city under attack. Each day many Ukrainian towns are shelled. Quite recently huge explosions shook Khmelnytskyi. They were so intense that even though it all happened a long distance from our priory, the brothers found plaster that had fallen from the ceiling.
Today we are celebrating the Day of Vyshyvanka, a traditional Ukrainian shirt embroidered with different patterns that depend on the region of origin. Shirts, t-shirts, elegant dresses, and even albs and liturgical vestments are ornamented, often with great skill. Apparently the idea of celebrating the national clothing of Ukraine and promoting it as a real trademark was proposed in 2007 by the students from the university in Chernivtsi. Today no one is ashamed of wearing vyshyvanka in Ukraine, and one has to pay a lot of money for the truly elegant shirts and blouses made by the respected companies. As I was returning from my morning shopping, I met many people wearing vyshyvankas. It seemed that they were more numerous than in previous years.
During the first days of May, we were visited by the Master of the Order. It was his first trip to Ukraine, and for us a great joy to meet our highest superior and the 88th General Master since Saint Dominic. Father Gerard Timoner III — accompanied by his socius Father Alain Arnould for whom this was his third visit to Ukraine since the war started — visited Fastiv, Kyiv, Khmelnytskyi, Chortkiv, and Lviv. They traveled many kilometers by train and by car to meet the Dominican family that is the sisters, brothers, and lay members of the Order wherever Dominican priories can be found. I still remember many of the words of Father Gerard, who in my opinion, in his ministry as superior combines authentic love and compassion with truly Dominican wisdom.
At the request of the Polish provincial, the Master granted a particular distinction to the volunteers, men and women, from the House of Saint Martin de Porres in Fastiv. The "Benemerenti" medal has been awarded for over fifty years to people who do not belong to the Order but whose witness of living by the Gospel merits particular distinction. This was the first time the distinction was given to more than one person, which as Father Alain emphasized is particularly inspiring to the Dominicans who across the world try to live and preach Christ as a community. "I thank you for being, with us, the builders of peace!" he added.
I am grateful to Father ?ukasz Wi?niewski, and also to the Master, for not only recognizing the volunteers and their work, but also personally coming to grant the award. There was a lot of emotion and tears on the faces of the recipients. I couldn't hide my own either as I looked with pride at them and at the tiny statue of Saint Martin de Porres — one of two made for us by our French brother Marie-Bernard and received by Katya. Father Alain also surprised us with another gift. Anya, one of the volunteers, is an English teacher but can also speak Finnish. As a special gift from Father Alain and the Dominican brothers from Helsinki, she received three books, obviously in Finnish!
On the way from Fastiv to Kyiv, we visited areas that were liberated a year ago from Russian occupation. They are still destroyed for the most part. We stopped in Andriivka, a town I frequently mentioned in the letters from the beginning of the war. Father Misha and his volunteers again brought a couple thousand little chicks which they, Father Gerard, and Alain distributed to the inhabitants of the village. The older people in particular rejoiced greatly over the gift, saying that not one of the "church" chicks that they received last year had died. I don't know how much of that is true and how much is tender gratitude to Father Misha for being with them since the beginning of the tragedy. I stood to the side talking to an older gentleman who survived the occupation of Andriivka: "For the first time in my life I was grateful that I was old. When the Russians started arresting, exiling, and killing men younger than me, they let me go free, saying that I was old, and nobody needed me." "My old age saved my life," he added.
In Irpin we stopped for a moment at the destroyed bridge. It is a symbolic place and was a gate to the free world for people running away from the territories occupied by Russia at the beginning of war. People had waded through ice-cold waters under constant shelling, and the heroic efforts of Ukrainian soldiers, firefighters, police officers, and volunteers were preserved through the pictures that the whole world saw in February and March of 2022. When Father Gerard shared his experience visiting Ukraine on the Vatican Radio, he mentioned this place: "Next to the destroyed bridge, a new one is under construction, maybe even stronger than the old one. It is an important image for me. The symbols of destruction remain, like the wounds of Christ that remained even after the resurrection. But on the other side one can see the bridge that is under construction even while the conflict still rages. I would like to believe that it is also the mission of the Church, the mission of all people of good will, to build bridges. When Thomas the Apostle touched the wounds of Christ, he exclaimed, 'My Lord and my God!' We pray, and we keep hope that even when we are surrounded by the destruction and the wounds of the Ukrainian nation, we can still touch the wounds of Christ and exclaim 'My Lord and my God!' because we believe in the resurrection. The symbols of death can become symbols of new life. New life that only God can give."
On the International Day of Nurses and Midwives, I brought from Krakow to Kyiv and gave to the Dominican chaplain of one of the hospitals the relics of a nurse, Blessed Hanna Chrzanowska (1902-1973). It was the idea of Sylvia, a lay nurse working in a Krakow ambulance and involved in Ukraine since the Revolution of Maidan in 2014. I deeply believe that the intercessory prayer of Blessed Hanna and the example of her holy life will offer great support for the doctors and medical personnel, as well as for all the sick to whom Father Oleksandr serves as a chaplain.
A couple days ago I visited a cemetery in Lviv where the Ukrainian soldiers are buried. Every day their number increases. At one of them, an older man was arranging flowers. "Praise to Jesus Christ! Is it your son?" I asked. The man asked me to repeat the question, as if his thoughts were somewhere else. "Yes. Only son. He was. Not any more. He died in the Kherson region." At another tomb of a young soldier, an older man dressed in a combat uniform was praying the rosary. I asked him the same question. "No. It's my brother in arms. I didn't know him. But he died just next to me." "Where was it?" "Avdiivka," he answered. Then he pointed to his heart, adding, "Now the heaviest war is here."
A moment earlier during Holy Mass I had read the words from the Gospel according to Saint John: "Father, I want those you have given me to be with me where I am." (John 17:24) I am convinced that today Christ asked the Father this for the Dominican brothers. He is in the Kherson region, in Avdiivka, at the Lviv symmetry with the relatives crying for their dead. He invites us to accompany Him.
Marzena, a volunteer from Poland who accompanied Father Misha and the Fastiv group last week in the area around Izyum, shared a similar image: "In the Zawody village we met a man who will be hard to forget. He was no more than fifty years old and clearly was drinking. But it was also clear that it is a new drinking: that before the war alcohol was not a part of his life. He came to the meeting concerning the restoration of houses that could still be saved. He came just to be with people for a moment. 'They killed my son in broad daylight during the occupation of the village. Just like that, he was walking through the village, they looked at him, and they shot him. I became completely alone. I don't want to restore anything. I want the alcohol to take me away.' What could be done? What could be said? Nothing. Simply nothing. You look at the man whose life was extinguished within him, and at the same time you see in his eyes, you feel in him, some enormous goodness. Simply to be, simply to be with someone for a moment."
With greetings, with gratitude for your support, and with request for prayer,
Jaros?aw Krawiec OP,
Kyiv, May 18, 2023
Dear Sisters, Dear Brothers,
There is a painted icon of Our Lady Orans of Kyiv on the wall of a street bomb shelter in Kherson. These small, safe shelters made out of cement, located at bus stops, are called "hideouts" in Ukrainian. The original of the icon is found in a mosaic on the dome of the Sophia Sobor, one of the oldest and most important churches in Kyiv. Mary, raising both hands to heaven in a gesture signifying constant prayer, complete surrender to God, and subjection to his will, has become for us in these days a "hideout." The image remind the inhabitants of the capital, as well as the inhabitants of the relentlessly shelled city of Kherson, of the words that begin the prayer of the Akathist, which is very popular in the Eastern tradition: "O Valiant Queen of the Heavenly Hosts, who has invincible power, save us from all miseries!"
I started writing this letter last night on the train from Warsaw to Kyiv. Railroads play a very important role in wartime, and the two main lines connecting Kyiv with Poland seem like arteries distributing blood from the heart to the whole body. For over a year, these communication trails have been for us the arteries of freedom, safety, and international solidarity. These days, everybody uses these trains, including the leaders of the world's superpowers. Every car contains a world in miniature. Among the passengers, mostly women, one can hear conversation in Ukrainian, Polish, Russian, English, and sometimes in other languages unknown to me. For some travelers, cities like Przemy?l, Che?m, or Warsaw are just stopping points on the way to Western Europe, America, or Canada. A couple days ago, on the platform of the Warsaw Eastern Railroad Station, I saw people embracing each other and saying in voices filled with emotion, "Finally, together again!" I could see similar scenes this morning in Kyiv. The only difference was that here, the ones waiting with flowers were mostly soldiers.
"What tells us that we are adults? It is not our age, but the responsibility that we take for ourselves and others." I was listening attentively to the wise homily at the celebration of the Sacrament of Confirmation. And, although Bishop Romuald did not talk about war, his words accurately describe the motivations of many Ukrainian soldiers. It is exactly that responsibility for their loved ones, for their country, and for their own future, that makes many of them volunteer to serve. As one defends his own home, one has to grow up faster and make more mature decisions. During a discussion in the Kyiv center of the PEN Club, Oleksandr Mykhed asked his fellow writer and soldier Illarion Pavliuk, "Why did you go to war?" He answered simply: "Because it's the only way to protect our children." His teenage son was sitting in the room, not far from me. I'm convinced that he was listening to his father with pride. I am also not surprised that, when I talk to soldiers, they cannot even imagine life in the totalitarian reality of contemporary Russia. That is why they keep fighting, convinced that Ukraine simply cannot lose this war.
This time, I could not join Fr. Misha, Sr. Augustine, and the volunteers from the House of St. Martin, in their humanitarian mission to the Kherson area. So I have been listening to their stories about many familiar places and people. At present, it is a very dangerous area. The Russians have been shelling the city and surrounding villages with increased intensity. For this reason, the streets become empty in the afternoon. Marzena, a volunteer from the Warsaw group Charytatywni - Freta, who for over a year has been living in Fastiv, recollected for us an amazing meeting in one of the villages on the shores of the Dnieper. "We were invited for dinner by an Armenian family. There are no shops in the area, so people eat anything that can be provided by soil and water. It is a sort of enforced return to nature. At some point, an older woman with crutches came to us, limping. Somebody told her that the village was being visited by people from Poland." Urszula, as she is called, is a Polish woman from Drohobych, and she arrived to those distant lands many years ago with her Russian husband. When she heard "Good morning" in her native tongue, she started crying. For over forty years, she had had no opportunity to speak Polish. She made her Easter confession, because, as she said, due to her age and the difficult war situation, it might be the last in her life. God knows how to find his lost sheep.
This Lent was a very busy time of preaching for many of us. Brothers preached conferences and retreats in parishes and religious communities, both in Ukraine and in Poland. It is very different from the Lent one year ago. At that time, there was heavy fighting in Kyiv, and the places where Dominicans live — Lviv, Chortkiv, Khmelnitsky, Kharkiv — were under constant bombardment. Our house chapels became our pulpit, and the congregation was mostly those who were asking us for shelter. This year's Holy Week started differently — in a more normal way, although still far from actual normalcy. We got used to it somehow, and we are learning how not to be defeated by the evil of war.
In my previous letter, I mentioned the cemeteries, which are like hourglasses in which the passing days of war are marked by the mounting tombs of fallen soldiers. But there are other calendars, and other ways of measuring time. There are, for instance, delivery rooms. Data about military losses on the Ukrainian side are classified, which includes the number of soldiers killed. But the media is full of information about births. During the four hundred days of war up through the end of March, 18,450 children were born in Kyiv. In that number were almost 600 more boys than girls, 317 sets of twins, and 4 sets of triplets. Is it a lot? Before the war, the capital of Ukraine welcomed many thousands more children each year. And, although every new life is a sign of hope, the demographic situation of the country is getting more difficult. The huge wave of emigration, deportation to Russia for those who lived in the occupied territories, civilian and military casualties of war, as well as low rates of childbirth — all of this combined means that the results of the war will be felt for a great many years, and will be terribly painful.
"When something that I have prayed for long and patiently comes to fruition, it almost always moves me much more than a request heard immediately." These are words from one of the letters of St. Teresa Benedicta of the Cross [Edith Stein]. I jotted them down when I was in novitiate, but there is a reason why I recall them today. When the war started, I tried to volunteer as a chaplain in one of the hospitals. At that time, it was not possible. The desire stayed in me, however. For this reason, I was very happy when, on Saturday, Bishop Vitaliy called me and asked if the Dominicans could provide someone to serve as a chaplain in one of the Kyiv hospitals, which was urgently looking for a Roman Catholic priest. The request is unusual for Ukraine, because the ministry to the sick is still not well developed. Luckily, as the war progresses, one can see change for the better and the growing care of the authorities to ensure spiritual support to both civilian and military patients. Thus, in the coming days, we will begin a new stage in our ministry in Kyiv. Fr. Oleksandr will become a hospital chaplain and join the team already consisting of an Orthodox priest and a Catholic priest of the Eastern rite. For myself, it is another moment in my life when I realize that God fulfills our dreams, although in this case it had a year-long waiting period. Apparently in heaven, they have a lot of urgent requests from Ukraine nowadays. Please remember Fr. Oleksandr in your prayers, because hospital ministry in the time of war is very difficult.
Although this year Christians of Eastern and Western traditions in Ukraine do not celebrate Pascha at the same time, these words, spoken during the Orthodox liturgy, remain our common profession of faith: "Christ has risen from the dead, with his death he conquered death, and to those in the tombs, he gave life."
With gratitude and with the best Easter wishes, and with humble requests for prayer,
Jaros?aw Krawiec, O.P.
Kyiv, April 3, 2023
Dear sisters, dear brothers,
My last letter contained a moving testimony of the pain that is tearing apart the hearts of many Ukrainian women. Men are suffering in the same way — because their girlfriends, mothers, and wives are also dying on the front lines. Many of them are serving in the ranks of the Ukrainian Army as medical personnel. There are young women as well as many who already have significant medical experience as doctors or nurses. January 22 was celebrated as a national holiday — the Day of Ukrainian Unity. I went to a concert of Taras Kompanichenko and Chorea Kozacka. It took place in a place special to Kyiv, the Pechersk Lavra.
Taras Kompanichenko is one of the most popular performers of traditional Ukrainian music, a bandurist, a lira player, and a poet. When the war started he joined the territorial defense of Kyiv, which is now part of the Ukrainian army. And he's not the only one from among the local artists and intelligentsia — which I could see with my own eyes at the concert. I spotted among them Mrs. Alisa. The beautiful young woman in a military uniform drew friendly glances from many people. From time to time she would dance a little, a few steps maybe, while holding her tiny daughter against her heart. In these sacred halls of the Lavra, she looked like a living icon of hope. After the concert I approached her to thank her for everything she is doing for Ukraine.
In an article in Kyiv's "The Weekend" I learned that Alisa Szramko is a teacher and museum curator by profession. She has two daughters, the youngest born during the Russian invasion. Before she became a mother, she would use her vacation time to travel to volunteer as a nurse in eastern Ukraine, where the fighting had already been going on for many years. Mrs. Alisa belongs to the organization of volunteer medical responders that was established after the commencement of the war in 2014. The "hospitalers" consist of almost 360 medical professionals, organize trainings in emergency medical response, and evacuate wounded. There are other similar organizations in Ukraine. They are amazingly courageous people, true angels rescuing lives even in the most difficult conditions.
After the end of every rocket attack alarm, my phone tells me the statistics that speak eloquently about the daily lives of the people in Kyiv. Since the beginning of the war, the sirens have sounded 661 times. All together, the alarms have lasted 735 hours and 56 minutes. If we divide by 24, the number of hours in a day, we get a number close to 31 days. A month! Since the war began on February 24, three hundred and forty seven days have passed, a whole month of which the inhabitants of the capital of Ukraine lived in immediate threat to their lives and safety, many in constant stress with constant interruptions to their daily activities like school, work, shopping, or play (for the kindergarten children) with the uncertainty of whether it's just a threat or whether more rockets are on their way. Could anyone get used to this? We kind of are.
On the last day of January, Iryna and Wiktor got married. They hadn't known each other before the war, but after they joined the group a couple dozen people who moved into our Kyiv priory temporarily, they could be seen together more and more often. It's not surprising that they chose the Dominican chapel and the aula of our Institute as the locations for their wedding and wedding reception. It was a very simple celebration. The guests consisted of their closest family and a few friends. And obviously the brothers who happened to be in the priory that day. Our prior Fr. Petro pointed out in the wedding homily that the names of the bride and the groom have hidden in them the two most important desires the people of Ukraine have now: "peace", the meaning of the Greek name Iryna, and "victory", the translation of the Latin name Wiktor. Iryna and Wiktor are bound by love and sacramental marriage. I hope that we will live to see the day when, together with the free and democratic world, we will celebrate peace and the victory of Ukraine.
Iryna is from Kherson. During the wedding reception, her cousin, holding her three-month-old daughter in her arms, told everyone about her departure from the city occupied by the Russians. With many difficulties, stress, uncertainty, and already late in her pregnancy, she managed to find a way through Zaporizhzhia to the territories controlled by Ukraine. If the child had been born in Kherson, which was illegally annexed by Russia as part of its territory, he would have received Russian documents and leaving the city could have been very difficult if not impossible.
Despite a few months of evacuating civilian inhabitants from the regions of Ukraine near the front lines, many people remained — mostly elderly, sick, or handicapped. They have a limited ability to move, so they are very dependent on others for help. Last week we went to the Kharkiv region again; I joined Father Misha, Sister Augustina, and the volunteers of the House of Saint Martin de Porres in Fastiv, and we delivered a dozen tons of food, toiletries, warm clothes, medications, heaters, and energy generators.
In Balakliya we found a stowaway in our bus. During the unloading, a red cat jumped out from between the boxes. We started to wonder how he got there. He didn't look homeless. A quick investigation revealed that he came from Fastiv. Clearly, two days earlier during the evening loading of the cars, he had jumped inside, unnoticed by anyone. What could we do? We took an additional passenger on the way back. Apparently he was seen around the cars in Fastiv a few days later. Clearly he likes traveling. It was not the only cat that came back with us. Father Misha decided to receive into the priory a Maine Coon cat who had lost his owners somewhere around Kharkiv. The animal is deaf, and after what it went through, we will try to provide a new and safe house for it.
The trips to Kharkiv are opportunities to meet Father Andrzej. I'm filled with pride when I hear stories of my older brother's service to soldiers on the front lines. He goes there with one of our parishioners who has been delivering food, medicine, and necessary supplies to the Ukrainian defenders ever since 2014. Father Andrzej emphasizes that the most important thing is trust. It takes time, openness, and above all, presence, to be able to build it. So far, he hasn't met any Catholics among the soldiers. In one place, Father Andrzej celebrated Mass. A beautiful personification of the sacrifice of Christ.
On Saturday, Chortkiv was visited by the head of the Ukrainian Greek Catholic Church. He came to bless the newly finished paintings in the sanctuary of the Sobor of Peter and Paul and the missionary cross. Father Dymytriy from our Chortkiv priory, who took part in the celebrations along with Father Svorad, told us about the warm meeting with Archbishop Sviatoslav Shevchuk, who is a great friend of the Dominicans. After all, he defended his doctorate at the Angelicum. Father Dima sent me a picture in which he stood with two Greek Catholic Metropolitans. The second was Archbishop Wasyl from Ternopil. Like Father Dima, he is from Yaremche in the Carpathian mountains, and in the old days he had worked with his father, so he always calls him Dmytryk.
On the feast of Saint Thomas Aquinas — which Dominicans celebrate in an especially festive way this year because of the jubilee of the death and canonization of the patron saint of our Kyiv Institute of Higher Religious Studies — a solemn Holy Mass was celebrated, and a special discussion was organized concerning the new Ukrainian translation of "Metaphysics" by Aristotle. "What is Ukrainian Aristotle like?" In answer to that question, the philosopher and translator of the book, Oleksij Panycz, shared a story with us about how a couple years ago they had tried to organize a day of Aristotle in the institute of philosophy. "I wanted very much to put his bust in the conference room," recounted Professor Panycz. "We had a lot of Platos, but it took us a week to find an Aristotle in Kyiv. We decided to dress him in the Ukrainian Vyshyvanka [a traditional Ukrainian shirt]. The adult-sized shirt wouldn't fit, so we had to put child-sized clothing on Aristotle. So to answer your question, the Ukrainian Aristotle was born very recently, and he still has to grow up," our guest joked, adding: "Only after some time will we be able to tell how he is received in the Ukrainian language."
On the same day in Lviv, Natalia and Jan — a married couple and lay Dominicans — after finishing their novitiate made their first temporal promises. Jan is a soldier, and using his couple day leave of absence, he was able to come and not only visit his wife and children but also make the next important step along the way of his Dominican vocation.
Every letter is an opportunity to express gratitude for the solidarity with Ukraine and for every kind of support that you are offering us. I would very much like to thank all of our benefactors personally. It's very difficult in the present situation, but I'm not losing hope that one day I will be able to.
With greetings and request for prayer,
Jaroslaw Krawiec OP,
Kyiv, February 5, 2023, 11pm
Dear sisters, dear brothers,
I've been waiting to send this letter until Father Misha and his volunteers from the House of Saint Martin de Porres are safely on their way back to Fastiv. They left yesterday with the humanitarian transport to Kherson. Unfortunately I couldn't join them, so I'm only getting reports over the telephone. These days Kherson is very dangerous because both the city and the vicinity around it are being shelled daily.
According to Father Maksym from the Kherson parish, yesterday was one of the worst days yet. Apart from multiple attacks from across the Dnipro River where the Russian army is stationed, one could also hear shots in the streets. It's no wonder that many inhabitants left Kherson recently.
"In the morning we were distributing food in the neighborhood close to the river. Within the fifteen-apartment section of the building, only three families remained," says Father Misha.
One might ask if it's worth it to risk your health and life traveling to these places. After all, humanitarian supplies can be delivered in a different way. With the help of trusted local volunteers, one could still provide supplies to the needy. It would be simpler, cheaper, and certainly safer. However, anyone who has experienced a face-to-face encounter with people living near the frontlines — for whom regular shelling, lack of electricity, cold, uncertainty about tomorrow are a daily experience — anyone who has seen their joy in being visited, knows that one should and one must travel to them. It's a mandate of the heart and of love. Food, medicine, and warm clothes can be delivered through other people's hands; hope in difficult times can only be brought by a personal presence.
Father Misha told me about a meeting with the inhabitants of Chornobaivka, where a few months ago a heavy battle was fought between the Russian and Ukrainian armies. This village is considered the northern gateway to Kherson, and its airport became a symbol of Ukrainian tenacity. One of the women was celebrating her birthday.
Apparently she had been awaiting guests since the morning, with a bottle of champagne!
The war has also created its own dress code, ways of dressing in these difficult times. For instance, the t-shirts that President Zelenskyy wears have become legendary. And we have the sweatshirts for volunteers of the Foundation and the House of Saint Martin de Porres. "Get one like that for me," I asked Misha, noticing his new black shirt that says "Jas. 4:17". "Just make sure it's at least triple XL!" "What quote is that from the letter of Saint James?" I added. "'For one who knows the right thing to do and does not do it, it is a sin'," responded Father Misha. Strong words! I will remember them for a long time.
I notice that people often hug each other when they meet. During wartime this form of greeting has become very popular. Before the war, only very closely related people would dare to make such a gesture publically in Ukraine. It seems to me that we simply realized how important we are to each other and how much we need each other. We also realized how fragile and uncertain our life is. Some time ago, at the farewell with a married couple who had been our guides, somewhere around Izium in the dark foggy road leading to Kharkiv, we hugged each other. I had only known them for a couple hours, but the experience of the road we had traveled and the bread we had shared with the needy brought us together.
I wrote my previous letter before Christmas. A lot has happened since then. For instance, we were visited by Cardinal Krajewski who brought supplies from the Vatican to Ukraine. This time it was power generators and thermal underclothes, so needed in the winter. We hadn't planned to meet, but when we learned that he was traveling to Kyiv, I called him and invited him to Fastiv. During one of his previous visits, the cardinal had already met the Dominican community from Kyiv. The papal almoner spent Christmas Eve with the sisters, brothers, volunteers, and refugees from the House of Saint Martin, and during the midnight Mass he delivered a very moving homily. When he spoke of Jesus' invitation:
"Come to me, all you who labor and are burdened, and I will give you rest" (Mt. 11:28), he emphasized the word "all"; and it's so true that the war can open us to the other and make us go together to serve those in need. I think this is what the cardinal experienced in his conversations with the refugees and volunteers.
On the Solemnity of the Epiphany we opened another house, this time for those uprooted by war. It is a cause for great joy in these difficult times and for even greater gratitude to all who contributed to its creation. More than a dozen people are already living there, including mothers with small children. It is already the third house we're running in Fastiv to help those in need. The Archbishop Visvaldas — the apostolic nuncio in Ukraine who came to bless the building — and I talked to Oksana and her nine-year-old son Zhena. They had come to us from Bakhmut at the beginning of the war, fleeing the bombings. Her husband, the boy's father whose name was also Zhena, had died fighting for a free Ukraine.
Another person who took part in the opening of the house for refugees was Bartosz Cichocki, the Polish ambassador in Kyiv, and he was joined by his wife Monika. They have been personally involved in our work for a long time. Happy that another good initiative succeeded, we joyfully agreed that this "Fastiv experience" has changed us. This is how mercy works.
I was very impressed by the benefit concert given by the youth choir of the National Academy of Music in Kyiv, which was organized in the great hall of the Dominican Institute of Saint Thomas Aquinas last night. A group of young artists performed ten pieces by Ukrainian composers. One of them was the traditional song "I go by mountain and by valley,"
beautifully performed by Oleksandra Stetsiuk, that tells, in the dialect of the Carpathian Lemkos, the story of a girl crying, after losing her
love: "I go by mountain and by valley. I don't see anyone. My heart cries. My heart cries. Out of great sorrow." (You can listen to this song performed by Oleksandra at an earlier concert:
https://www.youtube.com/watch?v=4Srfp6Fj4do).
The war takes the lives of great people every day and breaks the hearts of their loved ones. As I was browsing the news that my friends share with each other, I found the obituary of Victor Onysko, a film editor who became a Ukrainian soldier a couple months ago. He died in battle on December 30, at the age of 40. I never met Victor, although I knew him in a sense through many great Ukrainian movies that he co-created. His wife Olga shared her memories of him on Facebook. She also shared her pain that is so common now in Ukraine. I have to admit that I cannot read Olga's words without emotion.
"My heart will always remain in this terrible 2022. Because you remain in it. My hero. My love. My everything. I don't know how to continue living and breathing without you. I don't know if I'll ever be able to dream again.
The only thing I want now is for this Russia-ist [In modern Ukraine, they created a word that combines the words Russia and fascism.] evil to be punished as soon as possible and for the fewest people as possible to feel this unspeakable and burning pain of loss.
I didn't write much about you here; I was afraid, I'm ashamed to admit, to do harm. FB is not the best place for sincerity. And you always told me that your field reports from the Ukrainian front were only for me.
You were supposed to edit movies, but instead 'edited' a military reality as a company commander. Twice in ground zero - in the Kherson region and the Donbass. Without any possibility of seeing each other.
You are very tired, but you took care of your brothers. You've survived every single loss. You told me that there is no greater torture in war than to inform the families of the death of their relative. Now I felt it on myself. It broke my heart when your soldier sobbed into the phone and swore to me that he didn't know a better person and a better commander.
They say heroes never die. Unfortunately, they do. They are dying now by the thousands, forever leaving their relatives with incurable wounds in their souls. I would be grateful for injury, disability, amputation, ptsd... or anything as long as you're alive. But unfortunately we weren't that lucky. I will never be able to hide in your arms, hear your voice, laugh at your jokes and argue for hours about movies.
The only thing left of you is a 9-year-old girl with your gray eyes.
Thanks to you she had a fantastic childhood with motorcycles, bicycles, tents, skis, music, Balkan mountains and concerts in Berlin. And when I couldn't breathe through my tears for the whole day on the train, she patted me on the head and said that dad fought for our freedom and we will never forget him, and that dad will always be in our thoughts. My and your adult little one. One of thousands of innocent children whose parents were killed by the damned Russism.
It hurts. It hurts beyond words…"
With greetings and request for prayer for those whose loved ones were taken by war,
Jaroslaw Krawiec OP,
Kyiv, January 21, 2023, 4pm
Dear sisters, dear brothers,

I never thought that one could long for lights. When I got off the Kyiv train in Warsaw, I was surprised by the festival of brightly lit streets, buildings, and, above all, colorful Christmas decorations. When you add to it the snow that just fell in Poland in abundant supply, it all looked like a New Year's fairytale. In Ukraine, the last couple months have been getting colder and darker. The longer this lasts, the more I squint my eyes in disbelief when looking at the bright streets and storefronts as well as entering warm houses and priories abroad.

On the day of Saint Nicholas — which in Ukraine is celebrated on December 19 following the Eastern calendar — a new Christmas tree was officially unveiled in the center of Kyiv. It was placed, as in previous years, on the square in front of the Saint Sophia Cathedral, the oldest and most important Christian church in Ukraine. The Christmas tree is much more modest and 60 feet shorter than last year. There is no market place surrounding it, which in Ukraine used to be a necessary element of the "New Year holiday", as Christmas is frequently called here.

Over the last couple weeks, a great discussion has been taking place in Ukraine on the subject of whether Christmas decorations and trees should be displayed in public places during the time when so many millions of people suffer daily because of war and lack of power. The opinion is divided. The mayor of Chortkiv, a small city in western Ukraine where the Dominicans have been present for over 400 years, had already announced in mid-November that: "This year, the Christmas tree and New Year celebration in the city center will be canceled!" To avoid misunderstandings, he immediately added that the most important thing is the celebration of the birth of Jesus Christ, and the decorations and loud festivities can wait until the war is over. Many people think similarly.

The capitol decided differently. "We must have the Christmas tree!" stated the mayor of Kyiv, Vitali Klitschko. "Our children should be able to have festivities! Despite the fact that the Russian barbarians are trying to rob Ukrainians from the joy of Christmas and New Year." I understand the opponents of Christmas trees, but my position is decisively closer to the attitude of the mayor of Kyiv. I heard the opinion of a frontline soldier who was unhappy that his children would be deprived of Christmas. "But this is exactly what we are fighting for, a normal life for our families!" he argued.

Near the Kyiv Christmas tree, I spotted a strange contraption. Cement blocks that until recently had been positioned across the street as a barricade were now painted red, and large eyes were attached to them. It's part of an artistic project called "Children shouldn't see the war", whose authors want to spare the youngest inhabitants of the city the painful experience of seeing a landscape of war during the holidays. This is important since Kyiv now hosts a couple hundred thousand people who have escaped from destroyed cities and villages. This is also the way in which the initiators of this project want to raise funds to help children who have lost one of both parents as a result of the war. Sadly, this number is also growing daily.

This year's Christmas Eve will mark exactly the tenth month of war. On February 24 we all woke up in Ukraine early in the morning to the sound of air raid sirens, explosions, text messages, and phone calls from the terrified friends and family members attempting to find out if we are okay. On the evening of December 24, billions of Christians around the world will begin the celebration of the birth of Christ. This number will include a handful of Roman Catholics in Ukraine, since a majority of the citizens of the country are Christians of eastern traditions and begin celebrations two weeks later. War, however, is causing many of them to demand with increasing intensity the transition to the "Gregorian calendar", and the bishops of the Orthodox Church of Ukraine, which is independent from Moscow and led by the Metropolitan Epiphanius are allowing some parishes to celebrate Christmas together with the western world.

This Christmas will be a different one, quieter and wrapped in darkness. Even if we tried to forget for a moment about the hard times and lose ourselves in Christmas shopping, visiting, and decorating, we can't. Many people have lost their jobs and are in a very difficult economic situation. They will not be able to afford a plentiful Christmas table and gifts. Apart from this, for the last two months there has been a shortage of power and light. Some people have power only periodically; others, like people from Antonivka, don't have it at all.

Antonivka is a village outside of Kherson, with a huge bridge connecting the shores of the Dnieper River that was first attacked by the Ukrainian army and then by the Russians. We delivered humanitarian supplies there two weeks ago. The bus with boxes of food was unloaded very quickly. The village is located right on the bank of the river, and on the other side is the Russian army. "My friends, don't stay in groups. Do not create a gathering, so that drones won't detect us and start shooting," yelled the ladies coordinating the distribution of humanitarian aid. A couple hours earlier, artillery had destroyed a nearby house, and we helped an older woman get out of her basement and transported her to a safer location. While Father Misha talked with the inhabitants of Antonivka, I saw tears in their eyes. They cried out of disbelief that someone came to them. This is another time that I realized that one of the worst things in war is the feeling of being abandoned. I remember the first days of fighting around Kyiv, when Maryna had asked me to bring supplies to a single mother of a son. When we were leaving the woman had asked, "When it gets really bad, will you help me? Will I be alone?" The war taught me that the best thing I can give to my neighbors is not things, money, shelter, wise homilies or comforting words, but my presence. It doesn't take a war, however, to know how bitter the taste of loneliness is and how much it means to give oneself as a gift. Many people don't need anything from us, but they long for us, for our presence.

David is fourteen and for the last year and a half has been living with his older brother Roland at the House of Saint Martin. He had arrived here when his health got worse and the doctors hadn't given him good chances of survival. God's plans were different though. In Fastiv, he was able to recover enough to be accepted into one of the best children's hospitals in Ukraine and to survive a serious many-hour-long operation. He recently came back to Fastiv. I know how much heart, care, and persistence Vera put into the fight for his life and health. I was not surprised to see her joy after a successful operation. "It's a real miracle," she said. It is the best Christmas gift for all of us. When Vera, Marzena, Roland, and I took David to the pre-operation room, we passed Scott Kelly a couple times in the hospital corridor; he's an American astronaut who is helping to raise funds for the victims of war. He's the undisputed record-setter for the longest stay in space. God has a sense of humor, so maybe in this way, that Sunday evening in Ochmatyd, the Kyiv hospital, he gave us a sign from heaven that David will be okay? When we sit down for the Christmas Eve traditional meal after the appearance of the first star in the sky, it's sometimes good to look around because this Star of Salvation can appear in another man. To see it, however, one probably needs a little bit of a child's sensitivity and hope.
"Love is very womanly, faith is very manly, only hope is still like a child. Only thanks to this hope will the Christian commandment begin to be fulfilled: You must become like children."

(Franz Rosenzweig)

On the night before Christmas, people in Ukraine sit down to a festive supper. The Holy Evening, which is what they call Christmas Eve here, gathers the whole family at the table. One of the customs still practiced here is the tradition of leaving an empty space at the table for an unexpected guest. I am convinced that this year there will be many empty spaces at tables. In many families, men and women fighting on the front lines or serving as doctors and corpsmen will be missing. There will be tears of pain remembering the dead, missing, and imprisoned. There will also be phone calls to those who had to leave their homes and are far away from their loved ones. This will be a very difficult Christmas.

Ukrainians are a singing nation. They sing in churches and at home. I'm sure there will be no shortage of Christmas singing this year. Father Misha told me they used to sing a Christmas Carol in his home that was officially forbidden in the Soviet Union, titled "Sad Holy Evening of 1946". It tells the story of the tragic times after the Second World War when the communists were conducting mass arrests and deportations of Ukranians to Siberia. The carol ends with the call to God:

Jesus our God,
reach down to us.
Let us see all our loved ones,
around the holiday table.

To those killed fighting,
our heros,
grant, merciful God,
eternity in your kingdom.

Sad Holy Evening,
in nineteen forty-six
across our Ukraine
crying everywhere.
Dear sisters, dear brothers, I feel like thanks to these letters describing the daily Dominican life in Ukraine, we have become close to each other. You've gotten to know our names and the places where we serve. We also carry you in our hearts, in our minds, and in our prayers. We are grateful that you are with us, that you support us and those we serve. In this symbolic way, I would like to follow with you the Ukrainian and Polish traditions, break the host and share the kutya, wishing each other a true peace. Recently Sister Damian brought a great cake for the children she teaches catechesis. After all, Christmas is the memorial of the birthday of our Savior! Let's not be sad and disappointed, but always full of "hope that cannot fail" (Rom 5:5). Let us celebrate the coming of the Lord with joy.
With greetings, prayer, and gratitude,
Jaros?aw Krawiec, OP
Kyiv, December 22, 2022
Dear sisters, dear brothers,
Once again Fr. Misha, the volunteers from Saint Martin, and I traveled to Izium and Balakliya. This time we were joined by Mr. Bartosz Cichocki, the Polish ambassador to Ukraine. He's one of the diplomats who didn't abandon their posts in Kyiv at the beginning of the war. He and his wife Monika strongly support all kinds of activities and centers of aid, including the House of Saint Martin in Fastiv. We spent three days on the road. The ambassador unloaded the buses and distributed aid to the needy just like the rest of us. The children of the small village of Kun'je outside of Izium were in awe of the toys, reflective armbands, and backpacks. People here live very simply, so the colorful gifts for the kids caused joy and broke the dreariness of life. At the store in the center of the village where we were distributing humanitarian aid, our presence caused a substantial crowd to gather. I suspect that Fr. Krzysztof, the prior from Korbielów, a famous car and motorcycle enthusiast, would be in heaven if he could see this living museum of automotive industry. A huge portion of the vehicles dated back to the USSR. Until the time of war, Kun'je had a large school building containing a high school, middle school, elementary school, and kindergarten. Unfortunately the building had been shelled by the Russians at the very beginning of the war. After that, until mid-September, the occupying forces used it as their barracks. Now it's in ruins, and the children from the surrounding villages have nowhere to go to school.
Passing bags of food weighing up to ten pounds from hand to hand was exhausting, but it's hard to find a better way to unload the humanitarian aid trucks. This effort also has a deeper meaning. Passing from hand to hand is always an encounter with another human being from whom you receive and to whom you give. It's a simple illustration of the words of St. Paul: "What do you possess that you have not received?" (1 Cor 4:7) In his most recent message for The Day of the Poor, Pope Francis very accurately expressed what many of us have been experiencing since the beginning of the war: "In front of the poor you don't do rhetorics. You roll up your sleeves and put into practice what you believe, through direct involvement. That can't be delegated to anyone." For this reason, when I think about the volunteers and the Dominican brothers and sisters, I realize with deeper conviction that we're very lucky, living at the end of long chain of good, since behind every bag of food, medicine, warm clothing, or the electric generators that are arriving for the poor is the work, time, money, and involvement of many good people. We are very grateful for all of this! Without you, we don't exist.
Father Misha was very moved by a meeting with a woman in Izium. "Her house is only 37°F. I don't want to hear anyone complaining that they are chilly in Fastiv!"
On the way back from the Kharkiv Oblast, I went to the train station to drop off Ania, from the Charytatywni group from Warsaw. She was taking the night train to Poland. At one of the platforms, the one with vehicle access, almost thirty ambulances were sitting waiting for the evacuation train to receive the wounded. Nowadays this is a frequent sight at the Kyiv railway station. I have a hard time getting used to it. One soldier drew our attention. He was walking with difficulty, in visible pain. I talked to him while standing on the escalator. He was returning from the front lines, wounded in both legs with four pieces of shrapnel — a large man with a beard, carrying in his arms a backpack with a cat. After I said goodbye to Ania, I thought that he might need my help. Somehow I couldn't simply go home. I walked out to the front of the station hoping he would still be there. He was. He was sitting at the bus stop. I offered to drive him wherever he needed. He accepted the offer, since the cab company that he had tried to call wouldn't respond. Yuriy is my age. He had just arrived by train from Kramatorsk, to which he had been sent from the front lines. Years ago he worked in Poland, and he had a lot of good things to say about it. He spoke a strange kind of broken Polish, with Russian and Ukrainian words mixed in. His commander gave him ten days off. I'm afraid it's not enough time to treat his wounded legs, but I didn't hear a word of complaint from him. I asked if it's hard out there. "You know, dying is not the worst thing — what's horrible is living in such uncertainty," he said, referring to the Russian occupation. He's full of hope and wants to continue fighting for a free Ukraine. "I'll finally wash up, and tomorrow I'll go home to my wife and my three kids. I haven't seen them for a year." I told him how grateful I am for what he's doing for us on the battlefield.
In the car, his cat meowed from time to time. Her name is Mushka ["Little Fly"], "like the front sight of a gun," Yuriy explained with a smile. He found the cat in a basement in Spirne, a small village on the border of the Luhansk and Donetsk oblasts, where he had most recently been fighting. "She didn't want to go with any of the other guys, just with me." And he added, "I don't know if I saved her or if she saved me." His daughter sent him a special bag for transporting animals, so Mushka is now traveling quite luxuriously with her "savior" to her new home.
I am following the news from Kherson, and I'm worried. We were there three weeks ago. The city wrapped in darkness was depressing. At the time we left you could see some sparsely spread lights, but within the last few days, the Russians destroyed the power grid. Kherson, however, is a subject for another letter, maybe the next one.
Last Sunday, after almost 72 hours, our Kyiv neighbors across the street from the priory got their power back. Fr. Petro took a picture with the caption: "Joyful photo!" The repeated mass-shelling of critical infrastructure heavily destabilizes life in Ukraine. If they keep it up, life in the capital of Ukraine and many other places will be very hard. The authorities are opening places where people can come, warm up, and charge their phones. They call them "points of perseverance". Lack of power also means serious trouble with communications; if we don't have light, the internet and cell phones don't work either. For this reason, even getting through to Fastiv is bordering on a miracle.
Despite the external darkness that is covering all of Ukraine these days, there is no shortage of beams of light and hope. For me, one of them was a meeting Marek, the superior of the lay Dominicans in Kyiv, had with a group of people from Khmelnytskyi who want to become our teriaries. I hope that the Kyiv fraternity will help them establish a new community there. Of course, time and patience are needed, but the enthusiasm and commitment is already in good supply, which I could see myself during my visit to the newest priory in Ukraine.
"To my friends in Ukraine" is the way Fr. Alain, the socius to the Master of the Order, began the letter he sent us on the first Sunday of Advent. Many brothers, sisters, and lay Dominicans had the opportunity to meet Alain in Ukraine and stay in contact with him. In his short reflection, Fr. Alain mentioned the work of Austrian artist Billi Thanner. Her installation entitled "The Ladder to Heaven" could recently be seen in Vienna. One part of the ladder was inside the cathedral of Saint Stephen; the other was hanging on the south tower. Both parts of the ladder were made of aluminum with neon lights colored goldish-yellow. "The first step was located in the chapel, next to which tourists frequently pass by, inviting them to stop, directing their thoughts and their eyes up to a different reality outside the walls of stone and plaster. For the faithful who were coming to pray, this piece of art materialized and lit up the way for their prayers to rise to God," wrote Fr. Alain. I'm realizing that this war is teaching me to listen and watch more carefully. It's often the kind of attention that's connected to danger. Recently, while walking on the sidewalk, I heard explosions of rockets somewhere. Along with the other passersby, I stopped, looking up to the sky. It was peaceful and cloudy. On the roads leading to Izium or Kherson, I look down more carefully in front of my feet, knowing that landmines could still be there. The Ladder to Heaven by Billy Thanner reinforces the call of the time of Advent to look with hope and faith upward, to Christ, as well as look down with greater attention, at the suffering sisters and brothers. "Mercy is born of deprivation," taught Saint Thomas Aquinas; especially when we start to see someone else's misery as ours.
With greetings and gratitude for all help and support we are receiving, and with a request for prayer,
Jaroslaw Krawiec, OP
Kyiv, December 3, 8:00pm
Dear sisters, Dear brothers,
I did not expect how euphoric the Ukrainians' joy would be after the liberation of Kherson. This city, one of the most important in the south, had been under Russian occupation for 256 days. I've heard many times from Father Misha about his dream to finally load the cars and personally deliver aid to the people of that city. Now Misha is just waiting for the signal from his friends over there, before starting the drive.
Last week I traveled with Sister Augustina, Father Misha, and volunteers from the House of Saint Martin in Fastiv to Kharkiv and beyond to southeast Ukraine in order to deliver humanitarian supplies to Balakliya, Izium, and the surrounding countryside. These territories had been liberated from Russian occupation two months ago. I have to admit, I've never been to these distant regions of Ukraine. The world here is a little different than the one I knew, especially now. The war has brought enormous destruction. The center of Izium is completely in ruins. Destroyed and burned out buildings, apartment complexes, the destroyed huge bridge over the river Donetsk — all these cause fear even in us, who are used to such sights.
We were heading to three different regions of the city. Crowds of people gathered around our cars. Local leaders helped us distribute aid. They keep lists of people, and they know who is in greatest need. As happens in life from time to time, small debates arose among people in the line. We were giving away boxes of food, cleaning supplies, warm clothes, pillows, and blankets. Balakliya will also receive almost twenty windows from Poland. Vera set up a table to distribute basic medicines, which are greatly needed. Immediately a crowd of people stood by her, mostly older ones. A young mother asked me if we have something for her child's cold. Luckily we did. Although some stores are already open in Izium and other liberated places, the prolonged period of lack of work and high prices make shopping impossible for a lot of people. "It is much more expensive here than in Fastiv," I heard from one of the volunteers who had just returned from the store. "Thank you for coming to us. The last time we received aid was two weeks ago." "Where are you from? What is your faith?" people were asking us, curious about the white Dominican habits. Before we started distributing aid, Father Misha invited everyone to pray the "Our Father" together. Everyone prayed in the way they know. Some were silent.
On the way to Izium, we stopped by the village of Vesele. Among the people coming to receive help, I saw a lot of children. I greeted a group of boys. We were shaking hands, and I asked their names and whether they go to school. Unfortunately the school in the village had been destroyed when the Russians were stationed there, so they have to study remotely. It isn't simple. The village doesn't have any internet connection, so every day both teachers and students go to the surrounding roads looking for a connection. When they manage to "catch the net" they send and download exercises and homework. Unfortunately there are now many places like this in Ukraine.
While distributing humanitarian aid, the volunteers were surrounded by dogs and cats. I haven't seen anyone trying to make them go away. After all, they have survived the war, too. Many animals are starved, many are terrified. We had some animal food and spread it around. Cats along with dogs greedily swallowed the tiny brown pieces, without paying attention to anything else.
We were guided to our posts by local volunteers. Bogdan and his wife are young people from Balakliya. He had spent a few days as a prisoner. Local traitors who had been selling food in order to get rid of competition had reported him to the Russians for giving away bread for free.
I spent last weekend walking back and forth between the priory and the movie theater located in the old Kyiv neighborhood of Padol. That's where the first Dominican priory was located long ago. On Friday afternoon, partly by chance, I learned that "Docudays UA", or the International Human Rights Documentary Film Festival, was beginning in "Zhovten" theater. I decided to watch the film "Mariupolis 2". It is a moving 2-hour documentary on the lives of average people in Russian-occupied and barbarically destroyed Mariupol. The film was created using saved recordings made by the Lithuanian director Mantas Kvedaravicius. At the beginning of the war he arrived in Mariupol to make his second documentary about the city. Sadly, Kvedaravicius became one of the victims of the war. Initially the information given was that he died in the car he was driving, as a result of shelling. However, this was an incorrect narrative passed to the public to allow the wife of the director to recover his body. Soon it was revealed that the Lithuanian director had been arrested at the end of February and was then tortured and shot by the Russians. Many people came to see "Mariupolis 2". Among them were two defenders of "Azovstal," the huge steel manufacturing facility that became a fortress besieged by Russians and heroically defended by Ukrainian soldiers. The young men walked with crutches. One had a prosthetic leg. Another soldier from the Azov regiment is Orest, the main character of a different documentary. During the fight for Mariupol he had been responsible for communications with the outside world and had described what was happening under the siege. Thanks to Orest and his recordings, we could see the lives of civilians, including many children, in the underground cement bunkers of Azovstal. Orest's mother was present at the showing of the movie. Actually, she sat not far from me.
During the opening remarks of the festival, the director said that "Docudays UA" are an element of normal life, for which we have already been fighting for nine months. What a true statement. Russia is continually trying to steal normal life from Ukrainians in many brutal ways. And many Ukrainians have already sacrificed their lives and well-being for it. They went to war to fight for the chance of normal life for themselves and their loved ones. I am grateful beyond imagination to all of these men and women for the moments of normalcy that I can enjoy in Kyiv thanks to their sacrifice.
"I didn't Want to Make a Movie about War" is a documentary by Nadiya Parfan that opened on Saturday. The war had surprised Nadiya and her husband, who were in the Middle East. "It was warm, safe, and very far away from home," she said. She couldn't take it for long and decided to return to Kyiv, which was still surrounded by vicious fighting. I watched this movie with great interest; I saw in it many of my own experiences. There was another reason, however, for my interest. A month ago on my way from Warsaw to Kyiv, I was riding the train in the same compartment as the director and her husband. Usually I don't bother people when I travel, and at that time we had exchanged only a couple pleasantries. The trip was very long, though, so when I looked at my companions I guessed that they must be connected to cinematography somehow. There was something in them that made me remember them well. Who they really were I realized in the movie theater. After the show I shared with them our railroad story. Nadiya immediately invited me to the "post-show party." At the entrance to the theater we stood around a collapsible table and ate an apple pie that is known here as pirog. Nadiya's mother sent it by mail yesterday by Ivano-Frankivsk, and Ilya brought it in a compartment of his motor-scooter. I hope we will meet again, not necessarily on the train. Nadiya invited me to a small projection room that Ilya runs. They show many Ukrainian movies, which makes me happy. The projection room is also a bomb shelter, so during the air-raid alarms we don't have to stop and go anywhere.
In the chapel of the Missionaries of Charity in Kyiv there is an announcement board. The sisters write the intentions of their prayers on it with white chalk. There is Pope Francis, Bishop Vitalij; there are names of sisters and benefactors. During the morning Mass, I spotted, at the end of a long list, one written in English: "the conversion of Putin." I'm sure that millions of Ukrainians pray daily for the Russian dictator. Many wish him a quick death, grave disease, or some other affliction. Others, like the sisters, pray for his conversion. During the Mass today, we read the Gospel about Zacchaeus, who converted after meeting Jesus and declared, "Lord [...] if I have extorted anything from anyone I shall repay it four times over." (Luke 19:8). I asked Katya, the director of the elementary school at the Center of Saint Martin, if children in Fastiv pray for Putin, too. "Of course," she said, and she sent me a recording a few minutes later. Luka, in the voice of a serious child, explains specifically what he is praying for: "That Putin give back a hundred thousand million hryvnia to rebuild Mariupol, Kharkiv, Kherson, and all the other occupied cities of Ukraine." The boy is 7 years old and in first grade. "When he grows up he wants to be president," wrote Katya. I wish you could listen to the recording because, hearing the conviction with which he speaks about the repair of the losses inflicted on Ukraine by Russia, I myself start believing that his dream one day will be fulfilled.
I still ask for your prayers. I was hoping that in this letter I wouldn't have to mention rocket attacks, destruction, and victims. Unfortunately, after dinner another mass-attack on Ukraine began. The Russians launched over a hundred rockets. I am reading news about destruction in Kyiv, Kharkiv, and Khmelnytskyi, among other towns. The energy grid has been seriously hit again. The air-raid alarm that began at 2:21pm lasted unusually long: 3 hours and 58 minutes. It just ended.
With greetings and gratitude for all help and prayer,
Jaroslaw Krawiec, OP
Kyiv, November 15, 7:05pm
Dear sisters, dear brothers,

"We are asking for prayers. Today is a terrible day. Multiple rockets are flying over us. Explosions in Kyiv; we have dead and wounded casualties. Similar situations in many larger cities. I haven't slept in a couple days. I am afraid. I have started to feel overwhelmed." — This is the message I received at 8am today from Ukraine. I am currently in Poland, so I immediately read the message with great worry. Nightmarish news about tens or maybe hundreds of instances of rocket artillery fire across the territory of the country. The president of Ukraine lists surroundings of many cities that were under attack: Kyiv, Khmelnytskyi, Lviv, Dnipro, Vinnytsia, Ivano-Frankivsk, Sumy, Kharkiv, Zhytomyr, Zaporizhzhia. In the recording published on social media, Volodymyr Zelenskyy is standing in front of his administration building in the heart of Kyiv. A moment earlier, some missiles had fallen nearby. A litany of places, a litany of death, pain, tears, and destruction.

I didn't plan to write this letter today, just like millions of Ukrainians didn't plan to begin this new day of a new week in terrible fear, uncertainty, and concern for their lives, their children, and their loved ones. Today's attacks are Russia's revenge for the destruction of the Crimean bridge on Saturday. One of the rockets hit the Glass Bridge, an ultra-modern pedestrian path connecting two hills in the center of Kyiv, built by the initiative of the city's mayor, Vitali Klitschko. As far as I can tell, the attack didn't damage this delicate structure made of steel and glass. A very telling sign.

Our priories and churches remain untouched. The brothers in Kyiv could clearly hear the explosions when rockets hit the city center. A lot of people on their way to work or school immediately looked for shelter, especially in the subway stations, and the normal functioning of the trains was suspended to ensure safe shelter in the underground tunnels. Some rockets attacked the neighborhood of the train station. Father Misha saw rockets flying over Fastiv. "I was just doing my shopping at the city farmer's market when the Russian rockets appeared over our heads," he told me over the phone. "People sat or layed down on the ground." He managed, however, to do his shopping and to bring the priory a very tasty Ukrainian salo, he told me with a laugh. In Khmelnytskyi, the lights went out during the Eucharist. Since the rockets attacked the national electric grid, many Ukrainian cities and villages don't have electricity. In some places they don't have water, either. In Chortiv, it was announced that all kindergartens and schools have to switch to remote learning until the end of the week. The coming days will certainly be difficult for Ukrainians.

Yesterday, Father Lukasz — the Polish Provincial — and I, returned from Lourdes, where we participated in the Dominican rosary pilgrimage. We were invited by the French friars, who have been supporting us since the beginning of the war. They had asked us to speak about what is happening in Ukraine. The meeting took place on Friday in the enormous hall at the shrine of Lourdes. The hall was filled with people. The three of us — Father Lukasz, me, and Father Zdzislaw Szmanda from Geneva who had lived in Kyiv for a number of years — described the ministry of the Dominicans in a country torn by war, the daily life of people in Ukraine, the spiritual experience of this time, and the social and historical consequences of this war. On the way to Lourdes, Father Lukasz and I paid a visit to the Dominican nuns in Dax. It was uplifting to meet our nuns and pray with them for Ukraine. I am aware that this was an experience of just one of the many monasteries around the world that pray for us daily. We are very grateful to the sisters! We left Lourdes with gratitude to our French brothers, sisters, and members of the Dominican family for their solidarity with Ukraine.

Last week brought a number of joyful events in the life of the House of Saint Martin de Porres in Fastiv. Father Misha and almost a hundred other people — representatives of different religions and denominations — were awarded for their ministry in the time of war by the president of the Ukrainian parliament, Ruslan Stefanchuk. This ceremony took place in the heart of the Ukrainian capital in the oldest church in Kyiv, the Holy Sophia Cathedral. In the meantime in Poland on Thursday, in the great hall of Krakow Philharmonics, a ceremony of awarding the Pope John Paul II Veritatis Splendor prize took place. This "Krakow Nobel Prize" is awarded every two years by the leadership of the Lesser Poland voivodeship for particular efforts in the area of dialogue among cultures in society. This year three entities were awarded, and one of them was the House of Saint Martin. At the festive celebration, apart from Dominicans from Krakow and Warsaw, Fastiv was represented by Vera and Marzena, as well as other Crakovian friends of the House. I am very happy with this distinction, and I would like to congratulate Father Misha and all the people who make up the House of Saint Martin: all volunteers, Charytatywni Freta, individuals, communities, and institutions who support it by finances, material help, and prayer. It is your award and your distinction for your great service to those in need.

Recently, Ukraine was visited by Father Alain Arnauld, the socius to the Master of the Order. He came to us for the second time since the beginning of the war, this time to visit Fastiv, Kyiv, and Khmelnytskyi. I highly value meetings with Father Alain. He is a man of great heart, who offers wisdom and fraternal love. He spent a lot of time meeting with brothers and volunteers from the House of Saint Martin, as well as the Dominican tertiaries in Fastiv and Kyiv.

Last week Father Misha joined Father Ruslan — the rector of the diocesan seminary in Kyiv — and a group of volunteers from the house of Saint Martin; they went to eastern Ukraine to deliver humanitarian help. After a short stop at our priory in Kharkiv, now served by Father Andrew, they went south to Balakliia and a number of villages around Izium. These places had recently been liberated from the Russian army's occupation. They told me these towns look like a wounded, beaten person. One can see huge destruction: burned and ruined buildings, bruised trees, the earth plowed by tanks, and, worst of all, people with physical and spiritual wounds, tears, and pain. Very clearly, the needs are enormous. The inhabitants of these territories that were under occupation for almost half a year are in desperate need, especially of anything that can protect them from the coming cold and winter. "We have to start making pillows and comforters so that we have something to give them next time," added Father Misha. So far we managed to deliver over 7 tons of food, medication, and wood-powered heaters and natural gas canisters that the villagers can use to cook food.

Today we all realized again that this horrible war isn't over, and it keeps taking lives, health, and hope from millions of Ukrainians. In Kyiv and Fastiv, we are thinking with fear of the threat from the North, the possible invasion by the Russian and Belarussian armies. However, I share the view of the enormous majority of Ukrainains when I say I am convinced of the strength and effectiveness of our army that has been bravely defending its country for so many months. May their work be finished as soon as possible.

I ask you very fervently for continuous prayer for Ukraine and for us. Do not stop sending your help of any kind. It is still very needed.
With greetings and prayer,

Jaroslaw Krawiec, OP

Kyiv, October 10, 2:45pm
Dear sisters, dear brothers,
It has been 200 days since the beginning of the war. Although the Ukrainian army's most recent military achievements and the lifting of Russian occupation in the territories of the Kharkiv Oblast and the south of the country brought us joy, hope, and expectation, we are all aware that the road to full victory remains long. Today, on the Feast of the Exaltation of the Holy Cross, by the initiative of the Council of the European Episcopal Conferences, we are celebrating in Ukraine the Day of Prayer for Peace. It is celebrated under the motto: "Kneeling before the Eucharist crying for peace." I'm very grateful to Archbishop Gintarasa for this idea. He visited Ukraine in July, and since he is Lithuanian, I'm sure he understands perfectly well how godless and terrible the ideology of "Russian peace" could be.
Prayer is a particularly important form of help for Ukraine. I'm convinced that prayer is what allowed us to survive the most difficult time at the beginning of the war and that it continually brings strength to the Dominicans and lay volunteers daily serving people in need. I've heard from many people that they experience, particularly now, God's care for them. Father Svorad told me that the people of Chortkiv believe it was the intercession of Mary, who is much remembered in this city, that prevented anyone from losing their life during the July rocket attack. The area of the city where the rockets landed was heavily damaged, but the little shrine recently built there in honor of the Protection of Mary (Pokrova) has survived. This shrine was blessed at the beginning of September, both by the Catholic and Orthodox bishops. One can read these signs in a variety of ways, but for many people exhausted by war, they are a confirmation of something expressed by a poem written at the beginning of the Russian aggression: "God has not left Ukraine. / He stays here among us. / Where our cities are in ruins. / Where the flicker of hope has gone out."
Last week during an annual meeting of the Dominicans working in Ukraine that took place in Kyiv, I had a conversation with our brother Bishop Nicholas from Mukachevo. It is thanks to his inspiration that last year the Episcopal Conference of Ukraine announced the Year of the Holy Cross, which is just ending. "This time," said Bishop Nicholas, "allowed us to see how Divine Providence cares for us. I remember well how people were telling me that if not for the sacrament of confession, the sacrament of Eucharist, the Church, and common prayer, they don't know if they could have survived the terror that entered their lives with the beginning of the war."
In the sanctuary of the Dominican church in Fastiv named the Exaltation of the Holy Cross, two persons are painted next to the icon of the cross. The first one is Saint Martin de Porres. The second is Saint Mother Teresa of Calcutta. These saints are helping us understand today what the Exaltation of the Holy Cross can be in spiritual life. Saint Mother Teresa was without any doubt one of the most beautiful persons of modernity. Her greatness expressed itself through humility, faith, self-lowering, and service of her neighbor. She wrote: "A certain man in India was asked once: 'What does it mean to be Christian?' His answer was very simple: 'To be Christian means to give.' God loved this world so much that he gave his Son — that was the first great offering. But it wasn't enough for him. He made himself hungry and naked so that we too are capable of offering something to him."
A couple days ago the Dominican brothers in Poland published a short summary of the continuous help offered to Ukraine for over six months. I was very moved when I read it because behind the list of names of organizations and individuals, I saw faces of specific, good people and I remembered our long evening phone calls when they could hear the sounds of fighting Kyiv outside my window. I remember countless text messages: "Father, how are you doing? Are you alive? What can I do?" I read this report with profound gratitude too, and I am convinced that, as the words of Saint Mother Teresa remind us, during that time, apart from what was given, everyone on both sides of the border received much more. I'm also convinced that, thanks to the people of Ukraine, Poles as well as people from other countries around the world, could become a little better, more loving, more compassionate, and more understanding. The refugees from Kyiv, Bucha, Kharkiv, and many many other Ukrainian towns and villages helped us in this. They offered us this chance.
In March and February, we were all worried about what would happen when we run out of electricity and natural gas. How would we heat our houses and priories? Now we're starting to wonder again what will happen when the winter frost comes. Will we have enough heat, and will the Russians, as they showed last Saturday, continue the destruction of power plants and electric lines? While I ask these questions, I understand Father Misha from Fastiv who does everything in his power (and maybe even a little more!) to prepare in the buildings of the House of Saint Martin as many places as possible before winter for refugees and those deprived of their own shelter.
We have begun another academic year in our Institute of Saint Thomas Aquinas in Kyiv. I remember a couple months ago we were wondering whether any new students would enroll this year. We are at war, after all. Ultimately, many more candidates applied than in previous years. Among them are both Catholics and Orthodox, and even others simply looking for truth. The same as it's been since the establishment of the institute, which was just over 30 years ago. Father Petro, who conducted the initial interviews with the students, said that most of them want to study because they want to find the key to explain what is happening around them. On Friday when I saw our lecture hall filled with students, I remember words from the letter of Father Timothy Radcliffe: "The violence which is being wrought against your beautiful country is the poisoned fruit of lies. We Dominicans, with our motto Veritas, and our love of truth, have a special witness to give today in a world which often does not care for truth." The opening lecture was delivered by Father Wojciech Giertych who is the Theologian of the Papal Household and the friend and supporter of the Kyiv Institute over many years. He spoke on the Catholic understanding of freedom, emphasizing that freedom according to the teachings of Saint Thomas is shaped by the values; and it is a freedom to, not freedom from. It was an important reflection during the time of war and should inspire creative thinking about the future.
We also had a guest in Kyiv, Father Christipher Fadok, the provincial of the Western Province of the Holy Name of Jesus from the United States. On Saturday, we visited Fastiv. When Father Misha asked him to leave a signature on the wall in one of the classrooms of the Center of Saint Martin de Porres, Father Christopher wrote simply "USA" and told us that when he was a boy, he received from his father a t-shirt that read USA — "Ukrainian Secret Agent". It was not a random gift. Father Christopher's ancestors had come to America from Ukraine. Like in many beautiful stories, so in this one too, love united his great-grandparents after crossing the Atlantic, and a true sympathy for Ukraine had remained in the next generations of the Fadoks. I accompanied Father Christopher with tremendous joy on his first visit to Ukraine. I am very happy that he could see Lviv and Kyiv. I saw his emotion during the meeting with the superior of the Ukrainian Greek Catholics, Major Archbishop Sviatoslav Shevchuk, about whom he said, "My major archbishop" because the Fadoks were Greek Catholics. Later Father Christopher traveled to Fastiv with Father Wojciech Giertych, the Papal Theologian, and Father Jacek Buda from the USA, to whom I owe endless gratitude for translating my letters into English, as well as with Anna and Denys, volunteers from the House of Saint Martin. When Father Chritopher visited the cities and villages destroyed by Russian soldiers and saw the signs of the recent atrocities, and when he listened to Father Misha telling him what else must be done for the victims of the war, I know that he didn't just look with his eyes or listen just with his ears, but above all he was absorbing all of this with his heart. How could it be any other way, since in his chest beats the heart of the Ukrainian Secret Agent?
Lastly, I would like to mention my own provincial, Father Lukasz and his socius Father Szymon. On the way back from Kyiv to Warsaw, they set a new record. They had to wait on the border for 11 hours and 20 minutes. Sometimes we just have the wrong kind of luck.
With gratitude, greetings, and request for prayer,
Jaroslaw Krawiec, OP
Kyiv, September 14, 5:15pm
Dear sisters, dear brothers,
I have to admit that Saint Hyacinth becomes closer and closer to me every year. I see my ministry in Ukraine as a realization of his desire to preach the Gospel on the shores of the Dnieper. I had the great joy of visiting Rome on Holy Saturday this year, when I went to the Basilica of Santa Sabina, accompanied by Father Alain, the socius to the Master of the Order, and I could see its fresco depicting the vestition of Saint Hyacinth. These days, many people visiting this Dominican church on Aventine are praying for Ukraine, often using special prayers provided by the brothers. It's no coincidence that I started my letter by remembering Saint Hyacinth, since just yesterday we celebrated his liturgical feast. Despite the fact that only two of us are in Kyiv now, Father Jakub and me, the evening Mass in our chapel was attended by quite a large number of people. After all, Saint Hyacinth is also a patron saint of this city of Kyiv! Following ancient tradition transplanted from Poland, we blessed the heads of wheat. This liturgical gesture expresses our connection to the miracle performed through the intercession of Saint Hyacinth, when the storm and hail destroyed the harvest and the peasants from the villages around Krakow came to beg the holy man for rescue from the famine. This year, the custom was particularly powerful. During the time of war, people sometimes pay a very high price to gather the harvest from the enormous fields of Ukraine. Many farmers lost their lives or health when the machines hit landmines or munitions left by the soldiers. I remember that some time ago I read about a tragedy like that in Andriivka. It's a popular name for villages in Ukraine, so I called Father Misha and asked if it's the same Andriivka where he's been helping people for months, with the support of the volunteers from the House of Saint Martin in Fastiv. "Yes, that's the one," he confirmed. I prayed yesterday, therefore, through the intercession of Saint Hyacinth, that this year's harvest can be harvested from the fields of Ukraine and won't be destroyed by the Russian bombs and fires caused by war, so that the grain can safely travel throughout the world from Ukrainian ports. Saint Hyacinth has his work cut out for him. Ave, florum flos, Hyacinthe… Ave, protector omnium ad te confugientium…
Last night we were visited by priests from the diocese of Kamianets-Podilskyi. They brought a parishioner, a soldier who was heavily wounded in the fight. After months of treatment, the surgeons managed to fix and strengthen his hands and legs crushed by the explosion, although there is still a long way ahead of him. Since the whole group had to travel over 400 km, they arrived late. I was very moved when the soldier didn't let us simply leave his room, but first asked one of his priests for a blessing and prayers. Anyone who has ever been sick for a long time knows that the nights are the most difficult. "What should I do when it gets really bad?" he asked the priest who was praying over him. "Simply repeat: Jesus, Son of God, have mercy on me." It's so good that Jesus has so many wise and dedicated priests in Ukraine working for him. I was also grateful that I wasn't asked, since I probably would say something clever but shallow.
After breakfast I had a conversation with the wounded soldier's wife. She told me that after months of staying in the hospital, both the soldiers and patients are becoming a little like family to each other. Her husband even heard once from a young doctor who treated him in Ternopil, "Last night my wife and I prayed for you." I keep hearing from her how deeply needed is the humanitarian help arriving in Ukrainian hospitals — thanks to it the doctors have resources to help heal so many wounded and suffering patients. I asked her how she can keep going in a situation like this. She responded, "We have to stay strong. We have children. I'm only worried about my husband, that he can survive, psychologically as well." I hope that his visit to the Kyiv neurological clinic, where they went after breakfast, will help him return to full health. He's a very brave man who saved the lives of many of his comrades in combat.
In my previous letter, I mentioned Nikita from Kharkiv who began the novitiate in our Order on August 14. I was hoping that before I finished my stay in Poland I would see him in a white habit. Unfortunately the brothers were infected by Covid-19 and the vestition this year was moved to tomorrow. It is a very unusual and "habitless" novitiate for the Polish Dominicans this year.
On my way from Warsaw to Kyiv, I stopped in Lviv where the weeklong Alive Music Festival began last Saturday, organized by the Dominicans. A year ago, due to Father Wojciech's energy, a Christian music concert was held on one of the squares in Lviv. That was the way we celebrated the 800th anniversary of the death of Saint Dominic. This year Father Wojciech, together with lay volunteers, organized a concert tour to bring the Word of Life in this difficult time for Ukraine to the cities of Lviv, Ivano-Frankivsk, Khmelnytskyi, Vinnytsia, and Fastiv. On Saturday, Alive will also play in Borodyanka, which is one of the most destroyed towns around Kyiv. The first concert took place in the noble walls of the Lviv Cathedral. This year the festival features a band Lux Mundi, consisting of musicians of different denominations from a variety of regions in Ukraine, as well as two singers — Sandra from Zacharpattia and Olga from Khmelnytskyi. Father Oleksandr, who preaches conferences during the festival, emphasizes that one of the goals of its organizers is to invite all of us to learn to see God in what we are experiencing. "We believe that God stands on the side of the weak and wounded, encouraging us to raise our eyes to him. God leads us, and despite sacrifices, losses, and pain, he is always present. He walks with us, following the way of the cross, the resurrection, and the victory," Father Oleksandr told the journalist of the Catholic website Creed.
I spent the night in Lviv with the Paulist Fathers so that I could meet my own brother, Father Mariusz. Their priory is located next to Lychakiv Cemetery and the Field of Mars. At present, it's a burial place for soldiers who died in the recent months, but others were buried here in the past: Austrian soldiers who died during the First World War and, later, soldiers of the Soviet army and NKVD. On Sunday morning, the Field of Mars was covered by the leftovers of the night's fog, and the rows of fresh tombs looked like rows of soldiers just about to start a parade. Every week, new tombs are being added. I could count more than a hundred. In one of the tombs a few days ago, twenty-five-year-old lieutenant Yuri Strelcov was buried. He died in Zaporizhzhia on August 6. On the way to visit the priory of our brothers in Lviv, I parked my car at the building of the bishop's curia. The building's concierge wanted to point out to me that I had dirty shoes. "I'm on my way from the Field of Mars," I tried to explain. "Some time ago, on the wall separating this place from Lychakiv Cemetery" — the concierge told me the story — "there used to be a great sign in Russian: 'In the middle of the planet, among the stormy clouds, they are dead and look to the skies, believing in the wisdom of the living.' Everyone riding the streetcar could see these words. Even the mothers of children from the children's hospital, still located across from the Field of Mars."
On the way to Kyiv, I drove past Fastiv. Fathers Misha and Pawel were just sitting in the classroom with Father Ruslan, the rector of the seminary for the diocese of Kyiv and Zhytomyr. Ruslan had just returned from the Carpathian mountains where he accompanied a group of refugees who took shelter in the House of Saint Martin de Porres in Fastiv. Although it's still a hot summer, I spoke with Father Misha about the coming winter. It will certainly be a difficult time for people whose houses were destroyed by war. The temporary housing fulfills its role in the summer but can't protect people from frost and snow. "It's a great challenge for us," emphasized Father Misha. "We have to help the largest possible number of people survive the winter, those whom we are already helping as well as those who will come to us from the east and south of the country."
During the last three days, I was listening to the online retreat preached at the Basilica of the Holy Trinity by Fathers Timothy Radcliffe and Lukasz Popko. Their words are full of wisdom, and I personally respect and like them both. They spoke of, among other things, the fact that we love what is particular and specific and that we hate what is abstract and general. There is much wisdom in these words. They remind me of the woman living in one of the villages near Kyiv, who told me the story of the Russian soldier who had to hide in her house because he refused to shoot the Ukrainian soldiers and whom she fed with borscht. I wondered how much of what Fathers Timothy and Lukasz were saying could be useful for the families and nations divided by war.
With greetings and prayers, and with great gratitude for remembering Ukraine,
Jaroslaw Krawiec, OP
Kyiv, August 18, 5pm
Dear sisters, dear brothers,
I wrote the last letter from Ukraine over a month ago. That's a long time. Since life in Kyiv has become calmer and more normal, it's harder to force yourself to write. Routine, weariness of repeated air alarms, beginning each day with checking the phone to see where bombs fell overnight and how many casualties, the fear of repeating what everyone already knows… all this contributed to my procrastination in writing. It isn't good, especially since every time I talk with brothers and volunteers in Ukraine, we constantly repeat: the free and democratic world must not forget about this tragedy, and we have a duty to keep reminding people about it. Sometimes I watch horse races, and the horse that wins isn't the one that ran at the head of the group from the beginning or even for most of the race, but the one that was first in the lens of the camera at the finish line. The war demands great endurance, and not only from the soldiers. All of us — regular people standing on the side of goodness and truth — need patience to be in solidarity with each other. We must not slow down too much in the race because the goal is still ahead of us. Today probably no one has any doubt that this war, which began over five months ago, is a long-distance race.
I spent the last few days of June in the hospital. It was time to take out the screws and metal braces from the leg I broke over a year ago. This stay in the orthopedic trauma clinic during wartime was an interesting experience. The majority of patients nowadays are soldiers. This kind of warfare that's dominated by artillery barrages results in hundreds of soldiers and civilians suffering all kinds of wounds every day. I keep seeing pictures on social media of soldiers without arms or legs, accompanied by dramatic appeals from their families for financial support to buy prosthetics or begin expensive treatment. In the hospital I met Artem, a Kyiv businessman slightly younger than me. Until recently, he had been running very successful, growing companies. When the war started, he decided to defend Ukraine. "I recognized that this isn't a time to make money," he said. "When the Russians approached Kyiv, I volunteered for the police force and then joined the army and went to the front lines." As he was fighting in Bakhmut, in the Donetsk region, he was wounded by a cluster bomb fragment, which lodged itself in his knee. He showed me a little sliver of metal, the size of a grain of rice, which the surgeon had just removed from his knee. As for his friends, the shrapnel wounded their faces, lungs, and hands. While listening to his story, I realized there's a reason why this kind of area-covering ammunition is forbidden by many countries around the world.
The hospitals are working at full capacity, thanks to the determination of Ukrainian doctors and medical personnel, as well as the support from around the world. On the hospital floors where soldiers are treated, there are special volunteers who bring better food and anything they need. The room where I was with Artem was visited by a young woman who brought my roommate all kinds of delicacies. I, as a regular patient, remained on basic hospital chow. Help and care like this for soldiers returning from the frontlines is very needed. I noticed that they accepted it with gratitude and not any entitlement or arrogance. A similar observation was recently shared with me by Silvia, who works in Poland as an EMT. Between her shifts, she volunteers to drive an ambulance to Lviv, evacuating the most seriously wounded war victims to hospitals in Poland and around the world. "These people receive our help with gratitude. It frequently happens that they themselves or their families worry about us and ask if we are hungry or tired. They are different from our Polish patients," she told me.
I'm very encouraged by the attitudes of people like Artem. He taught me something important about loving one's country. He could have easily hid from the army, thanks to his money and connections. However, he decided to defend his country. As we laid on adjacent beds, recovering from our treatments, he told me about everyday life at war: how he took care of soldiers in his unit and how he obtained necessary equipment and cars, often using his own money to buy them. While he was at war, he and his business partners created an organization that uses the latest technology to document the destruction inflicted by Russians around Kyiv. In one of the pictures, Artem is standing with a bandaged leg and his little son by his side. The young boy had a bandage on his leg, too. Maybe he had some injury, or — as it seems to me — he just wanted to look like his dad!
"This war has become a shock that, through pain, suffering, and revelation of weaknesses we hadn't noticed, helps us to discover ourselves. It also helps us to see our own strength and ability to defend ourselves." These words were spoken in a public discussion by Archbishop Ihor Isichenko, a retired Orthodox priest from Kharkiv; he's known well by us Dominicans, since he had been a lecturer in our Institute of Saint Thomas Aquinas in Kyiv.
While visiting Fastiv recently, I asked Father Misha to tell me about the people who have been finding shelter in the House of Saint Martin. "We have a grandmother with a sixteen-year-old grandson who is handicapped. They're from Pokrovsk, about 30 miles from Donetsk. We're waiting now for a teacher from there who had refused to leave earlier without her 12-year-old orphaned student. We're also trying to evacuate more families from Bakhmut. Zhenya is already here with his family, but two of his wounded classmates are still there. The father of one was killed. We have an opportunity to transport them by ambulance to Fastiv or maybe even to Poland. The only question is if they can get out and if they will finally decide to leave." Very frequently however, people who were heavily affected by war are paralized by the situation and have a hard time leaving behind familiar places. I saw this with my own eyes a few weeks ago in Kharkiv when I visited families who had been living for a couple months already in the basements of apartment buildings in the great neighborhood of Saltivka. They all kept repeating, "This is our home… Where would we go?... We don't know anyone in western Ukraine or abroad… The war has to end at some point."
"We keep sending food all the time to eastern and southern Ukraine," Father Misha continued. "As long as we can get there, we'll keep helping people. Recently Mykola, our volunteer, brought 600 pounds of food to Slovyansk. We're also helping three kitchens that prepare food in Kherson, where the situation is very difficult. We want people who live there to know we haven't forgotten them."
Today Father Misha and his volunteers are organizing a festival for families in Borodyanka, one of the most destroyed cities in the vicinity of Kyiv. It's another of these events organized in the usual place. Every week, more people are returning to their houses, or whatever is left of them. "Until recently, we had 1114 families from Borodyanka under our care. That's how many boxes of food we delivered there every week. Now we have more than 2000." People keep coming back and are trying to somehow restart their lives. It's difficult because most of them don't have jobs and are forced to live off of state subsidies and humanitarian help. If that help ever stopped coming, many families would suffer hunger.
As I was driving to Poland, after almost six hours of waiting in the customs line, I stopped in a village to have some peace and make a phone call. It was already night. After a while, I saw the headlights of a car coming up behind me. I initially thought it was the border patrol who had become interested in me or, even worse, the police coming to give me a ticket for stopping at the bus stop. Instead, a young woman came to me and asked in Ukrainian for help. "Is there any hotel around here? I'm driving with my child from Kharkiv, and I cannot drive any more. And on top of everything, my phone isn't working." I could only find a hotel in Lublin, about an hour away. I drove ahead of them to help them get to their destination safely. Svietlana explained that they had only just decided to leave Kharkiv. Before they had somehow managed to survive, but now there's a Ukrainian military post near their house. "I'm afraid that when the Russians learn about it, they'll start shooting in our direction. I didn't want to leave. I just finished the construction of a big, new house. It took twenty years of my life." She shared her story, very clearly shaken, in the middle of the night, in a country she'd never seen before. The war had stolen from her and her family twenty years of dreams and hard work. I saw that she's rather well-off. Now she's driving her car with her mother and son and with a handful of things, through Poland to western Europe. She has some friends in Ireland. She's driving with a passionate desire and hope that she'll be able to come back to her country, her house, her job, and her friends. There are many people like her. On the border crossing I noticed many cars with license plates from Kharkiv Oblast.
With greetings and gratitude for the help you offer us and Ukraine, and with request for prayer,
Jaroslaw Krawiec, OP
Kyiv/Warsaw, July 26, 12:20pm
Dear sisters, Dear brothers,
It's been over two weeks since my last letter from Ukraine. This longer period between correspondences might give the impression of a return to normalcy. If one of you arrived now in Kyiv or Lviv not knowing a war has been going on for over four months, you might not see at first glance that not all is in order. Obviously apart from the sight of many women and men in military uniforms on the streets, everyday life seems to be following its normal course. But this is just an illusion. It suffices to exchange a couple words or sentences with the locals to realize that we're far, far from normal. What's worse, nobody knows when it will return because there's no end of war in sight.
Last weekend was a painful reminder of this reality. On Saturday a few dozen Russian rockets fell in the area surrounding Zhytomyr, Lviv, and Chernihiv. Then followed a tragic Sunday morning in Kyiv. I was visiting Fastiv, and I was awakened before 6 am by blaring sirens. A moment later one could hear a suppressed noise of an explosion. Even Father Pavel's dog, a friendly and calm labrador, was clearly disturbed. Afterwards we learned it was the sound of the Ukrainian anti-aircraft defense shooting down one of the rockets flying toward Kyiv. A moment later I got a message from Father Jakub: "Rockets have fallen. All is okay with us." The missiles hit not far from our priory, so the brothers could clearly hear their flight and explosion. It was apparent that the Russians hadn't given up and were attacking the capital again. A building that had already been hit by a rocket a couple weeks ago was heavily damaged this time. Unfortunately its inhabitants were also hurt, including a 7-year-old girl whom workers managed to dig out from under the rubble. The image of this child being carried on a stretcher became momentarily famous around the world. In the afternoon I went to see what had happened. It's moving to see familiar places that have become ruins. Obviously I didn't have direct access to the place of the tragedy. Watching the rescue work from a distance, I caught sight of fire engines returning with their crews. The firemen were exhausted by the work and the heat. It is they, along with rescue workers, doctors, as well as gas and electricity engineers, who have been unbroken heroes since the beginning of this war, daily saving human lives and property.
The attack served as a wakeup call for the citizens of Kyiv, especially those who had just returned to the city. It dashed their growing hope of safety and reminded us of the ongoing war. I heard today about people who decided to postpone their return home indefinitely. Apart from Russian rockets flying toward Ukraine, we're also looking with apprehension in the direction of Belarus. And this is the perspective from the relative safety of Kyiv, where I live with the brothers. What are people supposed to say in eastern and southern Ukraine? That's where the really terrible things are happening.
I spent last week traveling. Ukraine was visited by Father Alain, the socius to the Master of the Order, and Father Lukasz, the provincial of Poland. It had already been some time that we'd been trying to arrange this meeting with Father Alain in Ukraine, but something always kept getting in the way. Finally it happened. The meeting looked a little like a scene from a spy movie, in the parking lot of one of the supermarkets in the small Slovak town of Michalovce. Father Alain arrived from Hungary thanks to the generosity of Father Jacek from Debrecen. It was so good to meet one of the two Polish Dominicans working in Hungary, and even more so since Father Jacek didn't fail to bring us a couple bottles of the delightful Tokaj. Father Alain's new Belgian passport caused a small excitement on the Slovak-Ukrainian border crossing. The document is decorated with cartoon heroes and was much admired by the Ukrainian border guard women who started recognizing the printed silhouettes. How could anyone resist charming drawings of smurfs and Lucky Luke? When she returned the passport, Madame Officer said, "It's so beautiful that it's a shame to put a stamp on it."
We arrived surprisingly quickly in Mukachevo in Zakarpattia, a region in Ukraine famous for its mix of cultures, languages, and religions. We stayed overnight at the house of Bishop Nicholas, a Dominican. At dinner, our brother shared his war experiences with us. As a bishop of a region in a safe part of the country where a huge number of refugees find shelter, he sees many human stories each day. It's hard to disagree with his reflection that all Ukrainians — no matter where they are, or whether they've seen destroyed houses and cities with their own eyes or maybe only saw them on tv — are all victims of this war. Every one of them has been touched and wounded by the war. In Mukachevo we also met Father Irenaeus who is temporarily living with the Dominican sisters while helping Sister Lydia and, above all, the priests at the cathedral parish. Irenaeus arrived in Zakarpattia with a group of exiles from Kharkiv where he had lived before the war.
The next day, after a visit to the car mechanic in Kolomyya to fix a punctured tire, we reached Chortkiv. There we were awaited by Fathers Svorad, Julian, and Dymitro, as well as the candidate to the Order from Kharkiv, Nikita, who will begin his novitiate in Warsaw soon. On the way to our church, we stopped by the Eastern Rite cathedral. In the sanctuary inside, we noticed new paintings. Father Alain spotted an angel holding a globe with a map of Ukraine in his hands. A meaningful symbol in a difficult time of war. We also took the opportunity to see the inside of the old Dominican priory which is awaiting a major renovation. We would very much like for the future Dominican priory in Chortkiv to become a place where people affected by war can find help, just like the House of Saint Martin is now in Fastiv. We also paid a visit to the Dominican sisters who are providing help to those in need. Sister Marcelina showed me a map of Ukraine with the places marked that have been reached by gifts from the Dominicans in Chortkiv. In my conversations with sisters and brothers, as well as members of the parish I randomly met, I keep hearing the conviction and faith in the intercession of Mary and the saints who by their prayers are keeping watch over Chortkiv. We arrived in Khmelnytskyi and Lviv. Father Igor, who recently received ordination to the priesthood, fits very well in the community of the youngest priory, not only in the vicariate of Ukraine but in the whole Order. As we celebrated morning Mass in English in the chapel of the priory in Khmelnytskyi, presided by Father Igor, we heard in a short homily about John the Baptist who becomes for us an example of how to preach Jesus Christ. In the afternoon we were already in Lviv, and the brothers offered us pizza. After our conversations and a short visit to the Rozen Chapel, Fathers Alain and Lukasz departed for Poland and I waited for the evening train to Kyiv.
As I finish writing this letter, I'm reading about new rocket attacks on Ukraine. The shopping center in Kremenchuk, a city in central Ukraine, is on fire. A terrifying sight and an even more terrifying awareness of human tragedy. More people are dying during the shelling of Kharkiv. They are all civilians, regular people who found themselves within range of Russian rockets.
Do not forget Ukraine! With greetings and request for prayer,
Jaroslaw Krawiec, OP
Kyiv, June 27, 11pm
Dear sisters, Dear brothers,
Today I made a phone call to an older woman whose son fights on the frontlines. "Good morning, this is Father Jaros?aw…" On the other end: silence. I introduced myself again and explained why I'm calling. After a while, she told me that the unfamiliar male voice in the receiver had surprised and frightened her. How true; during wartime a phone call like this could have brought bad news about her son. Mrs. Nadia isn't the only mother though, or wife or daughter, who picks up the phone with apprehension.
A week ago I traveled by train from Kyiv to Khmelnytskyi. Across from me was sitting, or practically laying down, a young girl. She drew my attention because she reminded me of Maryna, a volunteer and actress from the Kyiv theater "Silver Island," who had worked with us at the beginning of the war. This girl, though, was on crutches. The day before, she had severely twisted her leg, tearing some ligaments. I could sympathize, since I've also had problems with walking recently. My seatmate was going to visit her boyfriend who is serving in the military. She clearly cared about this meeting, since even a serious injury didn't prevent her from traveling. On the platform in Vinnytsia, a young soldier was waiting for her. It soon became clear that I wasn't the only one who had been watching the couple. "If he took her purse, it would be easier for her to walk," the women sitting near me observed dryly. The young man was clearly inexperienced and looked like he didn't quite know what to do. I hope the war will be gentle to them and that they'll still get time to enjoy together and learn how to care for each other.
The war causes people to show their emotions. I see it almost every day on the streets of Ukrainian cities. Our priory is surrounded by military bases, so there's no shortage of men and women in uniform walking around. People here instinctively feel that we can't waste our time since there's not much of it left. Especially when a boyfriend, husband, or wife could be sent any second to the frontlines. Unfortunately we've been hearing more and more about the painful losses on the Ukrainian side. Father Tomek recently took a picture of the Field of Mars in Lviv. It's a large square next to Lychakiv Cemetery. The new Ukrainian heroes have begun to be buried there. "It's a tragic calendar measuring the days and months of war," I wrote to Tomek. "The last time I was there in the winter, the square was empty," he responded.
Many people who had left Kyiv while it was under fire and besieged by the Russian army are now returning. It's easy to tell that the young people were missing their own city, and above all, each other. As I was walking along Khreshchatyk Street, I stopped for a bite in a world-famous restaurant chain. Whether it was out of hunger or joy that it's finally open, I don't know. There was no shortage of customers. Standing at a screen where you order, a teenager was explaining to her friend how she had been able to order things in Poland that aren't available here. I'm happy these young people have come back and that the metropolis has very recently come alive again. I agree with Ruslan Gorovyi, a Ukrainian author whose books I've been reading, that we're winning this war as long as we're staying alive. After 108 days of daily battles, of bombs and rockets falling in practically the whole country, most Ukrainians have accepted the war as a fact of life. "It's a very important experience," Ruslan explains. "In moments like this, you don't save your life for later. You don't say that when we have won, then we'll go on with our lives. No. It is now that is our life. And there will be no other for us. Whatever is happening around us, we are to live our own life as long as we are able to."
On May 24, which is the liturgical memorial of the Elevation of the Relics of Saint Dominic, Father Gerard, the Master of the Order, established a new Dominican priory in Khmelnytskyi. Obviously the act was of a formal nature since the brothers have been living and serving there for a couple of years already. Now our presence in this city has achieved an official status. I'm happy this happened, and I'm convinced that the Master's decision will always be a sign of hope, a kind of confirmation "from above" that as Friars Preachers, we are needed in Ukraine. Especially now.
I went to Khmelnytskyi to personally thank Father Jakub for his service, since he'll be leaving for Poland. I hope he'll put to good use his command of the language and the experience he gained in Lviv and Khmelnytskyi; he's going to take over a Ukrainian language ministry at the priory of Saint Hyacinth in Warsaw that's already existed there for four years. After the Sunday Mass, a number of people stopped by the sacristy to say goodbye. A couple with two kids thanked Jakub for his humility in ministry and daily life. It's always beautiful to hear that a Dominican brother is seen for his humility. The brothers in Khmelnytskyi, apart from their ministry in the priory, also help at the biggest diocesen parish in Ukraine, the parish of Christ the King.
The next day, I read the assignment of Fathers Wojciech, W?odzimierz, and Igor, who just became the community of Khmelnytskyi. An assignment is a formal document in which the prior provincial orders the brother to live in a designated priory and orders the superior of this priory to accept the brother with kindness and treat him with love. I hope that Father Wojciech will be a good superior of the new Ukrainian priory under the patronage of Saint Dominic.
In my letters, I frequently write about animals. It's unavoidable, since they're victims of this war too. During my most recent trip on the train, I felt a little like I'd stepped onto Noah's ark. One lady was walking along the car with a dachshund, and another lady, afraid of the possibility of an animal fight, requested, "Please, don't come near, because we have cats." To finish, let me tell you the story of the dog Masha, which was first told to me while driving in the car and then published by Father Misha in Fastiv on his Facebook page:
"Last week I joined the volunteers from the House of Saint Martin de Porres and a team from San Angelo Café, and we prepared another street festival for the people of Borodyanka. Near our food truck with burgers and hotdogs stood a woman with three dogs. She was wearing a winter coat. People were looking at her with disdain, and she herself clearly didn't have the courage to stand in the line. A friend I was talking to explained, 'She's our local crazy-woman, but she and her dogs saved twelve people.' The rest of the story was told by the woman herself after we offered her three hotdogs and a delicious coffee. The lady had her own style, and when she took the cup in her hands, she said that real coffee should be without sugar because with sugar, it's not coffee anymore. 'The first days of March were terrible. The main street of Borodyanka was completely ruined. It was all happening after March 8. I was walking on the street with a handcart and my dogs, and one of them, Masha, bit my pants and started pulling me toward a ruined house. I told Masha what I thought of that behavior using very strong vocabulary, but she would not let it go and kept barking. Ignoring my disappointment, she kept pulling me in the direction of the ruins. Finally we got there. The dog ran ahead and kept barking in one specific place. I went over with curiosity, bent down, and heard human voices coming from below the rubble: "We've been here for six days, we need food and water, please help!"' Masha later found four more people in a different ruined house. Since the woman herself looked very unusual, she managed to walk the streets despite the Russian army's presence in Borodyanka. She walked with dogs and a cart in which she had water and food. When the occupying soldiers asked her what she's doing, she always responded that she's feeding the dogs. Meanwhile, for a couple weeks, she continued bringing water and food to the people under the rubble."
By accident, or maybe not by accident at all, I found a poem online, "Sleep my little child," by famous Ukrainian poet Serhiy Zhadan. It's a moving war lullaby written a few years ago to commemorate the life of the 15-year-old boy Danylo. He died tragically in February 2015 in Kharkiv during the Russian separatists' terrorist attack at the March of Unity. The poem ends with a simple but true statement: "The longer the war goes on, the more courage is needed."
Don't forget about Ukraine! With greetings and request for prayer,
Jaroslaw Krawiec, OP
Kyiv, June 11, 4:10pm
Dear sisters, Dear brothers,
Father Igor celebrated Mass today in our chapel. This is his third First Eucharist, after Fastiv and Khmelnytskyi, but the first one in Kyiv. Apart from receiving the graces attached to the special blessing, we also received a wonderful homily from Father Igor. As he spoke about Saint Stephen, about this "something" that makes us happy, and about the Holy Spirit who unites us, I was thinking that it must have been the prayers of so many people around the world that obtained for Father Igor the grace of preaching, this gratia praedicationis so important to every Dominican. Please keep praying for our young priest during this time of war.
Thursday morning, I departed from Kharkiv, accompanied by Father Andrew, who decided to return to his own priory that he had left just before the war. Father Provincial and I had been deliberating about it for a long time and weren't quite sure if it was the right decision. But Father Andrew insisted that he wanted to be with the people he used to serve. Our priory is in the western part of the city, meaning on the side of Kyiv and not of Russia, which is only 40 km away. Fortunately, we quickly learned that the neighborhood called New Bavaria was not damaged much. In the priory building we discovered two families who had lost their own houses during the war and had moved into the priory. They greeted us and offered a delightful dinner — consisting of p?ow (a locally popular rice pilaf) and Ukrainian borscht. The meal was prepared by Mrs. Luda. Her apartment had been heavily damaged when a Russian airplane was shot down in the area. She was very lucky because on her way home from work, she had managed to jump inside the building when the plane exploded. If she had still been on the sidewalk, she would have certainly died like other passersby. She suffered only minor wounds. Her husband, on the other hand, who had been in their apartment, was heavily wounded in his leg. "Since then, I'm afraid when I hear alarms, and even more when I hear explosions. Once I almost even laid down on the sidewalk, I was so terrified; only my husband stopped me." The other family is younger; they have a two-and-a-half year-old son. When Father Andrew and I went for a walk, we bought a set of small model fire engines. He was so happy!
The next day, we attended a meeting of priests at the local cathedral. We had to walk a couple kilometers to the local subway station because buses are rare. Father Andrew suggested we take the road around the beautiful lake. I wasn't familiar with that place. I joked that I might spend my vacation there this year. We finally reached the center of Kharkiv around noon. In one of the city parks, the diocesan Caritas Center was distributing humanitarian gifts to the city's inhabitants. Crowds everywhere. Father Wojtek, the director of Caritas, told us they supply more than two thousand people with food. Attempting to navigate around the people standing in line, we walked on the grass and were immediately yelled at by the police officers. It felt very funny in that situation.
After the dinner we had with the volunteers, Father Wojtek led us to Saltivka, one of the most devastated neighborhoods of Kharkiv. First, we stopped at the parish led by the Vincentians. In the church's basement, almost two dozen people have been living since February 24, mostly elderly women. We went to pay them a visit. They haven't had electricity for a few days, so we walked in complete darkness. The ladies greeted us warmly. They know Father Wojtek well, and they were very happy with his visit. We managed to convince an 82-year-old lady to sing something for us. Grandma Vera, as she introduced herself, first looked for her purse to get out a comb. She wanted to look presentable because when we had entered the basement, the ladies had been napping. "What else can we do in this darkness?" they said. We listened to our aged vocalist sing an old Ukrainian song about Hala, a girl who went to bring water.
A block farther, we stopped by one of the high rises of Saltivka. The building isn't significantly damaged, although many windows are broken. "Here in the basement, a few families with children have been living for already three months," Father Wojtek explained. A moment after entering the basement, people started appearing. First, children running out, squinting into the strong sunlight outside, since their basement has no electricity. Everyone greeted me and Father Wojtek very warmly. The children immediately began telling us what they're doing, bringing balloons and apologizing that they couldn't make any drawings for Father Wojtek because it was too dark. I asked them if I could see their living space. They showed me the way downstairs. "Be careful; it's very dark," my guides advised me. We were saved by cell phones and little flashlights that Father Wojtek had given the children. The basement doesn't have a solid floor, so the air was filled with dust. The women showed me different rooms where they live with their families. They have mattresses or very basic cots. In one of the rooms, they had set up a "bathroom" consisting of a primitive shower and a hole dug into the ground. I came out of there very moved. I still keep these people in my heart and in my memory. Why did they decide to stay? Why didn't they leave like others, or why wouldn't they simply go back to their apartments upstairs?
Father Andrew, Father Wojtek, and I discussed this. Many people are afraid of more bombs and rockets dropping on their heads. Although it seems to be quiet now, on the day we arrived in a different neighborhood in Kharkiv, 8 people were killed, including a five-month-old child. People living in basements and subway stations are afraid of leaving because they have nowhere and nobody to return to. Some of them hope the war will end soon. One can tell that more and more people are losing a little of their resolve each day. "I spoke with some boy and his parents yesterday," Father Wojtek told us. "His whole class left. They're now in Germany, Poland, or western Ukraine. They still call each other and participate in classes online. I asked if they had thought about leaving. They responded, 'This is our home.' What could I tell them?" Father Wojtek added, "For these people, our presence is very important. The fact that they are not alone, that we are here, that we shake their hands, that we hug them. This is the greatest support and help we can offer these people." After three months of war, I easily understand Father Wojtek, and I know these aren't just empty words. I spent half a day in Kharkiv, and I can tell he truly gives himself to his work, that for those people in need, he became a true brother and sometimes even a father.
On Saturday I met up with the wife of the Polish ambassador, and we went to Fastiv. Monica and her children moved to Warsaw at the beginning of the war, while her husband is the only diplomat besides the apostolic nuncio who stayed in the bombarded capital. In Warsaw, Monica was very involved in the aid for Ukraine, mainly with the volunteers from the group Charytatywni Freta, helping the House of Saint Martin in Fastiv. Only God knows, and maybe Father Misha too, how much real help was offered thanks to her efforts. She couldn't wait until she could finally return to Ukraine. It was truly amazing to see her joy when we finally reached Fastiv. The joy grew even greater when we were joined by Father Misha. "We've been talking online, we've been hearing each other's voice every day since the beginning of the war while organizing help, and now we can finally actually meet!" she told me in the car. After breakfast and a short briefing, Monica, Father Misha, the volunteers and I went to visit some destroyed towns. A kaleidoscope of people telling us their stories. In Makariv, we stood in front of a completely ruined and burned house. People told us about phosphorus bombs, whose explosions left fires that couldn't be suppressed. Was it really that or rather some other kind of munition, I don't know. But the fact remains that the houses are completely burned down. A woman pointed to a tiny heart painted on what is left of the smoke-covered wall. "My daughter cries a lot," she told us, "because together with the house, she lost the only souvenir she had from her father who died tragically a couple years ago. He was the one who repainted her room, and everything in it reminded her of him. Now her dad is gone, and also everything he did with his own hands." The brutality of war shows itself even in this unexpected dimension — it steals memory, family souvenirs, and other things that can't be repurchased or rebuilt.
In Andriivka, we watched the volunteers finish the construction of the roof over the storage building that is now being turned into apartments. Next to it are ruins of a house. We spoke with an elderly couple. Amidst the burned property, two sewing machines. Monica was interested in their story. It seemed that her interest sparked a disagreement between the couple. "Why are you telling about this stuff?" the older man became irritated. "You're not sorry for the house, just for those two sewing machines." "I'm telling because they are asking," the woman responded with a bit of embarrassment. However, a moment later the old man proudly showed us the place where his garage and car used to be. Everything had burned completely. Everyone here has his treasures, smaller or greater, that have been taken away from him. Another man survived the Russian occupation in basements. Originally in his own basement from which he had been physically thrown out by a Russian soldier, then later in his neighbor's. In the next few days, he and his wife will be able to move back to their own house. Father Misha promised to get them a refrigerator. "Just a little one. The big one wouldn't be very useful to us," said the older man, lighting a cigarette. This isn't the first time I've visited those villages, and it isn't the first time I've seen that our volunteers always have cigarettes to offer the locals. Well, we have different dreams. Some dream of coffee, others of something to smoke.
Father Wojtek in Kharkiv told me that he recently sees more people who come and say, "Since we've been helped, we would like to offer help to others. What can we do?" It reminds me of a quote from theology classes: bonum est diffusivum sui, which means that good by its nature pours itself out. Saint Thomas Aquinas taught that God gave us not only existence and life, but also the ability to act independently and to be his coworkers. I recognize the depth of this way of thinking; when I see daily the wonderful people in Ukraine and throughout the world, I know that it's also true. We can be God's coworkers when we do good.
With warm greetings and request for prayer,
Jaroslaw Krawiec, OP
Kyiv, Sunday, May 29, 2:40pm
Dear sisters, dear brothers,
Recently I've spent most of my time sending letters. It was hard to find spare time to do it sooner, but it's very important to me that thank-you notes from the brothers in Ukraine find their way to all the people supporting the Dominican mission in the country at war. Many people and many institutions around the world help us, so the work of sending letters will still take some time. Writing addresses, signing letters, and attaching post stamps might seem boring and purely mechanical. It isn't so, however. For me, all these actions became emotionally absorbing, stirring my curiosity and, above all, bringing forth an enormous gratitude. I know that behind every name, address, priory, province, and institution are good and generous people. You are our friends — our sisters and brothers. Unfortunately, we don't have the addresses of all our benefactors, so if any of you don't receive my handwritten letter, please be assured that we remember all of you in our prayers. We are in Ukraine, and we serve all those in need on your behalf as well.
Two days ago Father Misha, with the help of volunteers from the House of Saint Martin in Fastiv, organized a picnic for the inhabitants of Borodyanka. Borodyanka is one of the most devastated cities around Kyiv. I've already mentioned it a few times because our brothers in Fastiv have been helping its citizens for a while now. Last year, Father Misha finally fulfilled one of his dreams and bought a food truck. It's a truck that can be used to prepare and serve hot meals. This ancient vehicle, with two large propane tanks attached to the back, drove the 70 km between Fastiv and Borodyanka surprisingly nimbly. And the children weren't the only ones who were excited. Although we didn't manage to provide french fries, we were capable of making delightful hotdogs and hamburgers. I fully shared everyone's enthusiasm. Nowadays it's hard to find good fast food, even in Kyiv, because the most popular of these chains are closed. How much worse it must be in Borodyanka, so tragically destroyed by Russian bombs and tanks, where it's hard to find even a grocery store.
The menu of our food truck, which offered everything free of charge, also featured coffee: real, delightful, and aromatic. That was the biggest hit among the adults. Only a few months ago, coffee was absolutely normal, and nobody paid attention to it. Before the war, while driving overnight from Kyiv or Fastiv to Warsaw, we would stop in the morning for coffee in this very city. Today you can't buy coffee in Borodyanka. I learned that while trying to find one for myself. "If I could find the money, I would immediately open a coffee house in this place," said Father Misha when we talked about it last night. "People are longing for it. They want to go back to normal, everyday comforts." I agree with him wholeheartedly; I'm very happy that, apart from building materials for renovating destroyed houses and necessary items like medicine, flour, oil, canned meat and bread, the volunteers from the House of Saint Martin make a huge effort to provide some token of a different, normal, pre-war world for those who have been suffering. Mrs. Natalia, who lives in our Kyiv priory with her elderly parents, told me how much she longs for this lost, normal world — how much she would love to simply sit down in front of her house in the morning and peacefully drink a cup of hot coffee.
Over the last week, I traveled a lot on trains. Partly out of comfort, partly out of necessity due to the lack of gasoline. Many trains in Ukraine consist mostly of sleeping cars. Each of these cars has its "providnyk", a railroad employee who serves the passengers. "Have you been working throughout the whole war?" I asked the woman responsible for my car. "Yes, I've been riding all this time," she responded. "I would like to thank you. You are a real hero to me." She was a little surprised by what I said. She immediately stopped what she was doing and called over her colleague. I listened to their stories about how they served on the evacuation trains in the most dangerous moments of war. They showed me pictures of bullet-ridden cars and rockets flying over the Kyiv train station from the first weeks of war. People like them are real heros. Without their work, millions of human beings wouldn't be able to evacuate to safety. Many Ukrainian railroad workers suffered as a result of war. Mr. Volodymyr showed me a picture on his phone of his relative whose face was covered with wounds after one of the most recent rocket attacks. As we were finishing our conversation, I ordered a coffee. The paper cup had an advertisement with a beautiful slogan: "Ukrainian things are becoming the best." I don't know how to say it better.
On the way to Kyiv, I overheard the conversation of the children running around in the car. They were traveling home with their moms. They didn't know each other before, so they were describing their houses while they were playing. In their conversation, they mentioned alarms, explosions, artillery barrages. I wondered how deep the psychological wounds are, in all of us and especially in the young Ukrainians afflicted by this war.
The Institute of Saint Thomas Aquinas in Kyiv, run by the Dominicans, is operating online just like all the other schools and universities. It allows students who are spread around Ukraine, or even the world, to participate in the classes. Father Thomas, who moved to Kyiv about a year ago, recently started his topics course on the concept of a person in the writings of Romano Guardini and Joseph Ratzinger. The course is attended by seven people. That's pretty good for our school and wartime. Father Petro, the director of the institute, has already opened a recruitment campaign for the new academic year. I'm very curious how many people, and who, will apply to begin studies in September. Among the prospective students, we have one soldier. He asked if we offer remote classes, since it will be very difficult for him to travel to Kyiv. I'm glad that in such a difficult time in Ukraine there are people willing to study theology.
Today our Dominican community in Khmelnytskyi is celebrating a unique solemnity of the elevation of the relics of Saint Dominic. A year ago, the brothers expressed their desire to have the relics of our Father and the founder of the Order in their house. These dreams were supported by Father Wojciech, the theologian of the papal household, who advised us to make a request for relics to the Roman monastery of the Dominican nuns on Monte Mario. The nuns responded favorably, and the relics of Saint Dominic and Saint Sixtus arrived in Khmelnytskyi. As preparation for the solemnity, Father Oleksandr from Kyiv preached the retreat at the parish of Christ the King in Khmelnytskyi, which is the parish of our priory. Today's Mass will be presided by Bishop Nicholas. It's another chance to see this Dominican brother who recently ordained Father Igor. Bishop Nicholas praised the pastoral work of Father Irenaeus in Mukachevo, who was evacuated from Kharkiv along with his parishioners at the beginning of the war. "Nicholas made me a confessor at the cathedral," said Father Irenaeus, who spends a lot of time in the confessional but also helps the bishop by celebrating Masses in the neighboring parishes. God assures that people have access to the sacraments in this difficult time of war.
There's a saying that you help more by giving a fishing rod than by giving a fish. Our sisters, brothers, and volunteers from the House of Saint Martin de Porres preferred to bring the people from Andriivka and Krasnohirka chicken rather than eggs. Both towns still look horrible, although their residents fixed a lot and cleaned up what was left by the unwanted guests from the east. Most of the household animals were lost during the war or were eaten by the Russian soldiers stationed there. That's why a long line of smiling people quickly formed around our car to receive small chickens. We gave away over two thousand of them. After all, it's Easter, and chicks symbolize new life, hope, and rebirth.
With warm greetings and request for prayer,
Jaroslaw Krawiec, OP
Kyiv, Sunday, May 22, 10:45pm
Dear sisters, dear brothers,
As I'm walking through springtime Kyiv, it feels like the war has just ended. Each day, the streets are filling with a growing number of people; new stores are opening up; new coffee shops, restaurants, and services are unlocking their doors. Even the bazaar, not far from our priory, is seeing merchants returning, although until recently it was just a mess of a place, since the adjacent building was destroyed two months ago by Russian rockets. It's not particularly unusual. Since the beginning of war, 390 buildings in the capital, including 222 apartment buildings, have been damaged or destroyed; 75 schools, pre-K, and kindergarten buildings suffered damage, as well as 17 hospitals and healthcare facilities. Of course, if we compare them with Kharkiv, a great metropolis in eastern Ukraine, the numbers don't seem so high; but every one of these places signifies real human tragedies, very often death and maiming of innocent people, and many resources that will be needed to rebuild them.
There are still fewer cars in Kyiv than there had been before the war. It's not surprising, since many of the capital's citizens haven't returned to their homes yet. There are also big challenges in acquiring fuel. Recently I pulled over with a couple brothers at one of the gas stations. We misunderstood the sign on the electronic board about the prices, and as we approached the cashier, I heard: "The fuel is only for those who have special coupons." I was just about to walk away disappointed when a nice young girl working at the cashier said to me smiling, "If you buy a pizza from us, I'll sell you 10 liters of diesel." You can't turn down an offer like this, especially when after the whole day of driving around the city, we were really hungry. Taking all this into consideration, I have to say, that cheese pizza with pear was exceptionally tasty. I approached the same lady again and asked her if I come back in an hour with fuel cans and buy four pizzas, if she would sell me 40 liters of diesel. "Sure thing, come over!" So Father Thomas went back to the gas station, and apart from a supply of fuel, we also had a wonderful dinner in the priory.
Speaking of food… Father Misha told us that in Andriivka, one of the most destroyed villages around Kyiv, the Russian army left behind not only destroyed buildings and landmines in the fields, but also jars of the original Russian "rassolnik," or as we call it, dill pickle soup. These one-gallon glass jars had traveled with the Russian army from a far distant land. On the label you could read that they were made in October 2021 in the town of Totskoe, in the republic of Kalmykia. Clearly, the retreating army couldn't stand this Kalmykian soup. Maybe they decided they prefer Ukrainian borscht? I jokingly asked Misha to bring back one of those jars when he gets to Andriivka.
The people of the destroyed villages around Makariv need help. The volunteers from the House of Saint Martin in Fastiv, joined by a group of Protestant volunteers from Rivne, managed to help rebuild walls and roofs for over 40 apartment buildings. They could only do it thanks to the help that comes to us from all around the world. Father Misha summed it up simply: "Without you, we don't exist." Thank you for your solidarity with Ukraine!
An old lady from Adriivka showed me doors and windows with bullet holes in her house. "I filled the holes the best I could to stop the drafts." I was trying to understand why Russians would shoot at the houses of old, sick people. "In the evenings when they got drunk, they would shoot without aiming," she said. The old lady continued, "Most of them were young boys, maybe 20 years old. Some in their forties." When we were getting in the car, she followed us. "Please pray for my grandson. He's in the Azov regiment, and he is fighting in Mariupol. I ask everyone to pray for him." We talked for a short while. I assured her of our prayer and told her that her grandson is a real hero, and that future generations of Ukrainians will read about people like him in school. But is this a real comfort for an old lady's broken heart?
Another old lady told me that the Russians shot two Ukrainian soldiers in front of her house and then started burning the bodies. "I asked them, 'What are you doing?' They extinguished the fire, but they wouldn't let me bury them." Other defendants of ours were murdered on the other side of her house. When she talks about it, her voice trembles and tears appear in her eyes. "I couldn't do anything. For a few days, I was protecting the bodies from the dogs as they laid on the road." After a moment, she added that one day a Russian soldier came to her house: "Gramma, I decided to hide at your house. They forced me to shoot, and I don't want this war. I am a Ukrainian. My dad is Ukrainian, and my mom is Buryat. I signed a contract. Later, we spent 30 days traveling to you. We had field exercises in Belarus. Gramma, how can I shoot at Ukrainians? Maybe my uncle or my brother is on the other side." The old lady told this story peacefully, with clear respect for this man.
On Sunday, Father Igor celebrated his first Mass in Fastiv. The day before, he was ordained by Bishop Nicholas Luczok, the apostolic administrator of the diocese of Mukachevo and our brother in Saint Dominic. Igor is from Donbas. He was baptized in 2010 when he was 24 years old. Before joining the Order, he graduated from the university in Donetsk in linguistics and worked as a high school teacher for a year. His religious formation took place in Poland, in Warsaw and Krakow. Immediately after the war began, he requested to be sent back to Ukraine. He arrived in Fastiv at the beginning of March when heavy fighting was taking place around the city. He passed his last exams and defended his Master's thesis online. Father Igor is now leaving for Khmelnytskyi, where he will serve in our Dominican community.
At his Mass of Ordination, he was joined by the Dominican family from Ukraine, by Father Lukasz, the provincial of Poland, and by Father Pavel, his predecessor. Unfortunately, because of the war, Igor's parents couldn't take part in this celebration. His family was represented by his cousin and her husband. They had both found shelter in our Dominican priory in Khmelnytskyi. Many brothers emphasized that Igor's ordination, which took place on the 73rd day of the war between Russia and Ukraine, is a sign of hope. As he was giving thanks for the gift of priesthood, Igor said, "A journalist asked me recently what it means to become a priest in the time of war. I answered that I didn't know. It is a mystery for me, which I hope Christ himself will help me to understand."
I suggested to Brothers Lukasz and Pavel from Poland and Wojciech from Lviv, that we travel to the ordination by the longer route. I wanted them, since they were already in Kyiv, to see with their own eyes and symbolically touch the painful wounds of our Ukraine destroyed by war. So we traveled from Kyiv to Fastiv through Bucha, Hostomel, Borodyanka, and Makariv. We prayed our morning prayer in the car. We stopped to finish the office of readings at the gas station in Horenka, which had clear signs of bullets, bombs, and fire. It is located on the outskirts of the capital city. We could see around us a panoramic view of the valley, the Irpin River, and the destroyed bridge — a symbolic place of the recent escape of the people from occupied cities. We had just been reading the commentary of Saint Cyril of Alexandria on the gospel of Saint John: "For their sake I consecrate myself. By saying that he consecrates himself he means that he offers himself to God as a spotless and sweet-smelling sacrifice. According to the law, anything offered upon the altar was consecrated and considered holy. So Christ gave his own body for the life of all, and makes it the channel through which life flows once more into us." In this way, the priesthood is particularly connected to Him, the Archpriest of the New Covenant. Deo gratias for the gift of the priesthood of Father Igor!
In Chortkiv the brothers just celebrated, as they do every year, the Solemnity of Saint Stanislaus bishop and martyr, the patron saint of the local church. Because of war, the celebrations were much more humble than they had been in the old days, but the pastor, Father Svorad, stressed that now more people are coming to the Sunday Mass because the city accepted a couple thousand refugees. Father Svorad, who is a son of the Dominican Province of Slovakia, serves in Ukraine with great heart. He is a sought-after confessor and spiritual father.
With warm greetings and request for prayer,
Jaroslaw Krawiec, OP
Kyiv, Wednesday, May 11, 12:15pm
Dear sisters, dear brothers,
"Father, the air raid alarm has been going for over two hours. Are you in the shelter?" As I was beginning to write, I received this message from Vera, from the House of Saint Martin in Fastiv. Tonight, just like yesterday, the air raid was announced covering almost the whole country; the news reported multiple rocket attacks in different cities of Ukraine. Although the attacks are mostly aimed at railroads and strategic locations, we all know those rockets don't always hit their targets. The day before my return to Kyiv, one of the rockets destroyed a newly finished apartment building in the vicinity of our priory. Father Peter, who was working in the garden at that moment, could clearly hear the sound of the missiles and then strong explosions. There was an attack on Fastiv at the same time. Luckily the rockets hit a little farther from their priory. "If the explosion had been a little bigger," Father Misha said, "all the stained glass of the church windows would have certainly been destroyed."
Seventy days of war have passed. This war turned many Ukrainian cities into ruins, made millions homeless, and stole the lives and health of thousands. Until recently, I would never have thought I would follow after the generation of my grandparents, who divided their time into "before the war" and "during the war". One would like to write "after the war."
I'm returning to writing letters from Ukraine after a long break. I was hesitating, unsure if it's necessary or if we're all already too tired of what's happening here. However, many different people encouraged me to not give up writing. Although the situation is already much different than it was a month ago, the war is still going on and still surprising us, provoking reflection, prayer, help, or even being there for each other.
I returned to Ukraine on Friday. Crossing the border didn't take much time. The traffic both ways is much lighter than it was before the war, except obviously for those who are using the opportunity provided by more lenient Ukrainian import codes to bring cars from Western Europe. Apparently they wait on the Polish side for up to a couple of days. The tents that had been used very recently by volunteers to distribute food to the refugees were empty.
The trip from the Polish border to Fastiv takes the whole day because you have to drive almost 600 km. The traffic is lighter than it was before the war. The checkpoints, which until recently seriously slowed down driving in western Ukraine, have disappeared. If not for the military vehicles I passed from time to time, you might forget there is war. The most serious problem in traveling is caused by lack of fuel. As a result of war damage and cutting off deliveries from Russia and Belarus, filling the tank is a great feat nowadays. Most of the gas stations are closed. Some offer only one kind of fuel. And if you somehow manage to find the station that has what you need, you must wait in a long line for the possibility of purchasing 20 or sometimes only 10 liters of gas.
The last part of the way, I drove through areas that recently used to be occupied or targeted by the Russian army. It was dark, and everything seemed very empty. At times I had a strange, eerie feeling, especially while driving through the woods. They say that suspicious characters still wander among them. I'm lucky I didn't have to stop and get out of the car, since when I was driving the same way yesterday, I drove past a group of army engineers checking the side of the road. Landmines are now a real curse for the inhabitants of villages and towns around Kyiv. These "souvenirs" left by the Russians have already deprived dozens of people of life.
I reached Fastiv past curfew. Luckily, the man guarding the entrance to the city showed full understanding, and after a proper admonishment that I shouldn't be here at that time, they told me, "Keep going, Father; it's not like you should wait here until morning."
On Saturday, after prayer, breakfast, and the morning briefing at which Father Misha assigns duties to the volunteers, we took the humanitarian supplies to the villages north of Fastiv. Some of them had been under fire from the Russian army; some of them had been under occupation. Although it's already been a month since the aggressors left, these places still look horrific. We visited villages where more than 70-80% of buildings were destroyed.
Some inhabitants who managed to escape are returning to their homes now. Obviously, if anything remains of them. Others never left. We stopped in Andriivka, a village on the road from Makariv to Borodyanka. Father Misha and his volunteers from Saint Martin's have already been there multiple times before. We talked to Vitaly, who runs a kiosk that distributes humanitarian supplies. He told us what happened there a couple weeks ago. He pointed to the school building: "A dozen or so women with children were there. The Russians took them somewhere. We don't know what happened to them and where they are now." He told us that when the soldiers entered the village, they were searching houses door to door, looking for the Nazis and Banderites [members of a right-wing organization from the 1940s]. Other people who survived the occupation talk about this, too. Among them is Natalia, who now lives in our priory in Kyiv, along with her elderly, sick parents. Before she moved to us, she spent two weeks in a small village near Bucha that was under Russian control. "First, they were looking for the Nazis, and then the next came and stole our stuff. They would take food and anything they wanted. They stole my car parked in front of the house. They simply drove away." All this time, I am trying to understand, how can these Russian soldiers actually believe they are liberating Ukraine from Nazism? Or maybe they are just justifying their own actions? I don't know.
We went to another village. Novyi Korohod doesn't look like it's been seriously damaged. However, it has been occupied by the Russians. Father Misha distributed more humanitarian supplies. This village was established in 1986 for people who had to resettle from Chornobyl. The mayor of the city greeted us warmly. She told us about her son who wants to go to fight in the war. "But I need him here," she says. "When the Russians were here, he helped so many of our people; he so often went from home to home whenever something needed to be done or whenever anyone needed anything." She is right; fighting with a gun isn't the only way to fight at war. When we asked what they need, she responded simply, "Peace and life."
As we approached Borodyanka, we saw more destruction. In the neighboring village, Russian tanks used to stand between the houses. We went to one of the houses to bring some food. An elderly couple lives here. The old lady was away. Her husband is blind and has amputated legs. He recognized Father Misha and the volunteers by their voices. In the living room, in a little basket, he keeps tiny chickens. This is a new generation because Russians stole and ate the chickens the couple had before. The old man was very happy with the radio the volunteers had given him during the previous visit. It keeps playing the whole day. As we were leaving, we asked the traditional question of whether he needs anything. The old, sick man responded with a very serious face, "I don't ask much; please bring me some cigarettes." It was very moving; he was immediately handed the cigarettes.
We arrived in Borodyanka. This city that neighbors Hostomel, Bucha, and Irpin was almost completely destroyed. The whole world could see pictures of apartment buildings demolished by bombs. In front of one of them is a monument of Taras Shevchenko, one of the most important Ukrainian poets. The attacking forces couldn't destroy the monument, although you can see the bullet holes in it. A sign is left over with a few lines from the poem written in prison:
Love your Ukraine.
Love her…
In ferocious times,
in the last difficult minute,
pray to the Lord
for her!
(translation by Yuri Zoria)
Next Saturday in Fastiv, Brother Igor Selishchev will be ordained to the priesthood. Igor is from Donetsk. He just finished his studies and formation in Krakow and came to Fastiv when the war started. Please pray for him. The gift of priesthood that he will receive in a time that is very testing, both for Ukraine and for all of us, is a true sign of hope.
I greet you very warmly and ask for your prayer.
Jaroslaw Krawiec, OP
Kyiv, Thursday, May 5, 12:30am
Dear sisters, dear brothers,
Little Romek celebrated his sixth birthday yesterday. When I was visiting the brothers in Chortkiv two days ago, he was sitting with his dad in our priory's parish office, which also functions as a guest room. They were looking at something on his computer. We peeked in for a moment, and he immediately ran to us, embraced Father Svorad, and announced to everyone: "I will have a birthday in two days!" He became a little embarrassed when I said that if that's the case, we'll have to find some kind of a gift for him. His dad immediately responded that the greatest gift for them was being able to take shelter with us. They had arrived from Kyiv with their whole family at the beginning of the war and were very graciously received by Father Svorad and Father Julian. The brothers are already used to the fact that their small house is a little louder and much more joyful. Romek's mom is a terrific cook. And that's the best way to Dominican hearts. On the way back from the church, which is about a kilometer from the priory, I stopped by a toy store. I hoped that Romek would like a Lego fire engine.
Chortkiv is very important for the Dominicans. Our church is considered one of the most beautiful Catholic buildings in Ukraine. It is also a shrine of Our Lady of the Rosary. Here, during the Second World War, the Soviets murdered our brothers. We all hope that the beatification procedures that began years ago will some day raise them to the altar. The state authorities gave back to the Order the priory building that is adjacent to the church. Unfortunately, many church buildings in Ukraine, and particularly priories, have not been returned to their original owners. Somehow we managed to get ours. For some time already, we've been planning for the priory to serve, after renovations, not only as a home for the brothers but also as a help center, a little like the house of Saint Martin in Fastiv. In the present situation in Ukraine, finalizing these plans seem not only appropriate but urgent.
Like almost all cities in western Ukraine, Chortkiv received many refugees. One can clearly see that the tiny streets of this charming little town are filled with families and mothers with children. At the city council building, tents are set up with humanitarian aid. Help is also offered at the cathedral of the Eastern Rite Catholics. It's not the only church in Ukraine where I saw, alongside the liturgical space and an area for people coming to pray, boxes of food, cleaning supplies, and mounds of baby diapers. I thought of the words of Christ: "They need not go away; you give them something to eat." Many churches now contain both the Bread of Angels, the Holy Eucharist, and the bread from human guardian angels around the world who did not forget their brothers and sisters exiled from their homes by war. Father Svorad, who is from Slovakia, told me that he often meets refugees at prayer in our church. Some people ask for conversation or prayer; some light a candle in front of Our Lady; some ask for confession. The vast majority are not Catholics and often had nothing to do with the Church previously, either Eastern or Western. Years ago, when I was a pastor in Chortkiv, I placed in the church a figure of Saint Joseph, the protector of emigrants. I wanted the people of this city to pray through his intercession for their loved ones who emigrated from Ukraine. Now our Saint Joseph must be very busy. He knows what it means to be on the way and escape from the anger of Herod. Saint Joseph, careful protector of Jesus and Mary, patron saint of emigrants and refugees, pray for us!
I spent the next two days in Lviv. When I reached the priory in the biggest and also most beautiful city in western Ukraine, Father Thomas, dressed in white habit and black cappa, was just leaving for an ecumenical prayer for the intentions of the victims of war. I joined him. Panikhida, a memorial service for the dead in Eastern Churches, was celebrated in the city center at the monument for the Ukrainian poet Taras Shevchenko. Representatives of all faiths in the city were present, including the bishops of both Catholic rites, as well as the Metropolitan of the Orthodox Church of Ukraine, Dymytriy. In the face of the tragedy of thousands of Ukrainians murdered in recent weeks, which became symbolized by the town of Bucha, I see in a much more profound way the need for common prayer and for calling with one voice to God, begging for mercy. At the end, the participants lit blue and yellow candles. They were left on the sidewalk, arranged in the shape of the Ukrainian coat of arms. This prayer was also attended by many refugees, whose number in the city is very high. It was the first ecumenical celebration like this in Lviv since the beginning of the war.
The time of war is a difficult time for our priories, parishes, and ministries. So many people left their houses, and a significant part of them went abroad. Will they come back, and when? Time will tell. We can already feel the emptiness because a large part of these people were actively involved in the lives of our parishes and communities.
On Wednesday afternoon, I went for a walk. I was told that a military parish of Eastern Rite will have a funeral service for three soldiers. I decided to join the prayers, led by a bishop. I didn't know these soldiers who died on the front lines, but when I participated in their funeral, I felt like they were close to me. I prayed with gratitude for their service. They paid the highest price for me also, that I can be safe in Kyiv. The oldest of them was 49 years old, and the other two were just young boys. Looking at the mother of one of them, pained and in tears, I thought about Mary who stood at the cross of her Son. The stations of the cross of Ukraine, in many places of the country, ended with "The Laying in the Tomb."
The church was filled with people. Among them were many soldiers, who carried the coffins of their brothers. Next to me in the long line toward the narrow entrance of the church patiently stood the president of the Ukrainian Parliament. Before the war, we had met briefly in Kyiv. After the war began, I wrote him a short message, assuring him of our prayers. He wrote back, "Father, let us pray for Ukraine." Now, we spoke politely for a few minutes. The most important Ukrainian politicians who run the country have passed a very difficult exam in faithfulness to their homeland.

On my journey, I managed to visit Dominican Sisters in Chortkiv and Zhovkva. Since the beginning of the war, they have been very involved in helping the needy and organizing humanitarian transports. I didn't inform the sisters in advance about my visit to Chortkiv. Whenever I go to them, they are extremely hospitable, which expresses itself, among other ways, by a wonderfully supplied table. During the time of war, I didn't want to create additional trouble, so I decided to knock on their door without any previous notice. The door was opened by Sister Eugene, the superior of the community. The other two sisters had gone to deliver supplies to Yasnyshche, which is 125 km from Chortkiv. It's an important place because it's the birthplace of the foundress of the Congregation of the Dominican Sisters, Roza Kolumba Bialecka.

Yesterday I arrived in Zhovkva. I celebrated Mass in the community chapel, which has icons of Dominican saints on the walls. How good it is to pray in such company: holy icons and wonderful, courageous sisters. After that, we had breakfast, and the sisters told me about their ministry. A lot happens in Zhovkva because it is located close to the Polish border. In the first weeks of war, the sisters enormously helped thousands of refugees who were waiting every day at the border crossings. Now in cooperation with local volunteers, they provide humanitarian help that is so needed in Ukraine. I continued my trip with Liana, an unusual volunteer from Zhovkva. She is a historian and works at the museum in Lviv. I learned a lot from her about helping and about life during war. She was on her way to receive a delivery of medical supplies from the USA that will be used to save the lives of our soldiers on the front lines.
Dear readers of my letters, I crossed the border yesterday and am presently in Poland. I will return to Kyiv in two weeks. If you live in Warsaw or nearby, I would like to invite you to the retreat I will preach in the church of Saint Hyacinth on Freta Street, beginning on Palm Sunday and lasting until Wednesday of Holy Week. Since my letters have always been the sharing of what I personally saw, heard, or experienced in the places touched by war, I will take a break from writing. I would love if letters of the story of war will not be necessary in the near future. Thank you for your solidarity with Ukraine, for help, for money, and above all, for your prayer and Lenten sacrifices in the intention of peace.
With warm greetings and request for prayer,
Jaroslaw Krawiec, OP
Lviv — Zhovkva — Warsaw, April 8, 8:45am
Dear sisters, dear brothers,
On Sunday, the world learned about the horrible war crimes committed against the defenseless civilian population in Bucha, the city located less than 20 km west of Kyiv. Until recently, it had been an oasis of peace. Now this beautifully located town has become part of the history of human wickedness. That evening, I was listening to the Ukrainian radio. The things that the Russian bandits did — I call them bandits because I wouldn't call people who are murderers and rapists soldiers — were compared to the events at Srebrenica. During the Bosnian War in 1995, a massacre of thousands of Bosnian Muslims was committed there. Sadly, Bucha is not the only such place in this war. Yesterday I visited Fastiv. When I walked down to the cafe at the Center of Saint Martin, Father Misha was assigning daily duties to the volunteers. Sister Augustine, with a notebook in her hand, was writing down how much, to whom, and where things needed to be delivered. Somebody asked about the Makarivs, to which Misha responded: "They are burying the dead today."
Many people since the beginning of the war had been buried in mass graves because cemeteries were not available, and the number of victims was very high. I was listening to a story told by a police officer who had driven on the Zhytomyr Road immediately after it was retaken from the hands of the occupying forces. Until very recently, this road was one of the main highways outside of Kyiv leading west. The cop told me how he tried to reach the families of people who were executed to tell them where their loved ones were buried. Thanks to that information, they might be able to find the bodies and prepare a regular funeral. Yesterday I spent most of my day in the car on the way from Kyiv to Khmelnytskyi. I was passing by a few cemeteries in the villages and small towns. One could see fresh tombs decorated with plastic, colorful wreaths that are so popular in Ukraine. I don't know if the tombs contained victims of the war. But it's very likely; just like in Zhovkva, where Father Wojciech from Lviv visited yesterday. I must add that I've always been very moved by the way the Ukranians say farewell to their soldiers, how they treat them like real heros. When the coffins with their remains are being transported, people come out on the streets and kneel. The same pictures could be seen in 2014 when all of Ukraine was saying farewell to the so-called "Heavenly Sotnia," the people who were killed in Kyiv at Maidan Independence Square during the Revolution of Dignity. I took part in one of these farewell ceremonies a few years ago in Ivano-Frankivsk. I will never forget it. The protests that happened at that time at the Maidan and President Yanukovych's removal from power could be considered an impulse that was used as a cause of the aggression of Russia against Ukraine. This war has already lasted for eight years, and its victims could be counted not in thousands, but in tens of thousands of people.
On the way to Khmelnytskyi, when the navigation app on my phone led me through a variety of tangled streets, I noticed mothers strolling with children in the villages. I've never seen this before to such an extent, and I've driven hundreds of thousands of kilometers on Ukrainian roads. I spoke recently with the Polish ambassador in Kyiv who told me that during war, one notices children with a particular intensity. He is absolutely correct! It could be that we do this because of some subconscious compassion, some particular concentration of attention on these little persons who wander now with their mothers and grandmothers through the quieter parts of Ukraine and the world. Others sit in dark, cold basements of Mariupol like shadows, to avoid being found by the murderous army. One can see many cars heading toward Kyiv. The withdrawal of the Russian army and another peaceful day in the capital clearly caused some of the inhabitants to return. I saw city buses yesterday morning on the streets of Kyiv and a notice saying that one can cross the Dnieper on the subway. It seems like a small detail, but for the daily lives of normal people, functioning public transportation is essential. The mayor of the city, however, advises the citizens of Kyiv who are now living in safe neighborhoods not to rush their return, for at least a few more days. The city is still not completely safe.
Many humanitarian convoys are going in the direction of Kyiv, and from there, farther to the east, north, and south. They consist of long lines of trucks, just like the one I passed in Letychiv that was bringing aid from Turkey; but they also include vans and passenger cars with volunteers. There are also coach buses regularly shuttling people from Poland. One particularly drew my attention. The sign behind the windshield said, "Slupsk — Mariupol."
I could see cars filled with people and luggage, sometimes attached to the roof, with registration plates from the regions of Luhansk, Donetsk, and Kharkiv. How far they've already driven! They have decided to leave, as people from these regions are strenuously urged by the authorities, since heavy fighting might take place there very soon. Two buses filled with people from Mykolaiv and Kherson left Fastiv yesterday. Sadly, the Russian army uses civilians as living shields; that's why the authorities ask people to leave and allow our army to fight the enemy with dignity.
In the outskirts of Khmelnytskyi, a smiling young volunteer girl was pointing to a thermos, offering hot tea to passersby. It's a very simple gesture but very important for these people, because it means that someone is awaiting them.
Since the very beginning, one of the weapons of this war has been words. I will not describe Russian propaganda, since everyone knows it well. Instead, let me mention some signs and billboards on the highway. In many places in Khmelnytskyi, I've seen posters in English saying, "Russians are killing our children." There are also religious themes. On one of the billboards along the highway, the soldiers of the occupying army were depicted as servants of the biblical Herod. Some time ago, on one of the barricades in Kyiv, I saw a copy of the so-called "Saint Javelina", which is an icon of Our Lady adorned with Ukrainian symbols and holding, instead of the Child Jesus, an American handheld anti-tank missile, the Javelin. I understand the perhaps noble intentions of the author of this painting, but I really don't like it. I think the same way about the saying that's been painted and repeated almost everywhere since the beginning of the war: "To the Russian warship, go ___." Many wise Ukrainians who I respect enormously started protesting against vulgarity in public debate. Eastern Rite Bishop Taras Senkiv said it best: "It's not an instrument of war; it's a sign of defeat."
I am sending today's letter in the morning from the priory in Khmelnytskyi. I came here to meet with Brothers Jakub and Wlodzimierz. This place has become a shelter for refugees from Kyiv and Kharkiv, like many religious houses that have opened their doors to become homes for people escaping from war. We are not only giving to them. Especially since most of these things we offer we have received from others. But as I discover over and over again, it is they who are a gift to us. I experienced this for the first time a couple months ago when our Kyiv community hosted refugees from Kabul. It's a little like the poem "Justice" by Father Jan Twardowski, which I've been carrying with me throughout my life:
If everyone had four apples
If everyone was strong as a horse
If everyone was equally defenseless in love
If everyone had the same thing
No one would need anyone.
It looks like we live in the time of God's Justice, when we need each other.
With warm greetings and request for prayer,
Jaroslaw Krawiec OP,
Khmelnytskyi, Tuesday, April 5, 8:00am
Dear sisters, dear brothers,
Yesterday Kyiv had one of its quietest days since the beginning of the war. I didn't hear a single siren, although when I looked at the "Digital Kyiv" app, I found out there had been two air raid alarms. Only two; other days there had been as many as twenty. Yesterday you couldn't hear repeated explosions, but only something like a distant "thunder" from time to time. No wonder a lot of people have appeared on the streets. The mood is peaceful now, which is reinforced by the news of the withdrawal of the occupying forces from the outskirts of Kyiv, which allows everyone to relax a bit. Let me add here that this news came from the Ukrainian military; nobody here believes any of the Russians' declarations and promises anymore. It's not surprising that after so many lies, trust has completely disappeared. Unfortunately, when I sat down at the computer this evening to read the news, my hope for a quick end to the fight for the capital subsided a little. Yesterday Vitali Klitschko, the city's mayor, appealed to all who have left Kyiv not to rush their return, since the risk of death is still very high. "It is better to wait for a couple of weeks and allow the situation to unfold," he added. Either way, we're still enjoying the silence around us.
Kyiv is becoming more alive with every passing day. Just like nature in the springtime. Over the last few years, coffee stands have sprung up in many Ukrainian cities. In our neighborhood, you can find them on every corner. Most of them are serving coffee today, although only one was open just two days ago.
On Thursday evening I was having tea in the refectory of the priory with two Polish journalists. Someone who knows men would have thought that our glasses contained something other than tea. But I can assure you that it was nothing else, since it was only on Friday that the prohibition in Kyiv was lifted and alcohol could return to store shelves. I haven't done any shopping recently, so I don't know if there were long lines at the liquor stores. For us priests, the lifting of the prohibition has some especially positive aspects. There finally won't be a problem with buying wine for Mass.
And this is no laughing matter since — as you all know — in order to celebrate Mass it's not enough to have good will and an ordained priest, but you also need bread (hosts) and wine. Both are becoming very difficult to obtain since alcohol disappeared from the stores and the sisters who used to bake hosts were evacuated from the warzone. Luckily, Brother Jaroslaw from Warsaw took care of the Kyiv priory's need. He added a small box, filled with everything needed to celebrate the Eucharist, to one of the humanitarian transports from Freta. It's great to have brothers like this!
Let me return to my two journalists. Since one of them is a writer and the other a photographer, they aren't in competition, so they started traveling together to the most critical areas of Ukraine. If I didn't know that they only met each other two weeks ago in Kyiv during the conference with the prime ministers of Poland, Slovenia, and the Czech Republic, I would be absolutely convinced that they're old friends. What made them so close was their common experience. They have just returned from Chernihiv. It is one of the oldest cities of the ancient Russ, located in the northern part of the country; it was surrounded by the Russian army and greatly damaged. I hope that the Orthodox monastery of Saints Boris and Gleb, which was built in the 12th century and belonged to the Dominicans in the 17th century, is still standing in the city center. I remember how my friend was telling me a couple weeks ago about a phone call she had with her acquaintance in Chernihiv. He sat with his family in the basement and was calling all of his friends to say goodbye. I hope that he somehow survived.
Russians destroyed the bridge that was used to deliver humanitarian supplies to the city. Now you have to cross the Desna River by boat, which is difficult, dangerous, and very inefficient. The journalists told me a little about what they saw. They also told me about how they try to describe and photograph the war. It's a difficult subject, especially when one wants to show the truth. When I was listening to them, I had the impression that these are people who really care about telling the true story to the world. I admire their courage and commitment. They told me that when they were returning from Chernihiv, their driver became very angry when he saw some guys fishing on the bank of the Dnieper. "How is it," he was yelling, "that in Kyiv people are going fishing, and 130 kilometers down the road at the same time, people are dying of bullets, bombs, exposure, and hunger." You don't even need 130 kilometers. It suffices to go 20 kilometers to Irpin, Bucha, or Vorzel to see hell. War makes for a bizarre and unjust world of radical contrasts.
I was recently amused by a story of the heavy fighting that's going on in the basement of our priory. The enemy isn't the Russians, but mice. They began their occupation of our basement a few days ago, and it seems that they like human company because the basements are serving as living quarters for some of us. Dominic, along with a couple boys, tried different methods to get rid of them. They even managed to buy a mouse trap. But the animals meticulously avoided it. They weren't even tempted by a delightful Polish kielbasa. They only died when Dominic used salo, a specially prepared bacon that is one of the most traditional delights of Ukrainian cuisine. How can Russia try to win this war if even the mice in Ukraine know that the best stuff is Ukrainian.
I've often mentioned older people who need help. Let me mention today our Dominican elderly from Fastiv who offer help. Sister Monica, who is not much younger than our Holy Father Francis, has lived in Ukraine for many years. She used to be a mother superior, which means she was the head of the congregation of the Dominican sisters of the missions. Father Jan is not much younger in his missionary ministry. For many years he worked as pastor of the Chortkiv parish, and his generous heart is still remembered by many there. Both Sister Monica and Father Jan have the same stubbornness, which seems to grow with every passing year. Obviously by this I mean stubbornness in their zeal for the people they serve. For weeks already, the corridors of the sisters' monastery in Fastiv are filled with boxes of humanitarian supplies. Like every year before Easter, our Dominican elderly get in a car and go to the surrounding villages to visit the sick and elderly parishioners. It is an opportunity for these people to go to confession and receive Holy Communion, but also to simply have a conversation with a sister or a priest. They have known each other, after all, for many years. Until very recently, the driver of the sisters' Lada was Sister Monica. This year, she is helped by one of the parishioners. It will be much easier that way, since they have big packages of food to deliver. It should also be safer since, knowing our seniors, they would go to the places still occupied by the Russians. It's good that we have people as beautiful as Sister Monica and Father Jan in our Dominican family.
Let me finish by mentioning Zakarpattia. It's a region of Ukraine bordering Slovakia, Hungary, Romania, and Poland. A couple of our older brothers are from there, including the bishop of the diocese of Mukachevo, Father Nicholas. He told me recently that they estimate Zakarpattia has received between two and three hundred thousand refugees. Before the war, the region was inhabited by about one million people. Bishop Nicholas supports us enormously, and not only us. He helps coordinate humanitarian supplies for Fastiv; he also encourages many Ukrainian believers with his wise words and prayers. Nicholas is very grateful for the presence of Father Irenaeus in Mukachevo. When we decided to temporarily leave bombed Kharkiv, Iraneaus ended up in Zakarpattia, along with a few parishioners. He now lives in the monastery of the Dominican sisters from Slovakia and ministers very zealously in the Mukachevo cathedral. He also travels with his priestly ministry to the neighboring villages. When I talked to him today, he had just finished a meeting with the local community of lay Dominicans. I see in this whole story the loving Providence of God.
Last night I received news from Father Wojciech in Lviv: "Janek is just leaving for the battlefield, so please remember him in prayer." He meant our lay Dominican from Lviv. He was recently drafted. Since he served in the army before, he knows the soldier's trade. Please, all of you around the world, pray for Janek, his wife, and his little son. May he fight bravely for Ukraine and return home safely!
With warm greetings and request for prayer,
Jaroslaw Krawiec, OP
Kyiv, Saturday, April 2, 5:20 pm
Dear sisters, dear brothers,
It's been a bit longer than usual since my last letter. Looking at what's going on around us, it seems like we're witnessing a transition from a certain kind of romanticism of the first days of war to the realism and pragmatism of the second month. What do I mean? First of all, that we're getting used to living in different conditions. I see it clearly in Kyiv. On Monday, the curfew was shortened. Now it lasts from 9pm to 6am. The number of open stores and services is also slowly increasing. Our neighborhood barber shop doesn't even have a line in front of it, which used to be the norm. The shop's owner put up a sign saying that the military, police, and territorial defense are served free of charge. Father Alexander told me he recently saw a similar sign at the dentist's office.
There's a fitness club across the street from the priory. I've never been there. But you could see inside through the large glass windows. The windows are covered with paper right now, so you can't see in, but the door has a sign that says anyone can come to work out there three times per week. I suspect there will be customers. After all, not all bodybuilders are satisfied with just putting sand into bags and laying them around monuments, which is one of the ways of protecting the art from damage.
Speaking of monuments, we had a poetry reading on Sunday with Oleksandr Irvanets in the library of the Saint Thomas Institute in Kyiv. Oleksandr is a Ukrainian poet, writer, playwright, and translator. A few days earlier, I had met his wife Oksana who is also an artist, and I invited them to our Sunday dinner. Oksana and Oleksandr used to live in Irpin, a city that's been destroyed by the Russian army and then was under occupation for a couple weeks. Just yesterday the Ukrainian army managed to take it back from the enemy. Our guests, along with Oksana's 90-year-old mother and her cat, were evacuated by volunteers after a couple weeks of living under Russian control. The city had no electricity, gas, or water. Oleksandr didn't stop writing poems, though. When they had to escape, they could take almost nothing for the road. He told me, "As I was leaving home, I only grabbed one volume of my poetry." It was very moving to listen to war poetry read by its author in our priory. One of the poems, in a somewhat comical way, described how even the monuments are fighting for Ukraine these days. Alexander explained to us: "In the center of Bucha [the city neighboring Irpin], there was an armored vehicle on a large cement base. It was a monument commemorating Ukrainian soldiers who died in Afghanistan during the time of the Soviet Union. When Russians attacked Bucha, they saw the monument from a distance and started shooting. They used up all their ammunition, and that's when our army came and destroyed them." Another poem was a reflection on forgiveness.
From the city shattered by rockets,
Today I call out to the whole world:
This year on the Sunday of Reconciliation,
Not all might I be able to forgive!
When Oleksandr finished reading his poem he was silent for a moment, then added, "I know one must forgive, but that's what I wrote in the poem." Big questions about forgiveness, about guilt, about common responsibility of the nations of Russia and Belarus from which destructive rockets fly daily to Ukraine, certainly will remain with us for years to come, and they will urge us toward a difficult search for answers.
For me, the cross of Jesus Christ is the answer. "For in him all the fullness of God was pleased to dwell, and through him God was pleased to reconcile to himself all things, whether on earth or in heaven, by making peace through the blood of his cross." (Col 1:19-20) Yesterday I was in Fastiv, and Father Misha asked me for a favor: "Could you go to the Carmelites and bring the relics of the Holy Cross, which they promised us?" How could I say no? From Fastiv, I took the relics of Blessed Mother Roza Czacka, which Father Misha and I had previously brought from Warsaw and which are now with the Carmelites in Kyiv. This was my little "crusade" to Svyatoshyn, a Kyiv neighborhood where the Camelite priory and parish are located. The western suburbs of the city are exceptionally loud, since the battle is being fought only a couple kilometers away. The Carmelites seem used to it, though. I felt like I was at a shooting range. Fortunately, nothing has exploded very close to the priory so far. Father Mark opened the reliquary in my presence and removed a little sliver of the Holy Cross for the church in Fastiv. The Fastiv church is named The Triumph of the Holy Cross, and Father Misha has been dreaming for a long time of having the relics in it. They will arrive soon, in the midst of horrible war, during the Year of the Holy Cross that we are now celebrating in Ukraine. How amazing are your ways, oh God!
In Fastiv yesterday, I witnessed the departure of another bus for the Polish border. Every time, it means sadness because of separation from loved ones, familiar soil, familiar houses, favorite places, animals, and things; but at the same it's a sign of hope and liberation. Every one of these departures also means the hard work of many people in Poland and in Ukraine. It also means a lot of money that someone donated to rescue the lives of innocent children, women, and elderly. Finally, it means the delivery of food, medicine, and all those necessary things that arrive from Poland. Thank you!
The phenomenon of getting used to life in war doesn't mean that it's getting safer or quieter. Last night was exceptionally loud. The explosions and shooting were heard without any pause. "Our boys" from the Kyiv anti-aircraft defense work tirelessly day and night. They bring to my mind an image of the sword and shield carried by the Archangel Michael, whose depiction is standing in the city center at Maidan Independence Square, on Sophia's gate, and in our priory's chapel. At breakfast, I heard a story about this especially loud night from Pietro, a journalist for an Italian newspaper who's staying in our priory for a few days. By the way, I have great respect for this Italian man who never once complained about Ukrainian cuisine, even though this is his first time here.
The transition from the romanticism of the first days of war to this pragmatism of the second month means also people returning to the homes and apartments they had abandoned. Every day I walk late at night in our priory courtyard with a rosary in my hand. I don't always manage to say the rosary completely because overwhelming thoughts interfere with meditation on the mysteries. I look at the apartment buildings surrounding our priory. One of them is more than 20 stories high. The number of lights in the windows is growing. People are coming back, although it hasn't gotten safer or quieter. Those who still have a place to come back to are fortunate. This war has taken away the homes of hundreds of thousands of people. Mariupol, Kharkiv, Chernihiv, Irpin, Hostomel… the long litany of ruin and human tragedy.
I am convinced that the majority of refugees from Ukraine, even those who were deprived of shelter by bombs, don't feel homeless — they have their own country and their own hope that their country will be free and will be raised from the ruins. Let me end with the words of the Polish poet Adam Zagajewski who was born in Lviv and had to escape with his parents in 1945:
"To be homeless, therefore, does not mean that one lives under a bridge or on the platform of a less frequented Metro station (as for instance, nomen omen, the station Europe on the line Pont de Levallois-Gallieni); it means only that the person having this defect cannot indicate the streets, cities, or community that might be his home, his, as one is wont to say, miniature homeland."
(Two Cities, tr. L. Vallee)
I guess my letter came out a little poetic today…
With warm greetings from Kyiv and request for prayer,
Jaroslaw Krawiec, OP
Kyiv, March 30, 7 pm
Dear sisters, dear brothers,
Like many of the faithful around the world, we spent yesterday focused on Mary, Mother of God. In the evening, together with a few fathers and most of the people who now live in our priory, we went to the Kyiv Cathedral of Saint Alexander where, in spiritual unity with Pope Francis, we prayed the Act of Consecration of Ukraine and Russia to the Most Sacred Heart of Mary. The Mass was presided by Bishop Vitalij, the ordinary of the Kyiv-Zhytomyr diocese. The homily was preached by the apostolic nuncio. Archbishop Visvaldas is Lithuanian, and he was nominated quite recently as ambassador of the Holy See to Ukraine and ordained a bishop. He is one of very few diplomats who have not left the capital of Ukraine. Let me add that he is one or two centimeters taller than me, and whoever knows me is aware that I am not short. When he entered the sacristy before the Mass, we exchanged warm greetings, and we joked about his new beard. "Well," the nuncio responded, "it's war." He is not the first bearded Vatican diplomat in Ukraine. His predecessor, an Italian man, also had a beard, making some of our Ukrainian bishops cringe since they don't like priests with beards. The priests from Kamyanets-Podilskyi or Khmelnytskyi know very well that when they are about to meet their bishop, the first thing they have to do is shave. But the title of nuncio has its perks.
Normally, the Kyiv cathedral is full on solemnities. Yesterday, there were no more than fifty of us. It's still not bad for wartime. Many of the faithful have left the city, and those who stayed often have no way of getting to the city center. The public transportation system isn't working, and everyone must go home before 8pm, when the curfew begins. There are no traffic jams on the streets, but the necessity of stopping at multiple checkpoints, showing documents, opening the trunk, and explaining who you are and what you're doing, takes time. Besides, many people are simply afraid of staying away from their houses for too long because multiple times a day, explosions and gunshots reawaken our fears and remind us of war.
Among the people praying, one could see many men and women in uniforms. Some heavily built men stood discreetly in the back of the church with assault rifles. Nobody was surprised by that, and nobody objected. After the Mass, Bishop Vitalij was approached by two men dressed in military uniforms who asked him for a blessing. The bishop prayed for an extended time over each one of them. He seemed to be clearly moved, just like I was.
During the offertory, the woman at the organ played and sang in Ukranian a very well-known chant, "Canticle of Hope," by Father David Kusz, OP. The words of the refrain, "In his great mercy God gave us birth to a living hope, a great living hope," profoundly pierced our hearts, clearly revealing God's dimension of the events around us. David visited us in Kyiv a couple months ago, and he gave a workshop on liturgical chant. The next workshop was supposed to happen at the end of February, but the war ruined that plan.
There was another chant that moved me deeply. When we were reciting the act of consecration following our bishops, while kneeling before the figure of Our Lady of Fatima located in the side chapel, the whole cathedral was filled with: "Bo?e we?ykyj jedynyj, nam Ukrajinu chrany" ("O God, one and great, protect our Ukraine"). This song is considered the spiritual anthem of Ukraine. On the way back to the priory, Anton explained to us that the song was composed in 1885 by Mykola Lysenko; after modern Ukraine regained its independence, it was a candidate for the national anthem. Although it wasn't chosen in the end, the song is well-known and frequently sung by Christians of both eastern and western traditions. Years ago when I was working with Father Thomas, who currently lives in Lviv, we both served in Chortkiv in Podole; we were enchanted by a beautiful performance of this song by a few elderly people from Shypivtsi who would sing at our daily Masses in a small chapel at the old Polish cemetery. If you would like to hear a modern version of this spiritual anthem inside Kyiv's Sophia Cathedral, here's a link: https://www.youtube.com/watch?v=9ICZ_LCkKDY
It would be good to use the opportunity of this Act of Consecration to add that, for Orthodox Christians, the worship of the Heart of Jesus and the Heart of Mary is rather confusing and deeply surprises some of them. Even those who became Roman Catholics but grew up in the Orthodox tradition can't always grasp its spiritual meaning.
Yesterday, Brother Igor passed the exam, Ex Universa, which was the last stage of his theological studies at the Dominican College in Krakow. Igor took it online from Fastiv. It must be the first exam in the modern history of our college to be taken by a brother in a country at war. The last time I saw him, we were joking that when the faculty committee hears the sirens and explosions outside his window, it would soften their demeanor. But the sirens did not blare, and even if they did, there was no need to treat Igor in a forgiving manner because he's a great student; despite the confusion of war, he was well-prepared. After all, he's a Dominican. I hope that we'll be able to plan his priestly ordination for the beginning of May.
As relatively quiet as the last few days were, today the sirens have been blaring since the early morning. Even Father Misha called me before noon, worried because he heard that something bad is happening in Kyiv. I hope that the coming hours will not surprise us with some terror. Yesterday the stores and streets of the city were filled with people. The stores are much better supplied, and one can see much fewer empty shelves. I am worried, however, that even if the merchandise doesn't run out, people won't be able to get the money to buy anything. The majority of us have lost our sources of income. The humanitarian help arriving in Ukraine is truly life-saving. Although it doesn't solve all the problems, it offers enormous support for many, especially the weakest ones. Dear friends, we will remain grateful to you forever!
Mr. Jacob, a Polish journalist who stays with us sometimes, told me this morning at breakfast that he just came back from Kharkiv and that some regions of that large city look like Warsaw did after the uprising; they're completely ruined. It's hard to find an open store, even in the neighborhoods that didn't suffer from Russian bombs. If not for the humanitarian help, many people wouldn't have anything to eat by now. Jacob also showed us a very symbolic picture: some bombs had fallen on the cemetery outside of Kharkiv where the victims of the Katyn Forest Massacre were buried in 1940. One of the bombs didn't explode but got stuck in the ground next to the cross at the tomb of the Polish officers murdered by NKVD. Very thought-provoking.
Today our accountant stopped by. At the beginning of the war, she took her children and moved to a village in the neighboring region. I was very happy to first see her little red car parked outside my window, and then see Svieta herself. When she was leaving, she took two boxes of infant formula. The boxes arrived some time ago with the humanitarian aid. However, we haven't had infants in Kyiv recently, and we had no idea to whom we could offer these treasures. Svieta took them with gratitude, since she is an active volunteer and helps a lot of people in her neighborhood. "We have many mothers with children, sometimes newborns," she said. I was happy that the gifts offered from the bottom of someone's heart will soon reach people in need. She also took a few items that the Polish ambassador recently left, among them an electric kettle. These days, many old village huts that had been empty for years are finding new inhabitants. Polish tea kettles are becoming very useful on Ukrainian Taras Shevchenko soil.
With warm greetings and request for prayer,
Jaros?aw Krawiec, OP
Kyiv, March 26, 2022, 5:30 pm
Dear sisters and dear brothers,
Yesterday I went for a long walk through Kyiv. It's good for my health, and my temptation to shorten the distance using a bus or a subway, which I often give into, disappeared on its own. Public transportation practically doesn't exist. At the door of our priory, there is a stop for buses and trolleybuses. Its electronic timetable transmits the charming line: "We apologize for the temporal inconvenience." Temporal inconvenience…how much one would like to think of war that way. As for apologies — I think apologies should rather come from the Russian army and those who started this whole hell!
First, I went to Podil, an old neighborhood on the western bank of the Dnieper. In the Middle Ages, it was the location of a Dominican priory, which by now is completely gone; and later — after the fall of Communism — it became the location of our current priory, "Kairos" Publishing House, and the Institute of Saint Thomas. At the so-called Zhitnii Rynok ("Rye Market"), which is a market hall inactive during the war whose interior still maintains its typical Soviet-era style, I found an open and fantastically supplied shop with Italian food. I hope it will be useful someday. I stopped at the former Kyiv river port building to look at the Dnieper River. This is the place where, according to legend, Saint Hyacinth crossed the river dry-shod as he escaped from the city. He held in his hands the Blessed Sacrament and the figure of Our Lady.
In the square in front of the building, there are statues of children at play. They're particularly moving these days. I was looking at them as I walked the streets of the city. There are clearly fewer children on the streets since many, maybe most of them, left with their parents. One can only see them every now and then. I passed a teenage girl who was walking with her dad, holding his hand. It seems to me that the children who are just entering adulthood and already understand what is happening are deeply wounded by war. Maybe even more than infants who don't understand what's happening. War steals the beautiful years of youth in the most brutal way. Very clearly, the grip of her father's hand was what this young girl needed. She is lucky, I thought, that her dad is so close to her. Another girl was riding a scooter on the wide base of a monument of Gregory Skovoroda, an important Ukrainian thinker. His words were quoted by John Paul II in Kyiv in 2001: "Everything passes away, but love remains after all else is gone. Everything passes away save God and love."
As I continued walking, I watched parents, usually mothers. They were clearly sad, somewhat absent-minded as if their thoughts and hearts were somewhere else. And it's probably true. Maybe in their thoughts they were with their husbands defending Ukraine. Or maybe they were struggling with thoughts about the future, with fears and anxieties. I was touched by one poor lady who was pushing a cart filled with two bottles of water and other random things. She was walking while holding the hand of a couple-year-old boy. In moments like this, one wants to help but feels helpless at the same time. I was following them with my eyes as they passed, which caught the attention of a soldier standing across the street. Politely but decisively, he asked me to approach him, checked my documents, and then suggested that I continue on a different street.
I climbed, almost out of breath, from Podil to Vladimiro Kalva. It's a beautiful park owing its name to the monument of Saint Volodymyr, the ruler who introduced Christianity to Kievan Rus. The king is depicted on a high pedestal, holding the cross in his hand and looking into the distance across the western bank of the river. Somewhere over there, the battle was being fought for the city. One could hear it occasionally from the center of Kyiv yesterday. Here in the park, a young couple was jogging; some elderly people were walking peacefully. I wanted to enjoy the view of the river from the newly built Glass Bridge. However, entrance wasn't allowed.
One soldier asked me for a cigarette. Unfortunately, I don't smoke. Before the war, meeting uniformed men in Ukraine wasn't always very pleasant, especially when you were stopped by the highway police. Now, like everyone else, I look at these men with admiration. They truly defend us. People frequently offer them things to eat and drink. Many of them politely decline for security reasons, especially the soldiers. Father Thomas told me that he gave a box of chocolates to the soldier at one of the checkpoints who had been checking his papers and car. Simply, just like that. He saw tears in the boy's eyes. This gesture must have somehow touched his heart. Unfortunately, I didn't have cigarettes yesterday. I would have bought them and taken them to the young man with the gun, but all the stores around were closed. Maybe I should keep a pack of cigarettes with me, in case someone asks for a smoke again.
I decided to walk around Saint Sophia's Cathedral. It's the most important church in Kyiv. It is a museum now, but its spiritual heritage is the point of reference for all of the Byzantine Churches. A few days ago, Father Peter, our prior in Kyiv, was invited to participate in an ecumenical prayer for peace, celebrated within the walls of this church. The presence of a friar wearing a white habit and black cappa has been a symbolic expression of the presence of Dominicans in the capital of Ukraine since the times of Saint Hyacinth. Dominicans are at home in Kyiv, and the first bishops who served from the banks of the Dnieper were members of our Order. Yesterday, when I looked at the gold domes and bell tower of Sophia's Cathedral, I was thinking that such majestic and beautiful churches are just as helpless against the Russian rockets and bombs as we inhabitants of wartime Kyiv. Not far away, above the side gate that I often used to enter the cathedral, I looked at a golden statue of Saint Michael the Archangel, with shield and sword in his hands. He was glimmering in the last rays of the sunset. Maybe we are not completely helpless, I thought. The commander of the angelic hosts is the patron saint of Kyiv and also the patron saint of our Dominican vicariate of Ukraine.
Last night, I received a beautiful letter from Father Timothy Radcliffe, our former Master of the Order. A few days earlier, Father Timothy had sent me an email expressing solidarity and assuring us of his prayer. He wrote that he was very sorry that he couldn't be with us now in Ukraine. He asked me if he could do anything for us. I responded a bit audaciously that he could, and I asked him to write a letter to the Dominican family in Ukraine. When Timothy was Master of the Order, some of our brothers who now work in Ukraine had still been students in formation in Krakow. His letters had always been full of God's light and hope. We need both of those things very much now. Father Timothy made a great contribution toward rebuilding the mission of the Order of Preachers in the countries of the former USSR. His letter arrived the next day. Timothy is right; in time of war, every moment is important. The whole letter is available in Polish and in English on this website:
https://info.dominikanie.pl/2022/03/list-do-rodziny-dominikanskiej-w-ukrainie/.
Since we are building good together, and many of you who read my letters continually support us and suffering Ukraine so generously and in so many ways, I would like to end with this quote from the letter: "Sometimes one may wonder what good is being achieved. How can these small deeds matter in the face of the massive destructive power of missiles, tanks and aircraft? But the Lord of the harvest will ensure that not one good deed is wasted. As all the fragments were gathered from the feeding of the five thousand, so no act of kindness will be wasted. He will bring forth fruit that we can never imagine."
With warm greetings and request for prayer,
Jaros?aw Krawiec, OP
Kyiv, March 22, 2022, 7 pm
Dear sisters and dear brothers,
After almost an hour of driving from Kyiv, Father Thomas and I have reached Fastiv. I always visit this city and the brothers and sisters working there with great pleasure. Just before I left this morning, I met a woman who had managed to evacuate a few days earlier from one of the cities outside of Kyiv that had been destroyed by the Russians. She and her husband, together with an elderly mother, decided to stay in Kyiv, despite their friends in Poland urging them to leave. They don't want to run anymore. They love this city and Ukraine. I understand them. Now they need some support because while they were saving their lives, they couldn't take anything for the road. Just like many, many refugees from all the destroyed cities and villages of Ukraine. On the way to Fastiv, Father Thomas and I celebrated Mass for the sisters of the Missionaries of Charity, those of Mother Teresa of Calcutta. The sisters in Kyiv feed the poor and provide shelter for almost a hundred homeless. During the time of war, they live in the basement of the priory. In a tiny corner of the basement, they arranged the chapel. During the night, one of the sisters sleeps there. She explained to me with a smile that she is rather short, so she fits well. The superior of the community is from Poland; other sisters are from India and Lithuania. Amazing women.
Someone asked me recently what's going on with our candidate to the Order. It's true — while writing a lot about Kyiv and Fastiv, I haven't mentioned Nikita from Kharkiv. When the situation in the city was progressively becoming more tragic — their neighborhood was bombed, and every night meant the necessity to stay in the subway station — Nikita and his parents left Kharkiv. Using not the shortest, but definitely the safest way, they managed to reach Khmelnytskyi, a city in western Ukraine located over 800 km from Kharkiv. It is much safer there, although like in most territories of Ukraine, one can hear the blaring of sirens and daily air raid alarms. Unlike Kharkiv, Kyiv, or Fastiv, this city has not been bombed nor fired on by artillery.
Kirill, another boy from Kharkiv connected to the Dominicans, also found himself in Khmelnytskyi. Yesterday was the liturgical feast day of Saint Cyril of Jerusalem, which is his name day. When I called him, he was in good spirits and with gratitude mentioned how much he values the opportunity to live in our priory with brothers Jakub and Wlodzimierz. Daily Eucharist and prayer, as well as a wartime community with the Dominicans, are very important to him. I thought about him when I was reading the catechesis of Saint Cyril in the breviary: "Do not dress yourself in gleaming white garments but rather in the devotion of a clean conscience." During our conversation, he was laughing at me a little because in one of the first letters, I praised his courage of staying in our priory in Kharkiv, which was destroyed by the Russians. "Father, you wrote those things, and the next day I left the city." He did very well. Courage and heroism are not about letting oneself be killed by Russian bombs. Courage means that one makes the right decision at the right time.
Stay or leave? It is now a serious dilemma for many people in the war-destroyed territories. Some save their lives by running to secure locations. Others stay and want to protect their home here. I understand both.
The university in Kharkiv, where Kirill is a student, resumed its activities, and the classes are online. I heard about it from Anton, who moved to our priory in Kyiv at the beginning of the war. He teaches at one of the Kyiv universities. He admitted that not all students participate in classes, but at least a few of them manage to connect with the professor. Our two Brothers Peters, both from Kyiv, also teach, continuing their classes for eastern rite seminarians. These seminarians dispersed for security reasons to many places, but the seminary still continues remotely. However, the classes are shorter, since many of them are involved in volunteering. Our Dominican Institute of Saint Thomas operates in a similar way.
It is already the third week of war, and after the first days of huge shock, stress, and panic, we are starting to settle into the new reality. Everyone is coming back to work as much as they can: some of them online, and some of them are coming back to work in person, as the authorities encourage those who are lucky enough to still have places of work that were not destroyed. It is not a simple matter. Many people left, so the companies are missing employees to the point of sometimes not being able to function. Kyiv is a big metropolitan city. If someone lives far away and doesn't have his own transportation, it is very hard to go to work. Because of that, despite the winter temperatures, one can see many people on the streets traveling on bicycles, scooters, etc. Yesterday I was admiring a young boy riding a scooter while carrying a musical instrument in a huge case. He was moving pretty fast, skillfully avoiding holes in the road.
I, too, am getting more and more accustomed to the situation of war. I don't know if it's good or bad. I don't think there is any other way because, despite the alarms and explosions, one has to live somehow. Of course, all of this could instantly be interrupted and smashed into pieces by an outburst of fighting or a stray rocket exploding in the neighborhood. In the last three days, I've seen a number of places demolished by the morning "winged guests" coming from the east. They usually arrive at dawn, between 5 and 6 in the morning. Practically every day I wake up to an explosion, sometimes closer, sometimes farther away. There are moments when I feel like I'm in a movie, but unfortunately all of this is very real and very close.
I recently received a very moving witness from Belarus, shared with me by someone in Poland. We know very well how difficult their situation is. Belarus got involved in this war, and although the Belarussian army doesn't take an active part in the attack on Ukraine, the death-carrying rockets and airplanes take off from the territory of their country. Here are fragments of what this person confessed: "There are not enough words to express the pain and helplessness that we feel because of the war in Ukraine. This pain is so much the greater since our country was dragged into this war. We are endlessly worried about what is happening to you, and we pray that peace finally comes back. If this eastern monster doesn't fall, it could be that Belarus will suffer even more and, as a result, lose its self-awareness. The fight that the Ukrainians fight gives us hope that good will prevail over evil. We are admiring the heroism and brotherly unanimity of your nation, and we believe that God will reward you for it. One would like to cry out: 'My God, how long; how many people must die!' But God's ways are inscrutable. We are wishing your whole nation even more strength of spirit, and we pray day and night for the victory of Ukraine (some of us with the Rosary of Pompeii). I hope that one day I will be able to travel to a free Ukraine from a free Belarus." After the voice from Russia that I recently quoted, this is another testimony of a person of faith who suffers because of war. I am very grateful for these words. I trust that we will never lack righteous people in Belarus and Russia.
With warm greetings and request for prayer,
Jaroslaw Krawiec, OP
Fastiv, March 19, 2022, 5:30 pm
Dear sisters and dear brothers,
In the last few days, Kyiv has become unsettled. The noise of blaring sirens has become more frequent, which means increased risk of air raids. I also seem to sense an increase in the sounds of battles fought on the outskirts of the city, all kinds of explosions, and the hiss and whizz of things flying over our heads. Yet the beautiful blue sky over Kyiv today seemed so pure and filled with sunlight. All this noise makes us nervous. People stop, look around, and listen, trying to estimate the distance: is it already here or is it far away from us? By now, we are all used to a certain degree of the threatening symphony of war. This morning, very early, the priory was awakened by loud explosions. Those who slept in the basement said that they could feel the trembling of the foundations of the building. It was the strike of Russian rockets falling on the buildings neighboring the closest subway station. After breakfast I went to see what had happened. It's just a 10 minute walk from us. I could see with my own eyes how devastating these weapons can be. One rocket hit the roof of a building, but all the windows were broken within a range of a few hundred meters. The subway station had been demolished. People who spent the night there were not affected, however, because the platforms are located deep underground. Even the places that seemed safe, covered by other buildings from the center of the explosion, were damaged. Besides the police and a handful of passersby like me, many journalists from around the world appeared. They were wearing bulletproof vests labeled "Press" and helmets. Real war correspondents. They worked, and I kept looking at these very familiar places. Luckily the attack happened at 5 in the morning, when not many people walk on the streets because of the curfew.
When I called Father Misha, he said that if, God forbid, anything like that happened around the church in Fastiv, nothing would be left since the priory is just a modified worker's shed. Seeing the destructive power of war with your own eyes teaches humility and encourages everyone to obey the regulations of the authorities that urge us to hide in safe places during the alarms.
The past few days have been a time of volunteering for many of us. We brothers have been joining the people who live with us to search for food and necessary items and to distribute them to those who need them. Mostly the elderly, sick, and mothers with children. I took some of those things this afternoon to the vicinity of the railway station; this is the place where the buses bring people who had been evacuated from destroyed towns on the outskirts of Kyiv. When I was driving Father Alexander to the cathedral, where he was supposed to take a van filled with clothing and drive it to the center of volunteers, I heard him say that the present time is a time of great blessing for us. I agree with him. Through all these days, like many of my brothers and sisters, I never regretted the fact that we find ourselves here and now in Kyiv, Fastiv, and other places in Ukraine. Certainly we are worried, we feel compassion for the suffering, we are angry at the cruelty of the enemy, sometimes we cannot sleep or eat out of anxiety; but we also see that this is a great gift and blessing for us.
Just a moment ago I called Sister Damian, a Dominican from Fastiv, and I asked her: "Do you regret that you are here now?" Without any hesitation, she answered, "Never! From the very beginning, I knew that this is my place and that I have to be here." Sister Augustine was similar. The war surprised her in Poland, where she is from. She didn't want to stay there, though. She took the first opportunity to join the humanitarian convoy and returned to Fastiv. Brother Igor, born in Donetsk —I mentioned him before— asked me and the provincial to speed up his assignment to the vicariate of Ukraine. He arrived by train in Fastiv from Krakow with only a small backpack. "I didn't even take a computer," he told me two days ago. "But I knew that I would find something in the priory." I see the boys and girls who live in our priory in Kyiv, and the volunteers and workers of the House of Saint Martin in Fastiv. They know why and for whom they are here. Last night I read a small book written by Father Innocent Maria Bochenski OP, "De Virtute Militari. Sketches on Military Ethics," written just before the beginning of the Second World War. I was stopped by this sentence: "Love is a skill, which cannot be acquired by mere exercise, but which we receive by God's grace. As a rule, God acts in a way that he increases our love together with our actions: whoever acts out of love can be certain that God will increase his love." This is really happening. If you have in yourself even a little bit of love and act according to this love, you can be certain that God will multiply it. I hope that many readers of my letters who are so dedicated to helping sisters and brothers in Ukraine can also experience it.
I am moved by the generosity of Brothers Jonathan and Patrick, Dominicans from the Province of Saint Joseph in the USA, who arrived in Poland and have been helping refugees for the past couple days at the Polish-Ukrainian border as part of the humanitarian mission of the Knights of Columbus. So far I haven't been able to meet them, and I don't know if it will be possible in the foreseeable future, but the brothers in Lviv told me that the American Dominicans plan to visit them. They promised to deliver lots of rosaries. Father Thomas told me that some people in Lviv who have received into their homes their compatriots running from war not only give them food and shelter, but also teach them prayers. So the rosaries will come in handy. At the checkpoints on the streets of Kyiv, when I'm asked by the military or the police if I carry any weapons, I keep telling them with a smile that I don't, but I could have answered that my weapon is the rosary I carry in my hand most of the time. I'm not saying that aloud to avoid making our brave boys nervous, since their post is not a game. Today when I was driving to go shopping, at the first checkpoint in the morning, I was surprised because the man with a gun did not ask me the usual, "Your documents, please" but instead asked, "How are things?" It was so nice and so normal.
The curfew has just begun. This time it will last longer and will end on Thursday morning. This also means that, both in Kyiv and in Fastiv, we will spend tomorrow within the walls of our priories. We might catch up a little with our correspondences. I hope no rockets or bombs will ruin our day.
With warm greetings and request for prayer,
Jaroslaw Krawiec, OP
Kyiv, March 15, 2022, 8:50pm
Dear sisters and dear brothers,
Today Kyiv is very sunny, although it's cold, -2 °C. At night the temperature drops to -8 °C. When the heating works, it's not a problem, but many places don't have electricity or gas. For that reason, people are longing this year for the spring to come faster and for the weather to become warmer. Today I saw pictures of people who were evacuated yesterday from Kyiv. They were wading through the ice-cold river Irpin because the bridge had been blown up, and there was no other way. Some of them were carrying children in their arms.
Let me start today with writing a little about the Dominican laity. There are a couple fraternities in Ukraine: in Kyiv, Fastiv, Murafa, and Zakarpattia. There is also a fraternity in Lviv, which is in the process of reestablishment and has existed since before the war (the Second World War, obviously).
Among the lay people of the Dominican Order, there are old and a few young. Unfortunately, first the pandemic and now the war drastically limit the possibility of having regular meetings, and in some cases they became impossible. The superior of the lay Dominicans in Ukraine, Halina, lives in Fastiv and is very seriously involved in helping the refugees who request evacuation. One of the novices from Lviv has just joined the army. His unit is in the formation process and will be sent very soon to defend Ukraine. I told him that if he ends up in Kyiv, he should try to look us up. A large part of the tertiary Dominicans remain at home, but some who lived in the most dangerous areas were forced to leave.
The Institute of Religious Studies of Saint Thomas Aquinas, which has been run by the Dominicans in Kyiv for the past 30 years, did not completely suspend its activities. Yesterday Father Peter gave a lecture on the Synoptic Gospels. The lecture was obviously online. The participants consisted of a couple first year students and one fourth year. This morning Father Peter told me that teaching about the Bible during war has become for him a new experience of discovering the power and meaning of the Word of God. I agree with him completely. As I daily read parts of the Bible proposed by the rhythm of the Church's liturgy, I can hear and see more.
The brothers in Lviv, besides their regular ministry, take part in helping the refugees who arrived in great numbers in this largest city in Western Ukraine. Father Wojciech lived for a couple days at the monastery of Benedictine nuns on the outskirts of Lviv. More than a hundred people running from war are sheltered there, among them Benedictine nuns from Zhytomyr. Father Thomas works closely with the city volunteers. The Lviv art museum, located in the city center, became a warehouse of humanitarian resources, and Father Thomas, along with others, organizes it. "Sometimes people ask me," he told me yesterday, "what I am doing here, since I am Polish. I tell them this is my city, too; I am a Dominican." Let me add that Father Thomas' mother is from Lviv. Sometimes people are surprised when they find out who we are, and that we stayed with them during the war. I'm learning, however, that during war I become less and less surprised by things. Thomas was joking that when the food from Poland arrives, he helps the volunteers figure out what the food items actually are. "They cannot understand that 'Szczecin pepper mash' is simply ground fish in cans." For the uninitiated, let me add that this can used to be the number one product for tourists in Communist Poland. I cannot even remember how many of them I ate during my youth while camping in the mountains.
The growing problem for the regions afflicted by war is lack of medicines. Although many pharmacies in Kyiv are still open, the most important medicines are not available. People with long-term diseases, with diabetes, and older people with heart conditions suffer very much. The humanitarian deliveries of medical supplies are now worth their weight in gold.
As I mentioned before, in Kyiv we are working closely with the local headquarters of the city volunteers, which is located a couple hundred meters from the priory. It is actually located in the building of the theater "Silver Island." Maryna, one of the actresses, is Catholic. After Father Adam Szustak read one of my letters on his online show, she was contacted by her friend who said, "Go to the Dominicans: they have bread." That was exactly the day that we brought a couple hundred loaves of bread to the priory. And that's how our cooperation began. The power of social media!
On Tuesday night we were sitting in the priory having dinner with Maryna and her friend, Jurij, who is an actor, too. He told us an amazing story. So he had just returned from the town of Hostomel. I wrote about this city, which is now ruined by bombs and occupied by the Russian army, in my previous letter. Jurij heard from official announcements that a humanitarian corridor was opened to evacuate people, and he went there with his car. He managed to reach the city and pick up a couple people. On the way back, however, he was stopped by the Russian army. It was a miracle they weren't shot at immediately. The soldiers were very clearly surprised by his "arrogance" and started asking him who he was and what he was doing. He answered truthfully that he's an actor and works in the theater, and if not for the war, tonight at 7 he would have the premier of Dostoyevski's White Nights. To check if he was lying, the Russians asked him to act… And Jurij, right there in the middle of the street in Hostomel, with the barrels of Russian guns pointed at him, started playing his role — the Dreamer. He had to stop at the moment when Nastya's part was supposed to come; Nastya is played by Maryna. The soldiers asked him: Where is she? Jurij pointed to the phone and said, "Right here! She's trying to call me for the tenth time." They let him go, together with the people he was saving from hell. I asked him if I could write about him today. He agreed immediately. During the conversation, I said something about the premier that was supposed to happen on March 7. He interrupted me immediately: "Don't say it was supposed to happen! It did happen!" When the war is over and you visit Kyiv, you must go to the theater, Silver Island.
As a Dominican priory, we are trying not to lose our normal rhythm of the day, which is measured by the liturgy. So there is morning prayer, for which brothers are sometimes missing, but we try to be forgiving to each other during the time of war. At noon Father Jakub calls whoever is around to invite them to say the rosary and stay for adoration of the Blessed Sacrament afterward. In the evening we celebrate vespers and the Conventual Mass, which is the Eucharist celebrated by the whole community. Almost like normal life in the priory. There is a lot of truth in that. We really try to stay normal.
Warm greetings and request for prayers,
Jaroslaw Krawiec, OP
Kyiv, March 10, 2022, 3:30pm
Dear sisters and dear brothers,
Let me start with Fastiv today. The House of Saint Martin de Porres run by the Dominicans and lay volunteers has been a place of escape and rest for people affected by the hostilities, ever since the beginning of the war. One of the ladies who had been among the first to take shelter in Fastiv and now is already safe in Poland, is from Hostomel, a town located just a dozen kilometers from Kyiv. She told me a couple days ago that her daughter Victoria and her little son stayed in the city. Just like many other people from their "Pokrowskyj" neighborhood, they found themselves under Russian authority, without water, food, or heat. Constantly seeing guns directed at them. One gentleman honestly confesses, "I am a Russian, and I'm very ashamed of it. They turned Hostomel into their military base. People live there in horrible conditions, among them my daughter." The inhabitants became a human shield protecting the enemy's army. Hostomel is not the only one; many Ukrainian cities are treated in the same way.
Stories like this would already make a thick book, and the church in Fastiv and the House of Saint Martin are filling with people's tears, with longing for loved ones who lost contact, with longing for home and peace. I talked today with Father Misha; these days it's very hard to get a hold of him by phone; at the end I asked him what good I can write about, since he told me so much about the people who find shelter with them, people from Fastiv, Irpin, Bucha, Kyiv… He was surprised by the question, although he's never been a pessimist or a dark type. Lots of good, however, still happens around us. By my estimate, if we took a scale like the one held by Themis — the Greek goddess and personification of justice, law, and eternal order — the good side would definitely outweigh the other. Thanks to the commitment of a large number of noble people from Ukraine and Poland, buses of refugees are leaving from the courtyard of our church every day. Sometimes a couple of them in one day. The same buses which come here to pick up people bring us food and medications.
I would like to express my gratitude and bow with great respect before all of those drivers who sit behind the wheels of buses, trucks, minivans, and their private cars, going to the places where people need their help. Among them are priests and religious sisters. Today our priory in Kyiv was visited by Fathers Valentine and Vyacheslav from Dunaivtsi (the diocese of Kamianets-Podilskyi). Their minivan was filled with food, including a couple buckets of handmade pierogies and a multitude of vegetables. All these things were immediately delivered to the sisters, the Missionaries of Charity (the ones of Mother Teresa of Calcutta), who run a center here in the capital of Ukraine for the homeless and those in need. For many years already, the Dominican brothers have been celebrating Masses for them twice a week, usually in English since the sisters come from many nations.
We have also received a delivery of things that were sent to us a couple days ago from Warsaw by Charytatywni Freta, as well as a gift from Father Peter from Legionowo. Peter served for many years in Ukraine and now celebrates monthly Masses in Ukrainian in our Dominican Priory of Saint Hyacinth in Warsaw. He has a great heart for Ukraine! All those things arrived first by train from Poland to Zhytomyr and today were delivered by Mr. Leonard by car from Home Church. Here are the real modern-day heroes! They go to places engulfed by war, delivering humanitarian help. They go even when they know that the return route might be cut off. They go, even risking being shot at. Those trips often take many hours, even days, because one has to find a way through destroyed roads and bridges, wait in long lines at multiple checkpoints, and scavenge for fuel. I'm getting to know this new reality and becoming more certain that during the war, what is needed is not only soldiers but also all the people behind the scenes. They deliver food and medications. And when necessary, they evacuate people to safe places. Leonard told me that yesterday he helped evacuate a young family from Kyiv. The young mother had a little infant in her arms. In 2014 they had to escape from Luhansk, and today the Russian army forces them out of Kyiv. May this be the last time; may they finally find a place to live and raise their children in peace. Leonard's friend who is a soldier recently told him, "Because you helped my wife to safely leave the town, I have more peace, and I can defend my country with a rifle." He is right. It is good that we have people like Leonard and priests like Valic and Slavic.
March 8 is the Day of Women. In Ukraine it is a national holiday and a day off work. One could already see tulip sellers yesterday at the entrance to the store near our priory in Kyiv. Ahead of me in line to the cashier at the supermarket, I saw a soldier with five boxes of chocolates. I know they are for the women soldiers in his unit. I rarely buy flowers, so I don't know how much they cost before the war, but they are certainly much more expensive now. Without hesitation, Father Thomas and I purchased 12 tulips because we wanted to express to the women among us how important and needed their presence is. The Kyiv florist tried to convince us that one should not give an even number of flowers (that's for a funeral), but we had no energy to explain to her that the bouquet we purchased is for a larger number of women. She was confused but finally sold us 12 yellow tulips. Business is business, and for us this number has good associations, twelve apostles for instance.
Other heroes of our daily lives, in my eyes, are the "Women Behind the Counter". Yesterday I was standing in a long line at the pharmacy to buy medicine for a sick person. I observed with wonder a young pharmacist working alone in the whole shop, explaining to every client with great patience what she could and could not offer him, and what kind of medicines he or she could replace with another. She was doing that while answering phone calls. I would probably go mad after an hour of this work. Another time, when I was finishing my shopping, I told the lady at the cashier to take one of the chocolates I had just purchased, that it was for her. She was very surprised and asked why, to which I responded with a smile that if she wasn't there, I couldn't do any shopping at all. All the other stores around were closed. In the present conditions, everything that used to be normal work, at least to me, acquires now a new and deeper meaning.
Yesterday I went with Father Thomas to the subway station. It was already past 4pm, the streets were relatively quiet, and the sirens were not blaring. The underground did not lack people, however. Some of them were laying on the platform on mattresses, reserved far in advance, someone was reading a book, and some young people were lovingly holding on to each other. Two families were standing together, and their children were joyfully playing around. Cartoons were projected on the wall. I'm sure the subway station fills up completely with people in the evenings. I suspect that's also how it was last night, since many times and not far away, we heard explosions.
Father Peter announced today that he still wants to give an online lecture on Holy Scripture, according to the original plan. It is obviously for all of those students from the Saint Thomas Institute who can and are willing to participate. It is a great idea.
Over the last couple days, I have kept in my head one of the intercessions to Our Lady of Perpetual Help: "More beautiful than the cedars of Lebanon, Mary we beg you." Isn't today her holiday too?
Warm greetings and request for prayers,
Jaroslaw Krawiec, OP
Kyiv, March 8, 2022, 4:45pm
Dear sisters and dear brothers,
On this first Sunday of Lent, the Year of the Holy Cross begins in Ukraine, as announced by the Roman Catholic Bishops. In reality it began on Thursday February 24 at 4am, when the first Russian rockets hit Ukraine. "Now, like never before," write our shepherds, "we understand Christ on his way of the cross."
On Saturday, most of us were involved with shopping and helping people who are suffering as a result of the war. It takes a lot of time and strength. Father Alexander and a bunch of volunteers took a van that belongs to Caritas and were evacuating people from Irpin. This city, located almost 20km northwest of Kyiv, was bombed and destroyed by the Russians. Over the last couple years, the city has been growing dynamically, and like Kyiv, attracted many young people and families. Today, a large number of the inhabitants of Irpin are without a roof over their heads. When the fighting subsided in that area, the city authorities and volunteers rushed to help these people.
In the evening one of the volunteers from the priory joined me, and we went to the train station in Kyiv. Inside, enormous crowds; and the rail station is huge. In most areas, the lights are off for security reasons. The station is filled with noise and semi-darkness. People's conversations mix with announcements flowing from the loudspeakers about the arrivals and departures of trains. The travelers must listen very carefully, because these announcements are the only way to learn anything. The crowds at the station consist mostly of families and mothers with children. Some of these children are so tiny that they should be sleeping in their beds at this time of the day. I passed by one dad who very calmly but strongly told his little children, "Hold very tight to your mom." Getting lost in this situation is a tragedy. Many children sit around with phones in their hands. Video games. Children at play. There is some comfort in it, some chance to distract them even for a moment from the reality around them. Not far from the train station, there is Okhmatdyt, the children's hospital famous in all of Ukraine. It stays open all the time, although it has been bombed already. The railway stations also have their share of elderly; I saw some people in wheelchairs. Somebody had a dog on a leash. My brother Mariusz, who is a religious, too — a Paulist — serves and lives in Lviv. He told me in the morning that the railway station in Lviv is surrounded by many dogs. The refugees who couldn't take them any further left them with the hope that they would find new owners.
When we returned to the priory, we had to go straight back to the car again. Our cook, who is living with us during the war, fell on the steps. We were afraid that she might have broken her hand. We called the ambulance, but ambulances don't go to cases like this during the war. We were given the addresses of the two closest hospitals. It was already after 8pm, which means curfew, which means we cannot leave our homes. What could we do? I put on my white Dominican habit and went to the closest intersection guarded by the territorial defense. Our boys, seeing me, immediately took a defensive posture with weapons. I spread out my hands so they could see that I meant no harm. We talked for a while and agreed that someone has to take a car and drive to the hospital because the lady should not stay in pain overnight. They advised me, however, not to drive too fast and to slow down even more at every checkpoint. The streets were completely empty, so we got to the emergency room relatively quickly. Our cook did not break her hand after all, only strained it. The surgeons did their job, and we could come back. The same route, the same checkpoints and questions. Despite the fact that most lights are off in the evening, patients are still in the hospital. Not all of them are victims of war. The emergency room crew reminded me that people still get sick with normal diseases. It made me think that in the present situation, that's one of the worst things that could happen to someone. And what are people cut off from the world by fighting supposed to do? I try not to think about it.
I talked for a little bit with the police officers guarding the hospital. In Kyiv, the Dominican habit usually causes curiosity and surprise; in war time, frequently suspicion. A short explanation usually suffices; the Eastern Churches also have monks and monasteries, so we are usually treated with a certain sympathy. At the end of my short conversation, the officers asked for a blessing.
It might take a miracle to talk to Misha in Fastiv today. So far, I couldn't get a hold of him, so I will try to write about Fastiv in the next letter. I'm not surprised; it's Sunday and war, but it's also his birthday. I do hope for a miracle.
Last night the train with supplies from Khmelnytskyi arrived to us. We are very grateful to our friends from the parish of Christ the King, where our Dominican brothers serve; and to it's pastor Father Nicholas, for sharing with us what they received themselves. It's almost a ton of food. Father Alexander took most of it in the morning to the priory of the Capuchins. (It's across town on the east side of the Dnieper.) That way, the food will find its way to the people who need it the most. Some of it stayed with us however, and this morning we had delicious steamed sausages from Nowy Sacz for breakfast. Most of the supplies brought by that train are things from Poland. We are grateful to all the hearts and all the hands from my country who purchased and shipped the "treasures." We'll keep the kabanos for a rainy day. The vocational ministry of the Polish Dominican Province recently added a couple of video greetings for Ukraine and for us. We are very grateful to the Dominican nuns from Radonie, Swieta Anna, and Grodek, sisters from the Congregation of the sisters of Saint Dominic, and brothers from Ireland and Germany. In Jerusalem the brothers prayed for us at the tomb of the Lord. The lay Dominicans, sisters and brothers from many fraternities in Poland, surround us with their prayer and strengthen us with their fasting and almsgiving. Here is what Zosia wrote to us: "I'm a member of the Family of the Mother of Sorrows, which in 1999 was received by the provincial and his council into the Dominican Family. Among the members of this community are people who have long-term diseases, some who are handicapped physically, and some who are completely healthy. Since the war started in Ukraine, we've been praying every day for you and for peace. Today in a particular way, we would like to embrace the Dominican sisters and you Dominican brothers (over there in Ukraine), offering, besides our prayer, everything we experience today — pain, difficulty, and suffering (some of us suffer very much) — in your intention, placing you into the offering of Christ." What a great solidarity in suffering with those who were wounded physically, psychologically, or spiritually. Thank you!
This afternoon the sky over the priory in Kyiv is full of birds. I don't know if it's a sign of the coming spring. I'll ask Father Peter, who is an expert on the New Testament, but also on nature. The birds nervously jump, make noise, and burst into flight every time we hear distant explosions. Father Thomas Slowinski in Lviv wrote today on his Facebook profile, following the words of Jesus, "Do not be afraid: You are more important than many sparrows."
With greetings and request for prayer,
Jaroslaw Krawiec, OP
Kyiv, March 6, 2022, 4:15pm
Dear sisters and dear brothers,
As the night was relatively calm in Kyiv, so since the early morning, the city is filled with the howl of sirens and the sounds of explosions. Sometimes close, sometimes far away. Despite being somewhat used to it at this point, these sounds are still very unpleasant, especially since we can see what the Russian troops are doing in many Ukrainian cities. We are still capable of functioning relatively normally in this abnormal situation, but many people at this moment are sitting in shelters and basements. Food is starting to run out, and it's getting colder. I heard from my friends that they are starting to get phone calls from people who just want to say goodbye or say something important, just in case…
The situation in Fastiv is also becoming dangerous. The brothers were warned that the Russian army's route to Kyiv might go through their city, since in other sectors of the front they were stopped and destroyed. May it never happen! Fortunately Father Misha managed to organize a couple transports and evacuate almost 200 people. Maybe even more than that. Some of them are already safely in Poland. A large number of people however still stayed in Fastiv, not to mention our fathers and Dominican sisters. We are needed there especially now, so we could not imagine simply packing our bags and leaving.
Apart from providing a roof over people's heads in Kyiv and in Fastiv, we are trying to find food and share it with those who need it. We are very grateful for the money that you keep sending. It allows us to do the shopping. Just minutes ago, I came back from the bakery with one of the boys who is staying in the priory. We managed again to buy 250 loaves of fresh bread. Driving with such cargo is a real pleasure. During the war, bread — normal, simple bread without any extra ingredients — smells so wonderful! Some of it will remain with us, but most of it will find its way through the volunteers to the needy inhabitants of Kyiv. The House of Saint Martin also bakes a couple hundred loaves of bread daily. The need is enormous. Many people in the villages around Fastiv are starting to run out of food. A particularly difficult situation is the psychiatric hospital in Hlevakha, a small town on the way to Kyiv. They have close to 300 patients. It's not easy to get there, but the boys from Fastiv will look for ways to supply them with food. Especially since a couple transports of food have recently arrived in Fastiv, so there is plenty to share. Misha told me that he's also looking for a way to bring a mother and child from a different village. After the bombings she couldn't cope with the stress; she's helpless, and she doesn't know where to go or what to do. We need to reach her somehow.
Nikita and his parents managed to leave Kharkiv this morning. I don't know how far they got because there was not much fuel in their car. I hope they were able to find a working gas station. The important thing is that they left Kharkiv, which is now being brutally destroyed. I'm sure they will manage. Our house in Khmelnytskyi became a shelter for a group of people connected to the Dominicans. It is good that we have a place to host them. And I know that Brothers Jakub and Wlodzimierz will take very good care of them.
Yesterday was the birthday of Father Tomek Samulnik, and of one of the diocesan priests who lives in our priory in Kyiv. The whole community sat down together in the evening and celebrated a little. Tomek was joking that his 41st birthday is exceptionally loud. Luckily the world outside was quiet.
This letter will be a little shorter because I have to take the car and deliver a couple things to the center for volunteers. Dear friends, since the situation is becoming more difficult, I decided to write to you less frequently. Every two or three days. A lot of pressing problems appear every day, and it's hard to respond to all of them. Please stay calm; my silence will not immediately mean that something bad has happened. We simply have to use our time and strength wisely so that we can serve people in need here.
Today is a Friday of Lent. Many of us already took part or will take part in the celebration of the stations of the cross. I ask you for prayer for those who now in Ukraine are touching the cross. In a very real way. For those who, like Mary, weep for their children, parents, brothers, and friends. Very often there is not much we can do; we experience emptiness and helplessness, but what we always can do is to pray and stand together with them at the cross, looking at the One who gave his life for us. In Ukraine, this coming Sunday is the beginning of the Year of the Holy Cross. When the Roman Catholic bishops decided that this year will be the time of contemplation of the mystery of the cross, nobody would have suspected that it would also be a time of war. How prophetic was their decision.
"O Cross of Christ be praised. For eternal times be blessed. From You flows strength and courage. In You is our victory."
With greetings and the request for prayer,
Jaroslaw Krawiec, OP
Kyiv, March 4, 2022, 4:30 pm
Dear sisters and dear brothers,
Yesterday we brothers of Ukraine received a link to some short video clips prepared by the ministry of vocations of the Polish Dominican Province. You can see them here: https://www.youtube.com/c/dominikaniepowolania. "You cannot even imagine how much you live in the hearts of every one of us, and particularly in my own," Brother Mykyta Janusz, a Dominican novice from Ukraine, told us in Ukrainian. We would like to thank you, our brothers and sisters, not only from Poland but also from Rome, Bologna, Australia, USA, and Taiwan, for these important words of support. Misha Romaniv asked me to tell you that yesterday evening he was very depressed by this whole situation. Intense fighting for the towns located in the vicinity of Fastiv was taking place. The targets of the attacks, among others, were Makariv and Borodyanka — I would pass by those towns frequently when I went with him and volunteers from Fastiv on the way to Warsaw. We would almost always stop in Borodyanka at the gas station OKKO to have our morning coffee and a hot dog. Now the city is in ruins — it's heartbreaking to look at pictures of familiar places. And it was then in this psychologically difficult moment that the medicine for the soul was the words of the brothers. "They lifted my spirit, dispelled the sadness and doubt," said Misha. Some people from Makariv protected their lives by escaping to Fastiv.
Father Wojciech Giertych, the Theologian of the Papal Household, a citizen of the Vatican and above all our great friend, very much involved in the mission of the Order in Ukraine for over 30 years, said: "Now we need to think not about the present but about the future. We have to be preparing places for people that will offer them formation for internal freedom. Not only the freedom 'from' but the freedom 'to' as Father Pinckaers told us." He is right! Anyway, he taught us the same thing during our theological formation in Krakow. We must not stop at "today," but we need to look to the future. This is the task that is facing those of you in Poland who received under your roofs the war refugees from Ukraine. Think already about your future together with them! Do not wait for the end of the war.
We would like to thank our sisters and brothers from many countries around the world for your words, your prayers, and your help. We are not always capable of responding, but please be assured that you are in our hearts. Both we and Ukraine need you. Throughout the night in Kyiv there were some explosions caused by the rocket attack on the city. One rocket hit in the vicinity of the railway station; the other apparently fell not far from our priory. The mayor of Kyiv told us in his report to the people that nobody died. It is a miracle! The only significant damage was inflicted on the heating main, which is now being rebuilt by the city services. This is very important because it is still pretty cold; in the morning we had a small snow shower and the temperature at noon was only 1 °C. Unfortunately it doesn't look like it's going to get warmer in the coming days. In our priory, everything is working properly so far.
Yesterday in the afternoon, I went to the hospital to offer my service. The first of the hospitals located in our neighborhood was closed. It was evacuated somewhere. The second one, a large regional hospital, is open and gathers many people with injuries from the war. I know this place because I was there last year with my broken leg. This time, when I was approaching the emergency room in my white habit, I was spotted by two police men. They were carrying weapons and confronted me immediately. I showed them my documents and the backpack with all the "priestly paraphernalia". The two gentlemen inquired in detail about the purpose of my visit. At the end I left my telephone number and the information that I am a Catholic priest and can be here at any moment if anyone requires my ministry. So far I haven't heard back from them. It seems to me that in Ukraine and especially in Kyiv, the presence of a priest among the sick is not very popular; although, in some hospitals they have chapels, obviously Orthodox. The defense of the city fulfills its duty with great precision. They are cautious, and they really watch for the safety of the people and buildings under their care.
In the morning I got news from Nikita, the candidate to the Order who lives in Kharkiv: "The whole night, 12 hours, we spent in the subway station. The covers were closed. [Covers are the huge steel gates protecting stations, probably left over from the Cold War.] We didn't get home until 6 in the morning. We rested a little. This night was very difficult for my parents. I'm starting to be a little sorry that I took them to the underground." Maybe there is no need to be sorry since the rocket hit, among others, the neighboring apartment building. The place where he lives with his parents is just a typical residential area. There is no strategically important object within the vicinity. War crimes like this are now becoming frequent.
Another day brings new destruction, but also growing exhaustion among people. Even this morning, one of the older ladies who lives with us in the priory suddenly didn't feel well. We got scared that she might be having a stroke. Luckily we have a doctor among us, and she could help the older woman. The chances of calling an ambulance right now are zero. We were advised on the phone to possibly bring her to the closest medical point, but we decided that they would not help us much. It is so good that we have a "guardian angel" — a young doctor who knows what to do.
Not all the seniors however have such a comfortable situation in our cities and villages torn by war. Particularly difficult is the situation of the sick and people with limited mobility. Just going to the shelter or the basement prove to be impossible tasks for them, and shopping is similar, not to mention with their general psychological and physical conditions. Here volunteers are showing their value. Many people in Kyiv got involved in this kind of service, and the whole network is gradually becoming more efficient. Many fathers from our community, as well as lay people seeking shelter in the priory, got involved in this kind of work. Yesterday Father Alexander purchased 200 loaves of bread in the bakery, and today through the network of city volunteers, they were distributed to the people in need.
Let me finish with the words of Psalm 44 from today's Office of Readings. This is a message for today from Olga, a student of our Institute of Saint Thomas Aquinas in Kyiv and a Lay Dominican. She lives in a distant neighborhood of Kyiv, unfortunately too far for her to come to Mass in our chapel. Previously, she used to attend Mass daily.
Not in my bow do I trust,
nor does my sword bring me victory.
You have brought us victory over our enemies,
shamed those who hate us.
In God we have boasted all the day long;
your name we will praise forever.
(Psalm 44:7-9)
The reaction of the world to what is happening can truly be described as the enormous "shaming of those who hate us." But even more shaming is the voice of the war orphans and those who lost their lives. May they rest in eternal peace.
With warmest greetings and the request for prayer!
Jaroslaw Krawiec, OP
Kyiv, March 3, 2022, 4pm
Dear sisters and dear brothers,
Another day of war. The seventh day not of creation but destruction. Increasing brutality, relentless and terrible. At the same time I am deeply convinced that when God looks at these good, helping, selfless people, at the vastness of love, he can see that what he made was very good (Gen 1:31). Today is Ash Wednesday and Lent begins. Father Peter, our Bible scholar, burned a small bonfire on the terrace, so we have new ashes.
Last night we were scared by the rocket attack on the TV tower located close to us. I already mentioned that. It is in our neighborhood. I saw a picture of the killed passersby. They were walking on the sidewalk that I use frequently. Perhaps in that very place I was waiting in my car on Thursday in the line for fuel. This location is the border of Babi Yar, the place of a horrible genocide of the inhabitants of Kyiv, mostly Jewish, murdered by the Nazis in 1941. The president of Ukraine said that history is starting to repeat itself.
The people living with us in the priory are starting to actively participate in the volunteer activities of the city. Father Thomas drove a couple of them to distant locations in Kyiv. It takes a lot of courage. One must drive through multiple checkpoints, show documents, open the trunk. On his way back with one of the ladies yesterday, they drove past Babi Yar. That was exactly where, minutes earlier, rockets hit the ground. Today he refueled the tank on the way.
This morning Father Misha Romaniv called from Fastiv. He was very happy because the bus that left yesterday with over fifty people, mostly children and their mothers, successfully reached Poland. "They are sitting on the Polish side and drinking coffee," he said. May news like this come as much as possible.
Sister Anastasia reached Fastiv safely yesterday, while carrying a bread oven from the east side of Kyiv. Nobody wanted to go, but her trip took her only an hour and a half. It's a record in this situation. Even in normal times it would be a great feat because, due to the heavy traffic, the trip used to take much longer. This morning she drove back carrying fresh bread to Kyiv.
We were given another bread oven in Fastiv from our Italian friend Luccio. His pizzeria in Vinnytsia cannot function now, so without hesitation he told us to take all of the equipment. May it serve well. Thanks to it, we can make 300 loaves of bread daily for the territorial guards. Other friends from Vinnytsia delivered two tons of flour.
Today I would like to write a little about our two bishops. I mentioned in my previous letters Bishop Vitalij from Kyiv who stays in the city. The other bishop from Kyiv, Alexander, went to Zhytomyr to be present in the western part of the diocese, populated by many catholics. It was a wise decision. Today we talked on the phone. Zhytomyr was under heavy bombardment, and many people found shelter in the basements of the churches. I saw some moving photos that Bishop Alexander posted on his Facebook: people saying the rosary in a couple-hundred-year-old basement of the church. It looks like the catacombs.
I managed to have a conversation with Bishop Paul of Kharkiv. The situation there is very difficult and dangerous. We saw in the news last night that the central square of the city was bombed. Not far from that square is where the cathedral and catholic curia are located. Luckily the blast of the explosion only damaged a couple of windows and some stained glass. It also damaged part of the roof of the curia where the bishop lives. Bishop Paul himself was just returning from our priory when that happened. Father Irenaeus had evacuated some parishioners earlier from there to Zakarpattia. A number of people asked, however, to stay behind with us. By the advice of the bishop who helped them to find transportation, they have just left. Brave Kirill has left too. It is a wise decision in this situation!
Yesterday a rocket hit a school building located a couple hundred meters from the priory. The bishop called to tell us that he locked our house and asked who owns the white cat. He let it out — we hope that the poor animal will somehow manage, because no one knows when we are returning home. In our situation it's a little awkward to ask somebody: are you staying or leaving? Bishop Paul himself told us at some point that he's not going anywhere. He will stay in his diocese. He believes deeply in the victory of the Truth and the Immaculate! He is a very experienced man. Pope Francis has nominated as bishop this priest who had previously traveled to the front lines in Donbas and served as a military chaplain. Good and brave shepherds!
Dear friends, I would like to end today with the words of Saint Paul,
"Where sin increased, grace overflowed all the more, so that, as sin reigned in death, grace also might reign through justification for eternal life through Jesus Christ our Lord."
(Rom 5, 20-21)
Today I'm sending this letter earlier because I'm going to the nearby hospital. Maybe they need a priest. Let's see if they let me in.
With warmest greetings, pray for us and Ukraine.
Jaroslaw Krawiec, OP
Kyiv, March 2, 2022, 1:30pm
Dear sisters and dear brothers,
March 1 is the first day of spring in Ukraine. I read on one of the local internet sites that "it is a day for which people always wait with longing." The Ukranian first day of spring started in Kyiv with a snow storm. In the morning everything was white on the streets. But most of us did not look for the first snowdrops or other signs of nature waking to life; above all we looked for the disturbing signs of war: another bombardment, sirens, news of what's happening on the streets, and how the world is reacting to the events.
Last night Father Misha Romaniv called from Fastiv. I was very worried about them because the firefights started on the streets of the city after 8pm. The Ukrainian army shot down a Russian airplane, which crashed somewhere nearby. One could see from a distance burning columns of military vehicles. It all started to feel intense, and almost immediately, close to 80 people from the neighborhood came to us looking for shelter. Some of them with their dogs, cats, and other animals. There was never a lack of animals around the House of Saint Martin, starting with horses and donkeys and ending with parrots and some colorful birds. Father Pawel keeps a dog in the priory, and Father Jan has great sympathy for cats. The brothers understand well that people don't want to leave their animals behind, especially since nobody knows what is going to happen and when they will come back home. Someone arrived on a motorbike; specially designed bags for the transportation of cats were attached to a brand new Honda. The volunteers from Poland brought with them in their minivan some food and, the most needed items among them, a couple bags of dog food. Father Misha was delighted.
Someone else stopped in a very elegant car and took out a more than 10 kg sturgeon which must have cost a fortune, and he donated it to the House of Saint Martin. He was on his way to his family or friends but decided that the food will be more useful for us. At present, all the exits from Fastiv are guarded by soldiers. Everybody is afraid of the continuous escalation of events and the streetfights. Even more so now that the Chechens apparently showed up in the city.
Luckily, Brother Igor Selishchev whom I mentioned yesterday safely arrived in Fastiv by train through Przemysl and Lviv. His travel was peaceful, and the train arrived on time. Igor is from Donetsk. He has just finished his religious formation and studies in Krakow. Now he has joined us, the Brothers of the Vicariate of Ukraine.
The Master of the Order, Father Gerard Timoner III, wrote to us yesterday. He tried in vain to call me and Father Peter Balog but somehow couldn't succeed. The brothers and sisters from the whole world are now united with Ukraine. It is very important to all of us. And not just the Dominicans worry about us.
It is good that the pandemic taught us how to work online. At noon we had a Zoom meeting of the priests serving the diocese of Kyiv-Zhytomyr and our Bishop Vitalij. He remains here in Kyiv. The priests are a little nervous, but most of them are still in good spirits. Even the oblates from Chernivtsi, who are almost completely cut off from the world. More often than not they are sitting with their parishioners in the basement of the church.
I would like today to write a little bit about these unusual women: the religious sisters. As Father Misha just told me, he was looking today for some way to bring an oven for baking bread from the east side of Kyiv. (This is the most dangerous region of the city, and one has to cross the bridge over the Dnieper.) There were no volunteers. He almost lost any hope of doing it when Sister Anastasia from Slovakia who serves at the Caritas Center said that she is getting in her minivan and will bring the oven. I hope she will get to Fastiv safely. I know I would not have the courage to do that.
The sisters from the Dominican congregation in Zolochiv in western Ukraine were feeding war refugees on the Polish-Ukrainian border crossing in Rava-Ruska. The first moments of evacuations, lines 25 km long, endless human drama, tears, uncertainty, separated families… These brave women in white habits stayed with those people. Sister Matthew told me that today on the way to the border one could see a lot of abandoned cars, travel bags, and personal items. In Chortkiv the Dominican sisters are sharing their basement, which is normally a classroom, with their neighbors. The city has frequent air-raid alarms, but no shots have been fired yet.
Last night I wrote in the letter to my Provincial: "One more thing… It moved me very deeply personally. Please pray for Nikita, our postulant who is in Kharkiv, and Kirill, who is now in our priory with one of the families from the parish. He is considering joining the Order but will probably have to wait. Even today he told me that maybe he could wait as a Lay Dominican. It is some strange sign that the two youngest Dominican "infants" are in the city under bombardment in eastern Ukraine. Sign, witness…" At night Kharkiv was heavily bombed. The shooting keeps going anyways. This afternoon I talked to Kirill — the rocket fell close to the priory. He is holding up well; I didn't feel in his voice any fear or doubt. Amazing. Let us pray for them.
A moment ago I heard a number of strong explosions in our neighborhood. It was the first time they were that loud. A moment later we saw pictures on the internet showing that it was a rocket attack on the TV tower located about a mile away from our priory. They missed.
We are receiving a lot of emails and phone calls with the offer of help. My heart is welling with hope, and I'm authentically moved by your readiness to help. We are not capable however, especially in Kyiv or in Fastiv, to coordinate material help, facilitate refugee transfer to Poland, or organize transport of things. Please act in your own locations, wherever you live. If we need anything and we know it would be possible to achieve, we will let you know, and we will ask you.
Please connect to our Dominican priories in Poland — I know that my brothers and sisters are up to the task. You can always support us financially. We are gathering means that we intend to use now and also in the future. I know for sure that they will be very needed.
Here "on the front lines" we are not able to deal with this ocean of good initiative from the whole world, and we have to stay focused on those who are immediately next to us.
I want to send you my warmest greetings.
Jaroslaw Krawiec, OP
Kyiv, March 1, 2022, 6pm
Dear sisters and dear brothers,
Partly out of exhaustion, partly out of hope of sleeping throughout the night without the snoring of my "companions in misery", I decided to stay in my cell and in my bed. It was a good choice. I fell asleep a little later anyways, but at 5:30 in the morning, I was awakened by the sound of a firefight which lasted a couple minutes. The whole event was rather loud, so I'm guessing that something was happening in the vicinity of our priory. I managed to fall asleep again and even sleep through Matins, which is the morning prayer with my brothers. Sleep is now in short supply for many if not all in Ukraine. Very few people can afford to sleep through the whole night. Brothers who know me well are aware that I like to take a nap during the day and normally sleep through the night. Now it's hard even in the middle of the night to truly shut your eyes. One of the brothers who is very involved in helping others told me that he has to force himself to eat. So far, I look at this with the hope of losing a couple pounds. Putin prepared for us all living here a war "miracle diet."
Since 8 in the morning, we could finally go out on the streets of Kyiv after 38 hours of curfew. We immediately went in search of open stores to resupply our food reserve. A beautiful sunny morning and life on the street elevated our spirits! We managed to get into the open supermarket located at the neighboring subway station. Inside were crowds of people. To my complete surprise, I managed to get a couple loaves of fresh bread. Not an easy task here. The line to the cashier was an hour long. Even some homeless guy whom I let in front of me (after getting approval from the people around, of course) was very confused by the whole situation; he kept repeating that it all looks like the "Soviet Union." I am very grateful for your financial support, thanks to which at this moment we don't have to worry at least about how to shop for ourselves and for all the people who are finding shelter under our priory roof. Even the anonymous homeless man received today a little bit of your "generous heart." Obviously one can see in the store many soldiers with weapons or volunteer defenders of Kyiv — they are not here to intimidate anyone but simply to do their shopping. All stores are watched by the military because those are potential places where terrorist acts could happen.
Together with a couple people who shelter with us, we took a car and drove to the city center. I went to the cathedral to finally pick up medical kits distributed for priests by the bishop's curia, and the ladies went to their own apartments to take more of their most necessary personal belongings. Today nobody was at Mass in Kyiv's cathedral of Saint Aleksander. Yesterday was very similar because nobody was allowed to leave their houses. At noon when I went to the cathedral, I saw only some homeless men — there are a lot of them on the streets of our capital. Unlike most of us, they obviously have nowhere to go.
When I was driving by the Saint Sophia Cathedral and heavily guarded main headquarters of the Ukrainian security services, I was wondering if a car with Polish registration plates would raise some suspicions. I was wearing my white habit, and I was preparing all my documents and, in my head, all the explanations about who I am and what I'm doing here. At the checkpoint however, heavily armed Ukrainian soldiers didn't even want me to stop, in visible contrast to all the cars ahead of me. Clearly as Polish citizens we are not regarded as a threat.
Yesterday after I sent a letter to you, I met Ira and Nina who are finding shelter in our priory; the girls had just returned from the subway station. Would you believe that they went there with two heavy bags full of books!!! It was a risky endeavor because nobody was allowed to leave their houses. They decided however that people who are spending long hours underground in the subway station Lukianivska would need not only bread but also good word. They told me that the books were distributed instantaneously. They told me also that at the station on both tracks were railcars with open doors so that people could sit and lay, not only at the platform but also inside the trains. Ira and Nina for many years have been connected to the Dominican-led Institute of Saint Thomas in Kyiv. One can tell that the Dominican formation and the love of the word did not go in vain, if these two women risked leaving the safety of the priory to deliver books to the people.
Father Jakub Nesterowicz celebrated Mass last night at the parish of Christ the King in Khmelnytskyi; our house is located in this parish. Just before the end of the Mass, they heard the wailing of the sirens, and people stood up rapidly. The pastor quickly finished reading the announcements, Father Jakub gave the blessing, and everybody hurried to the basement. I'm sure that the words "Go in the peace of Christ" sound very strong in moments like this.
I talked today with Nikita who is a candidate to the Order and comes from Kharkiv. I know he is under the heavy attack of the enemy. Nikita stayed with his parents who don't want to leave the city yet. They live close to the subway station, so they often go down there to hide during the alarms. He said that most of their neighbors stayed in place. They haven't left. Kyiv is somewhat different.
At this moment Brother Igor Selishchev is on his way back to Ukraine. He is from Ukraine and is a deacon. He has just finished his formation in Krakow and seeing the development of events, strenuously asked the provincial for permission to return to his homeland and serve the people there. His heart was breaking when he was just sitting in peaceful Krakow. I hope he will get to us safely.
The situation in Fastiv is a bit nerve-wracking. Everybody is afraid of the fights in the city's surroundings. There is a risk that the Russian tanks might arrive from the direction of Byshiv. In the House of Saint Martin, people are making huge numbers of pierogies and baking bread; they are preparing food for the needy and the defenders of the city.
Last night on my Facebook profile I shared the information that, as a result of the Russian air raid on the airport of the Antonov factory in Gostomel outside of Kyiv, one of the biggest and most powerful airplanes in the world was burned; it was called AN-225 "Mrija". It's name could be translated as "Dream." And it truly was: any arrival of Mrija to any airport was a great event and fulfillment of the dreams of aviation fans. You might remember that this very Mrija delivered the masks and medical equipment to Poland at the beginning of the pandemic. I've seen the plane personally once at the aviation show in Berlin. It seems that even the great Mrija, this great dream and pride of Ukrainian aviation, can be destroyed. It is a sad truth about our life! This war buried already many Mrijas and many dreams of hundreds of thousands of Ukranians. I believe however, as I look at my Order and at everything we do as Dominicans in Ukraine, that the new reality will bring even greater and more beautiful Mrijas. Dear friends, remember that if somebody or something dares to destroy your Mrija, your dream, it doesn't mean that it is the end yet. The Ukranians teach us all today when they dream about their free, peaceful, and growing homeland. They fight for these dreams and are ready to pay dearly. I see it in the eyes of "our boys and girls" defending Kyiv.
I send you my warmest greetings and ask for your prayer!
Jaroslaw Krawiec, OP
Kyiv, February 28, 2022, 5pm
Dear sisters and dear brothers,
I haven't gone anywhere today, since it is forbidden to walk on the streets of Kyiv since last night at 5pm until Monday at 8pm. At dawn I only peeked through the bars of the gate at the depopulated Derevlinska Street and the neighboring intersection. A couple of empty buses have passed by and two ambulances. My heart was pained when I saw parents holding fast by the hand two of their little children who were dragging small suitcases. I guessed that after the night in a shelter or basement, they were returning to their house. Since yesterday, an air raid warning has been announced in Kyiv — people are urged to stay in safe places. Many hide at the subway stations — anyone who has been to Kyiv knows they are very deep, just like the one located not far from our priory. I've heard that large screens are set at the platforms, and they play cartoons to help children survive the difficult times. Unfortunately, most of the stations do not have restrooms; there are only floors at the platforms and the corridors.
Across the street from the priory and my window, there is an apartment building. Yesterday after 10pm, there was not a single light in its windows — normally, all of them are lit. Here and there one could notice only small signs that someone still lives inside. One could also hear from across the fence voices of people who were probably standing at the entrance to the basement. Many people left Kyiv, and those who stayed follow the recommendation of the authorities to keep the blackout at night.
The night passed peacefully for us. The whole neighborhood was relatively quiet. Again some of us slept in the basements, some in their own rooms. During the day however, we could hear shootings. Sometimes closer, sometimes farther away from us. I stopped writing just right now, and I went to the courtyard because the noises got louder, but a man from the building security who had been sitting at the gate came to me and advised me not to go to the street, since the fights are nearby. Apparently a block away from us, the territorial defense forces established their own base, and very recently a couple of "boys" were wounded. "Boys" is how we speak about adult men here. The word doesn't carry any pejorative meaning and in the present situation more than ever, is used both by younger and by older: "our boys" carries a great respect for their courage and pride. The shots seem to be coming from somewhere really close.
Fastiv also has been quiet. Through the night, one could hear the sounds of the fight for the airport in Vasylkiv, about 40 km away; the wind was carrying a distinct smell of gasoline from the burning oil depot. Almost everybody came down to the shelter, which is the chapel under the church. In Fastiv, the people who are bravely persisting there are not just our fathers and the lay volunteers from the Center of Saint Martin, but also Dominican sisters - missionaries from "Zielonka". Their monastery is located just next to the church. The sisters normally serve at the parish, teach catechesis, and work with children at the Center of Saint Martin. Today, however, they do everything that is necessary, which means they serve others with their lives, with courage and love.
Just a moment ago, I got a phone call from my friend, a parishioner in Chortkiv. He lives in Oryshkivtsi, a village belonging to our parish. He told us that they had an alarm at night and that the Ukrainian planes were circling over their heads, and in the village itself they caught two suspicious individuals from the Luhansk Oblast with some sort of signal torches in their backpacks. He prays with his family a lot, and children especially urge their parents to pray. Somehow they understand in their hearts what is important! At the end of our conversation, Marek said: "God is with us because the truth is behind us." It's hard to say it simpler and more to the point.
The problem of Russian saboteurs is very serious; they are appearing not only in Kyiv or Fastiv, but also in other places across Ukraine.
I would like to tell you today that this last Sunday of February and the first Sunday of war is for me a day of gratitude. Father Misha Romaniv shared with us joyful news. I mentioned yesterday that the youngest guest of the House of Saint Martin is David, who is eighteen today. Eighteen days ago he was born in the Donetsk Oblast. I call him in my thoughts David of Saint Martin. The Biblical David defeated Goliath with a rock from his sling. Today Ukraine is like David, bravely standing with courage and hope against Goliath. Our little David escaped from war with his mom to Fastiv, and today during the Eucharist he was baptized. Deo gratias!
The second reason for gratitude is the enormous amount of good that I see in the news, emails, phone calls, and texts from our brothers and sisters, Dominicans, lay Dominicans, and people around the world. I am convinced that this good crushes the power of the enemy and the prince of darkness, just like the sun which is not absent above Kyiv today.
Browsing through the pictures on my phone, I found some photos from the exhibition of American photographer Julien Bryan who is known in Poland because of his moving photographs of Warsaw from the first days of war in September 1939. A couple months ago, his pictures of Ukraine from the years 1930-1958 were exhibited in the center of Kyiv and in Fastiv. The exhibition opened with a quote:
"Wherever I went I soon discovered that when you break bread with people and share their troubles and joys, the barriers of languages, of politics, and of religion soon vanish. I liked them and they liked me. That was all that mattered."
These are words of Julien Bryan written in 1951.
Dear friends in Poland and around the world, thanks to you who help suffering Ukraine with great commitment, I can show with pride my Polish passport on the streets of fighting Kyiv. Today many of You break bread with the refugees from Ukraine in your homes, parishes, and centers. Today for many of you, the barriers of languages, of politics, and of religion have vanished. Today many of you heal with love the wounds inflicted by the madness of the tyrants. I'm grateful that you are! I would like to thank all of my brothers and sisters wearing white habits, lay Dominicans, my family, friends, and acquaintances, as well as the innumerable people with generous hearts who support us with their help and prayer.
With warmest greeting from fighting Kyiv!
Jaroslaw Krawiec, OP
Kyiv, February 27, 2022, 3:30pm
Dear sisters and dear brothers
I just came back from shopping - I managed to find a market still open in my neighborhood, despite the fact that almost everything in Kyiv is closed. Now I can sit down and try to describe what's happening around us.
The night was supposed to be difficult and dangerous in the capital of Ukraine. Luckily, the warnings about the possible mass-bombardments did not actualize, although in some regions of the town there were sporadic fights both with the use of heavy equipment as well as street shootouts. A lot of fighting happened in the vicinity of Kyiv, among others in the region of Vasylkiv, which is in the direction of Fastiv. When we were finishing our morning prayer, we got information that the city was already "clear" and that the enemy was pushed out. We can hear now, while I'm sitting at the computer, occasional distant explosions
This morning and the whole day is very sunny, inviting people to get out of home, although walks are not advisable because of the possibility of finding yourself under fire. If however something important needs to be done, one must act. Brothers Oleksandr and Thomas left in the morning to donate their blood. If we can manage to get to the city center and the cathedral we will collect the medical kits which the curia gives away to priests. Unfortunately, although we have a doctor among the people who stay with us, we don't have too many medical supplies if they become needed
One can still see people on the streets of Kyiv. Many of them carry weapons - they check documents, especially from men, and they also check cars. On the way to the store, I passed one of those checkpoints. There are women among the defenders of Kyiv - at my checkpoint, I saw one beautiful, young Ukrainian girl with an assault weapon on her shoulder. I was checked by an older, bearded man, though. The Polish passport does not raise any suspicions in the present situation, rather sympathy. The subway system was turned into a shelter and functions only for a very short time of the day. So far, we still have communication (telephone and internet), water, light, and natural gas. Some of us, me included, spent the night in the basement. Our priory has two basements which also serve as ministry space, so the standard of living is not bad. At this moment, one of the basements is for women who stay with us, and the other for us and other men. Almost twenty people from our ministries have asked for the possibility to temporarily stay with us because their regular housing is located in the dangerous neighborhoods of the city, or they live alone, or their buildings have no access to basements or shelters. So you can see that our "war community" has substantially increased
There were street shootouts in Fastiv last night, some of them not far from our priory; local Ukrainian forces were dealing with Russian saboteurs. For this reason, a number of persons were seeking shelter in the chapel under the church. Father Misha stays in contact with the local authorities who try to ensure the safety of our neighborhood as much as they can. They know very well that the House of Saint Martin is a temporary home for many people, among them children, who try to hide from danger
A group of thirty children from Mariupol left yesterday for Poland. They will be hosted there by one of the parishes. We have received, however, another thirty from the Donetsk Oblast region. The youngest among these children is David, who is only sixteen days old, and he comes from the village of Zaitseve (Zhovanka), close to Bachmut in the Donetsk Oblast. Fastiv also became a shelter for people escaping from Kyiv. Among them is a foreign doctor and first response instructor from the Red Cross; they are now using the opportunity to train people at the Center of Saint Martin. The brothers and sisters are holding well. If the situation allows and we can safely travel by car to Fastiv, I will attempt as soon as I can to visit the brothers and to deliver health packages which got stuck with us in Kyiv a couple days ago. It's hard to predict, however, when and if it will be possible
Father Ireneusz with a group of parishioners left Kharkiv yesterday and moved to Yazlovets (not far from Chortkiv, western Ukraine). They arrived safely, and now they are planning to continue to Zakarpattia. I just spoke a moment ago with our brother Bishop Nicholas. He sends his very best. He prays a lot for peace - yesterday they spent half the night at a vigil at the cathedral. He is also preparing places to receive war refugees. He intends to write a letter to his diocese asking for kindness in accepting refugees into their homes. So far there has been no fighting in Zakarpattia
Lviv is relatively calm, although one could hear sirens through the night warning of possible attacks. In the evenings, the streets seem empty, which for Lviv is something completely abnormal. Chortkiv is also peaceful. I talked to Father Julian Rózycki who was just going to the church to celebrate his noon Mass, and he told me that there are significantly fewer people on the streets, and many stores are closed. In Khmelnytskyi, peace. Father W?odzimierz managed to come back to Khmelnytskyi from his vacation in Poland, although the trip took a long time; he left before the war started. Father Jakub says that a lot of people are volunteering for the army to defend their country, including some young men from our ministry.
We are very grateful for your prayers, for all the words of support and solidarity. We try to answer, but it is not always possible to keep up with the number of emails, information, and phone calls. We are very grateful that you are with us and help Ukraine in so many ways, including materially. The state of our bank accounts is a great sign of your compassion and generosity. The means you send are very helpful: we can shop for all of the people who stay with us because credit cards are still working. It's a very mundane thing, but in this moment very important. You are offering good for people who found themselves in war. Please help as much as you can all the Ukrainians who have escaped to Poland. Ukraine does not allow men of military age to leave the country, so women left alone, especially those with children, need your help
We are sending our warmest greetings to all of you, and we ask for the protection of the Protectress of our Order, Saint Hyacinth, and Saint Michael the Archangel who is the patron of the Dominican Vicariate of Ukraine.
Jaroslaw Krawiec, OP
Kyiv, February 26, 2022, 12:00pm
All Dominican brothers stay in Kyiv, also we took some people in our priory for the night. Ukrainian Army is defending cities, and especially Kyiv, and also some civil people received the weapons to defend the streets. A general mobilization has been announced throughout the country. We expect Western countries to strengthen sanctions against Russia, which would significantly help us in our defense. And we continuously pray with hope.
Fr. Petro S. Balog, OP
"Let us ask the Lord to grant that Jesus taught us that the diabolical senselessness of violence is answered with God's weapons, with prayer and fasting. May the Queen of Peace preserve the world from the madness of war." - General Audience, February 23rd 2022
Dr. Hugo Slim of University of Oxford's Blackfriars Hall joined the Angelicum for a webinar titled "Ukraine: Church, Humanitarian Action and Peace."

Click below to read a letter to the Dominican Order from Fr. Gerard Francisco Timoner, III, O.P., Master of the Order. In honor of Ash Wednesday, March 2, 2022, dedicated as a universal day of prayer and fastinf ro peace, he encouraging prayers for Ukraine.

Adapted from the Great Book of Needs
O Lord God of powers, and God of our salvation, O God, who alone work wonders: look down with mercy and compassion on Your humble servants, and out of love for mankind hearken and have mercy on us and on the land of Ukraine.
For, behold, enemies have once more gathered together, in order to cause division and enmity. But You who know all things, understand that they have risen up unrighteously, and that it will be impossible to oppose their multitudes unless You show us Your help.
Therefore, we who are sinful and unworthy pray unto You in repentance and with tears: Help us, O God, our Savior, and deliver the land of Ukraine for the sake of the glory of Your Name, that the enemy may not to say: "Their God has forsaken them, and there is none to deliver and save them." But let every nation understand that You are our God, and we Your people are always protected under Your dominion.
Reveal Your mercy, O Lord, and let the words spoken by Moses unto the people of Israel (Exodus 14:13-14) be applied to us: "Fear not. Stand still, and see the salvation of the Lord. For the Lord shall fight for us." Work for us a sign for good, that they who are filled with hatred may see our orthodox faith and be humbled and shaken.
Yes, O Lord God, our Savior, our Strength and Hope and Help, remember not the transgressions and unrighteousness of Your faithful people, and turn not away from us in Your anger. But visit Your mercies and compassions upon Your humble servants, those who fight in defense of Ukraine and her much-suffering people, outnumbered though they be, and hear us who fall down before Your deep compassion. With Your mercy enlighten and make glad the hearts of the civil authorities, and strengthen them by Your might.
Rise up to their help and lay low the evil councils purposed against them by the enemy. Judge them that provoke and make war, and turn their impious boldness into fear and flight. But grant unto the just and God-fearing armies of the children of Ukraine, great boldness and courage to advance and overtake them, and to defeat them in Your Name. And unto them that You have judged to lay down their lives for faith and country, forgive them their trespasses, and in the day of the righteous reckoning grant unto them incorruptible crowns.
For You are the health and victory and salvation of them that put their hope in You, and unto You do we send up glory: to the Father, and to the Son, and to the Holy Spirit, now and ever, and unto the ages of ages. Amen.
Ukraine is a land of martyrs and saints. As the world turns to war and destruction, we call on these holy men and women to stand with the Prince of Peace and pray for us.
Blessed Vasil Velischkovsky and the other 27 'new martyrs of Ukraine,' pray for us.
St. Volodymyr, pray for us.
St. Olga, pray for us.
St. Anthony of the Caves, pray for us.
St. Josaphat, pray for us.
Sts. Cyril and Methodius, pray for us.
Our Lady, venerated as Mother of God at Zarvanytsia, the "Place of Disruption," pray for us.
Rise up, O Lord! Do not let mortals prevail;
let the nations be judged before you.
Put them in fear, O Lord;
let the nations know that they are only human. (Psalm 9:19-20)
We fly to Your patronage, O Virgin Mother of God. Despise not our prayers in our needs, but deliver us from all dangers, since you alone are pure and blessed.
O most glorious Ever-Virgin Mary, the Mother of Christ our God, accept our prayers and present them to Your Son and our God, that for the sake of You, He enlighten and save our souls. Amen.
Watch an interview with Fr. Lukasz Misko, O.P., our Polish Dominican brother who has spent many years in active ministry in Ukraine.
Filmed on March 3, 2022 in Western Poland

Be sure to turn on Closed Captions to read the English Translation