While in Rome last year, I spent some time with a painting of Our Lady and Jesus giving rosaries to St. Dominic and St. Catherine of Siena (a very common subject in Italian painting), located at the museum of Santa Sabina, the Dominican Order's headquarters. The artist Giovanni Battista Salvi da Sassoferrato painted the work in the 1640s. The painting represents in a beautiful way the theological and historical reality of Our Lady and Jesus providing aid and protection to the Order.
Mary sits at the center of the composition surrounded by an arc of angels. Her face is at the top of a triangle formed by her head and the heads of the two saints kneeling below. Her sky-blue mantle extends to protect the Order in her maternal embrace. Perhaps Sassoferrato had in mind a story from an early Dominican contemplative nun, Blessed Cecilia, in which Our Lady shows to Dominic her care for the members of his order by opening her blue mantle and showing him that Dominicans are kept there under her protection. Mary's reach includes all aspects of the Dominican Order—the male and the female, the active ministry and the silent contemplation. She sets her tranquil gaze on St. Dominic, and nothing disturbs her peace since all is kept under her maternal care. Her left hand embraces her Infant Son, while her right extends aid to her son Dominic in the form of a rosary.
St. Dominic looks directly at Our Lady, the source of his aid. According to Dominican traditions, Our Lady gave the Rosary to St. Dominic to aid him in his preaching mission against the Albigensians. His expression conveys a mix of awe, reverence, and intimacy. His right hand accepts her gift while his left makes a gesture of humility towards himself.
The infant Jesus leans forward towards St. Catherine. With his left hand, he seems to be giving her a share in his Passion by placing on her head a crown of thorns, and in his right, he provides her with the gift of the rosary. St. Catherine accepts, allowing the beads to fall into her right palm, while her extended left palm reveals perhaps a hint of the stigmata she experienced.
Sassoferrato's artful depiction of Our Lady and Jesus aiding and protecting the Order inspires us today to invoke that assistance through prayer of the rosary to continue our preaching mission. Our Lady, Queen of the Rosary, keep us today under the mantle of your protection. May we trust in Jesus through you, receive your aid, and accept our share of your son's sufferings, through Jesus our Lord, Amen!


Sources:
https://www.dominicanajournal.org/under-our-ladys-mantle/
https://www.opcentral.org/about-us/devotion-mary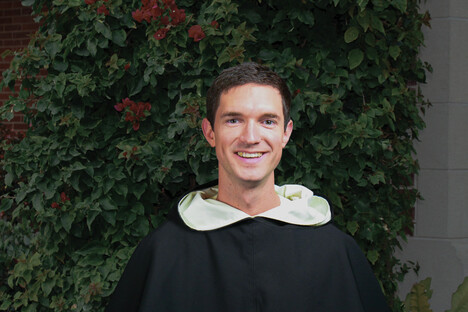 Br. Scott Norgaard, O.P. | Meet the Brothers in Formation HERE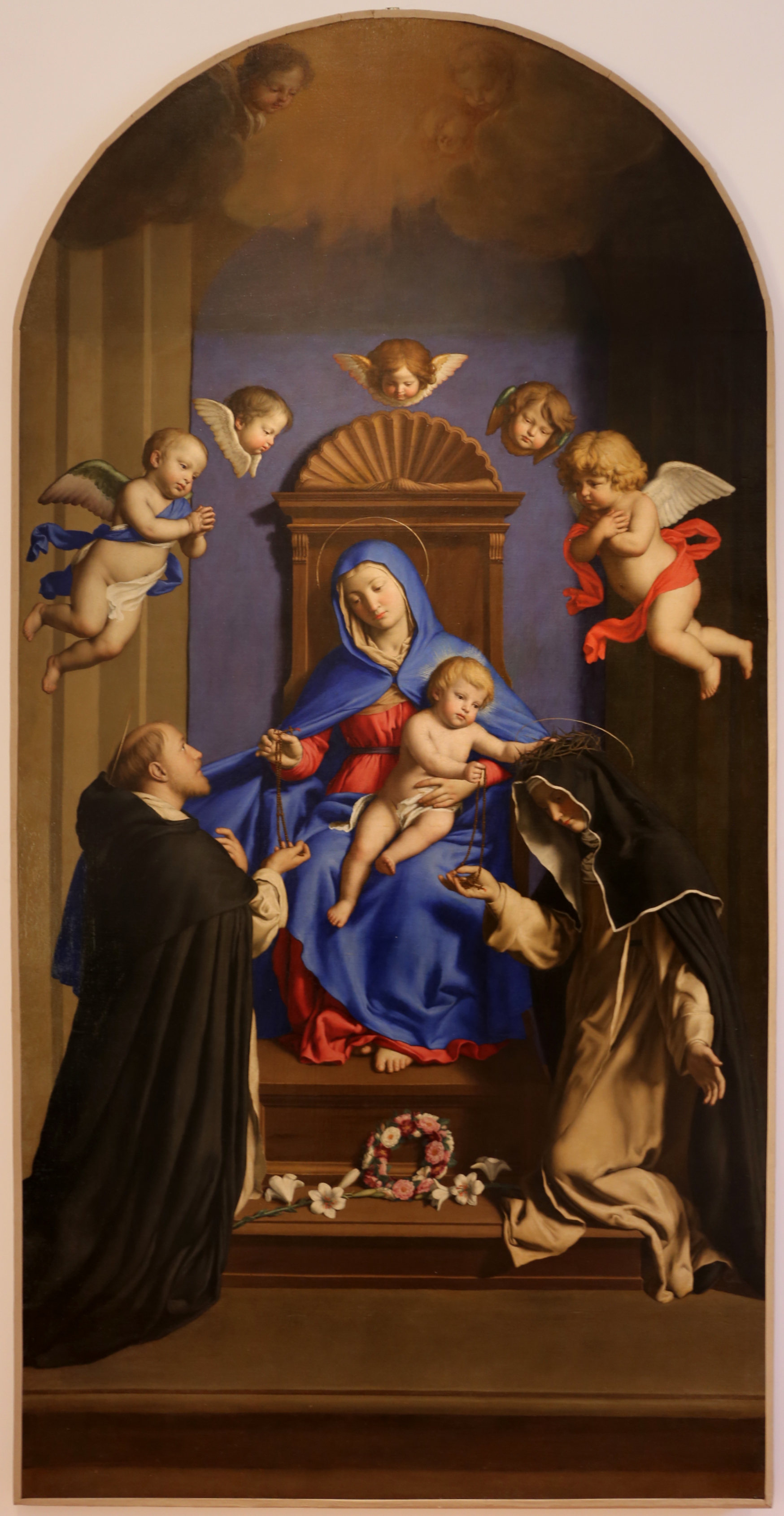 Source: Wikimedia Commons - https://upload.wikimedia.org/wikipedia/commons/9/90/Sassoferrato%2C_madonna_del_rosario%2C_1643%2C_01.jpg