The Epiphany cross dive has been an annual tradition in Tarpon Springs, Florida, for more than a century. Each year on Epiphany, the Gospel of the day is read, a white dove signifying the Holy Spirit is released, and a bishop casts a white cross into Spring Bayou. Teenagers dive into the cold January waters searching after the cross. The one who retrieves the cross is considered blessed for an entire year.
Epiphany, from the Greek epiphanos meaning "appearance" or "manifestation," marks the manifestation of Jesus at multiple times in his life. The Magnificat antiphon at Evening Prayer mentions three mysteries commemorated on this day: the star leading the magi to the baby Jesus, Jesus' miracle of turning water into wine at the wedding at Cana, and the baptism of Jesus in the Jordan by John – hence, the white dove at the Epiphany cross dive.

During this Christmas season, it can be easy to think of many joys, and rightfully so, for Christ has appeared among us. The decorations, the sumptuous meals, and the time with loved ones contribute to a merry atmosphere. But the Christmas season can be bittersweet, too; the feast of the Holy Innocents falls during the Christmas octave. The first Epiphany was not only a celebration of the magi's gifts to Jesus but also an unexpected turn in the Holy Family's circumstances. After the magi depart, Joseph is warned in a dream to flee to Egypt because Herod is seeking to kill the child. The appearance of the Lord brings both gifts and a cross. The Holy Family returns to Palestine only after Herod's death.
Perhaps sorrows may come to mind during this time of year – unfulfilled wishes, or a friend or loved one who is no longer present – circumstances in which you find yourself asking God, "Why?" and wondering what good will come of this. Sometimes it is in our sufferings that Christ is made most manifest, for in His accompaniment of us through our pain, we may see God more clearly at work in our lives. Is God preparing you for a future trial, or making you a source of hope for someone else in distress?
Search for the cross our Lord has given especially to you. Is it in the essential work project you've put off, the relative you can't stand, or the personal vice you've periodically tolerated? Ask for God's help in dealing with whatever cross He gives you, and trust that He will provide the grace to tackle it. We believe that Jesus transcended His own crucifixion on a cross to rise from the dead. Do you believe He has the power to handle our much smaller crosses?
Christ is revealed through your cross, which can provide greater blessings than any winner of the Epiphany cross dive might receive. Your cross holds graces lasting not just for a year, but potentially yielding a harvest for eternity.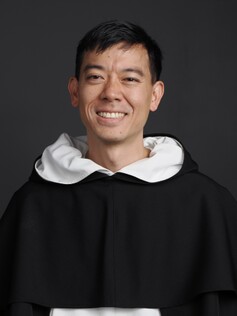 Br. Luke Maria Lee, O.P. | Meet the Brothers in Formation HERE